Sissified Sissy Part 1
Allie and I had been married for three years. Our sex life had become bland, routine, and, frankly, I preferred masturbation to the work it took to cum by intercourse. I was pretty sure that Allie felt that way, too. You see, my cock is, at best, 5 inches. My touch, or my tongue, on her clit seemed to be much better received than my cock in her cunt.
I've always been a cross-dresser. I can remember being in first grade and wearing my older sister's clothes and pretending I was on a date with a boy. Before we married I told Allie about this. She treated it as something that would go away once we were married, and never mentioned it again, no matter how often I referred to it.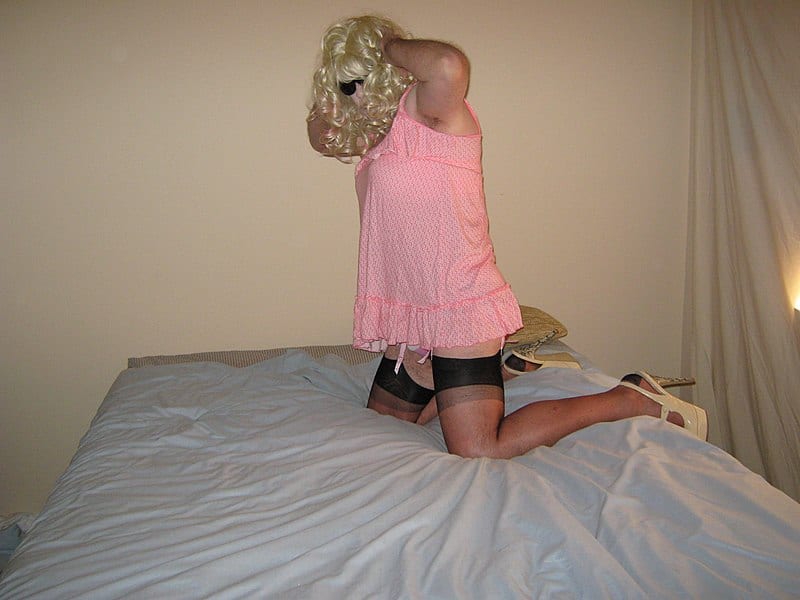 Then in June things changed dramatically. I'd kept some magazines showing cross-dressers, and jerked off with them. I always hid them, until one day when I forgot and left one on the floor next to our bed. It showed a cross-dresser serving a couple, being humiliated and tortured by them. The man in the pictures had a huge cock, at least 10 inches. Allie found it while I was at work, and when I came home she was reading it while sitting in the chair next to our bed.
"You fucking sissy!" she said as I came into the room.
" I thought you just fantasized about this, I didn't realize you actually did it!"
"But Allie, dear," I said, "that's all I do. Sure, I jerk off looking at these pictures, but I haven't done it yet."
"Yet?" Allie smiled, and I knew I was in trouble. "Yet? So you admit you want to do this, and might if the opportunity arose?"
"No, dear," I said. "I would never be unfaithful to you, with a man or a woman!"
"Well, how about if I was part of the process – changing you into a sissy slut – Then it wouldn't be unfaithful, would it? And you would like that, wouldn't you?"

I was confused. What was she proposing? Was she teasing me, or did she have some odd plan in mind? The few moments I took to reply gave her the opening she wanted, and she ran with it.
"Strip. Now!" she said.
I did as she said. In five seconds I was standing naked in front of her. Then she took off her outer clothes, standing in the black slip she knew I loved – to see and, in secret, to wear. My cock got hard from seeing her, and in anticipation of what was to come.
She grabbed my cock and squeezed it so hard I almost fell to my knees. "Yes, dear, I know you like to wear this slip. You may not cum in it, but you forget the little stains your pre-cum leaves. Well, today you will wear much more than this."
She threw back the sheets on our bed, and there was an entire feminine outfit. First, she handed me a pair of pink panties. "Put these on, sissy. Actually you need a sissy name. I will call you willow. I will explain why later. Put the panties on now, willow, and then the bra."
The bra was also pink. I put it on backward, so I could clasp it in the front. Allie smiled. "I see you've done this before." I blushed. Of course, she was right.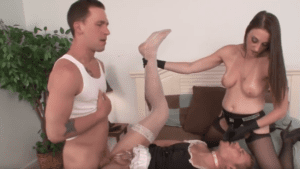 Once I was in bra and panties Allie came close and caressed my cock through the panties. I almost came at her first touch. As I panted she drew back. "No, willow, you will not cum at my touch today. I have bigger plans." She stressed the word "bigger."
Then she gave me a pink slip. It was the same fashion as the black one I loved so much. I almost came putting it on. Allie smiled at the look on my face. "Yes, dear, I know. It took me a while to understand, but now I know how you feel.
Then Allie gave me a sundress. It was floral, and it swirled as I put it on. I was in heaven – or I would have been, except I was still so confused as to what Allie was doing. Why had she bought these clothes? (I knew her wardrobe, and neither the dress, not the lingerie were part of her collection).
She then gave me some high-heeled shoes and told me to put them on. As I bent over to do so Allie yelled "Hey sissy!" I looked up to see our video camera in her hands, aimed at me. "I see you looked up when I called you sissy. Now look at the camera and say "I am a Sissy!"
I looked at the camera and, in a quiet voice said "I am a sissy." This wasn't good enough.
"No dear," said Allie, "say it like you're proud of it."
"I am a Sissy!" I said loudly.
"Play with your little cock in your panties, and tell the camera how much you want a real cock."
"But Allie …" I started to protest. She slapped me across the face, without losing the focus of the camera. "Do as I say, sissy, or your family gets the tape I've shot so far!"
I was confused. Why was she so demeaning when she had brought me to this point? But I couldn't risk her carrying through on her threat. I looked at the camera and, as I played with my cock, said " I really, really want a cock to suck."
"Good, willow. Now I have you on tape, and if you do not do as I say your family – and your coworkers – will soon have a copy."
Now I was getting scared. Where was she going with this?
"Now that I have you on tape, looking like you, it is time to make you look like a real girl." She then took a blond wig out of a box and held it up. It was made with long, full curls. She put it on me and turned me to the mirror above our dresser. I looked and was stunned. Looking back at me was a pretty girl in a floral dress with long blond curls. Though I had no padding, the bra created enough of a breast to make my dress stand out in just the right way.
I stood there for a few seconds, long enough for Allie to grab my hands and pull them back. The next thing I knew my hands were in cuffs behind my back. I started to protest, but Allie slapped me across the face so hard I started to cry.
"Yes, willow, cry, you little sissy. But before this night is over you'll be crying in both pleasure and pain."
Allie took the handcuffs and pulled me back to a straight-backed chair in the corner of our room. She pulled my cuffed hands over the back of the chair and sat me down hard.
Now willow, you will see the "dark" side of your fantasy! Michael, you can come out now! Then out of the bathroom adjoining our bedroom came Mike. Mike was a friend of ours, a backstage director of our local theater. And he came out with a huge smile on his face.
"Hello, willow," he said. He was wearing just a pair of burgundy bikini briefs. Through them, I could see the outline of a huge cock, at least 9 inches while just semi-hard.
Allie went to Mike and kissed him, and rubbed a leg up and down his front. He kissed her back and fondled her breasts.
I started to protest, and they both laughed at me.
"Silly sissy willow, Mike and I have been lovers for a year now. What you see is nothing new!" Allie told me.
I was stunned and stared at them with my mouth wide open.
"Yes, dear, open that mouth. It will be filled soon," laughed Allie.
"Did you really think that your pitiful excuse for a cock could please me? God, no! Now you see what it takes to really please a woman!" She caressed Mike's cock as she said this, and now I could see that it was a good 11 inches when hard.
"When I found that magazine this morning I knew that it was time we stopped the charade. I was pretending to be happy with your love-making, and you pretended to be a man! Now you and I will set the record straight. I need Mike's cock, and so do you!"
I must admit that my own little cock was quite hard. I had long thought about being a lover to Mike. And now here it was, the opportunity I'd dreamed of! But these circumstances were hardly what I'd hoped for. Or were they?
Mike moved towards me, placing his cock in my face. "Suck it willow, suck my cock, you sissy ."
I started to lick his cock through his briefs. In a few seconds, I forgot my circumstances – hands cuffed behind me while I sat in the chair in drag – and concentrated only on his magnificent cock. I licked it and sucked through the briefs, and then Allie handed Mike the camera.
"Pull down my briefs, willow – with your teeth." As Mike filmed the episode I did as he told me. I pulled his briefs down with my teeth. Then, without being told to, I took his huge cock into my mouth.
"Oh, yeah, be a good cocksucker, willow! I want this on film. Maybe I'll post this on the internet!"
I took his cock into my mouth. First I licked the head, then I tongued it up and down, up and down. Then I just started to take into my mouth, in and out, in and out. Just when I thought he was going to cum in my mouth he pulled out.
I knew why he did that, so I begged to be released from the chair. "Please, Allie, let me go. I need Mike's cock in my ass, and he wants it there too!"
Allie uncuffed my hands and laughed. "That, dear willow, is how you came to that name. Like the tree, you also bend so easily!"
I brought my hands forward and rubbed them where the cuffs were. Mike grabbed my hands and pulled me up. Then he pushed my head down.
"Grab your ankles, willow!"
I did, thrusting my ass up. Mike pulled my panties down and split my cheeks. he put the head of his cock against my ass.
Without thinking I said, "Oh, please, please!" Then he pushed hard, and that monster cock pushed into my ass.
I came the second Mike penetrated me!
Mike started thrusting, in and out. I cried with both the pleasure and the pain of the act, as Allie had predicted. I thrust my ass back hard to take as much of Mike's cock as I could. Our flesh slapped together until he grabbed my hips hard, and thrust so hard into me I thought his cock was halfway up my body.
"Oh, shit!," he screamed as he came in my ass, shooting and shooting his sperm into me. I screamed something unintelligible and had my second orgasm of the evening. We froze like that for a second, then Mike pushed me off him and onto the bed.
I lay there for a minute, still feeling Mike's cock in me, even though it wasn't there anymore. I heard Allie gasp and looked up to see her with her finger on her clit, cumming as she took in the aftermath of Mike's making love to me.
As she slowly calmed down, Allie said "Now the preliminaries are over, and it's time for the entertainment part of our evening!" I shuddered with the sound of her voice. What it seemed to portend scared me. I was to be proven right.
Sissified Part 1 – Femdom Lifestyle