I know you're wondering what I'm doing here like this, sitting naked on the bed with no one else here. The truth is I'm waiting for my wife to come home, and when she does, I'm going to get a spanking.
I'm actually supposed to be standing in the corner while I wait for her. But I know I'll hear the garage door go up when she pulls in and uses the remote. There's no sense in standing in the corner any longer than I have to. I've already moved the chair she uses for spankings to where she wants it, and I also put her hairbrush on it. Now I just have to wait for her, and she'll probably get here in the next few minutes.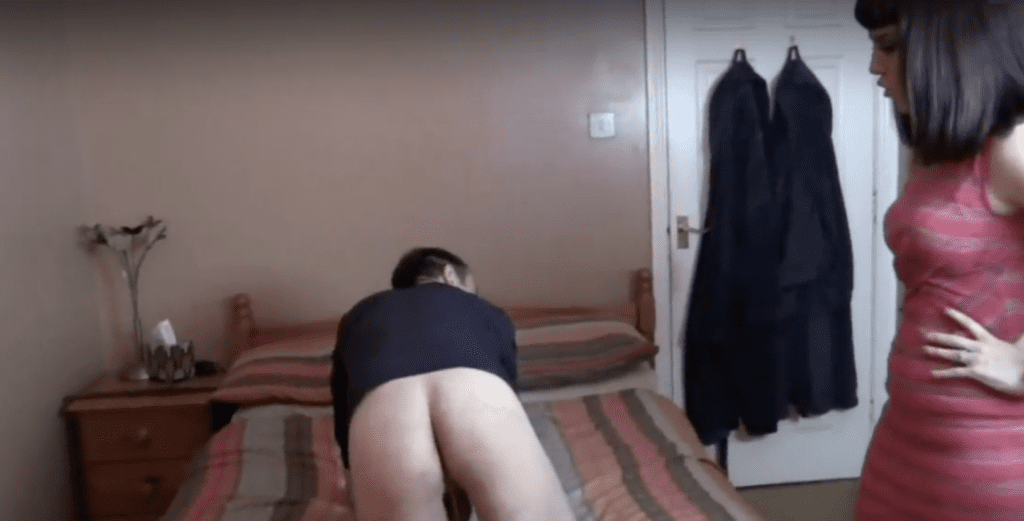 I have no one to blame but myself for getting into a situation where my wife spanks me. I'm a 49-year old man who was never spanked in his life until three years ago, and now I find myself in this position a lot more often than I want. I didn't want Nancy to treat me this way, but it seemed to be the only way to keep going with her, so I agreed to let her do it.

I guess that since I agreed to this kind of marriage, I can't complain about it, but sometimes when she thinks I deserve a spanking, I don't think my behavior was that bad. At some other times, I guess I do deserve to be punished. How it all happened is a long story…
I met Nancy about four years ago. She's a nurse who works with my sister-in-law. Nancy was a widow then, her husband Rick having been killed in an accident four years
earlier. Her two kids were away at college. I had been divorced for a few years at that point. That was mostly my fault – Sharon was a good wife and good mother to our daughter, but I guess I just wore her out with stupid behavior too many times. I didn't see it at the time, but she called me irresponsible and accused me of acting like a child sometimes. She was probably right about that. I met Nancy at my brother's house and we started dating shortly after.
We hit it off pretty well, and after about six months, I started to think that maybe we might end up getting married at some point. We had a couple of minor spats and a couple of times she criticized what she called some adolescent behavior on my part, but generally, everything was going quite well, at least from my point of view. I had met Nancy on a Saturday and the one year anniversary of our meeting fell on a Sunday the next year, so I invited her out for a special anniversary dinner.
But what happened was that one of my buddies got a hold of four tickets to a Steelers game and invited me. Nancy agreed to push back the dinner to 7:30 which would give me time to go to the game, get home, change, and then pick her up. But it didn't work out that way.
The guy who had said he would be our designated driver decided to have a few beers once we got to the stadium, and by the time the game ended, none of us were in great shape. He got into a little accident coming out of the parking lot and the police brought all four of us to the station. Jeff got hit with a DUI charge and while there were no charges against the rest of us since we weren't driving, we needed to make calls to get someone to drive us home.
Needless to say, it was way after seven by the time I got home, and the big anniversary dinner was out the window.
I called Nancy to explain – she wasn't happy! I told her we could do it the next night, but she said No, just come to the house, we need to talk. It didn't sound very good and I spent the rest of Sunday and most of Monday thinking she was going to dump me. I was right about that. She was all business when I got there and seemed quite sad. We went into the living room to talk and she started right off by telling me that she was fed up with men and probably wouldn't date anymore.
I apologized for the night before but she seemed to have made her mind up. She said she didn't know what it was about men – every man she had been serious with seemed incapable of acting his age all the time. Everything is fine for a while and then, out of the blue, a man does something stupid and juvenile. She said she had put up with 20 years of Rick being that way, and the other guys she had dated before she met me were fine for a while, but then they also reverted to being little boys on occasion.
She had hoped I would be different, but I'm not. She said I had made a very childish decision on Sunday. Anything would have been more adult than deciding to get into a car with someone who had been drinking. If I had called her she would have come to the stadium to pick us up, but instead, I acted like a child and simply decided it would turn out all right if I rode with Jeff.
She didn't use the same words my ex-wife had used, but her criticisms of me were pretty much the same kinds of things Sharon had said to me. She was right, I was wrong. I knew that. Nancy wasn't angry – she was sad instead. It seemed like she really didn't want to break up, and I know I didn't want to break up, so I tried to talk her out of it. I told her again I was sorry, and I asked her since she could put up with the same kind of behavior from Rick for twenty years, was there any chance she cared enough for me that she could put up with occasional bad behavior from me?
It took a while before she answered. Finally, she said that she and Rick had worked out what she called a system, which allowed them to deal with his childish behavior. I asked if whatever the system was might work with me. She hesitated again but then said no. I persisted. I told her that I loved her and she had already told me that she also loves me, so maybe we meant enough to each other that she could at least tell me what the system was, and maybe it would help.
She sighed and took a few seconds before she spoke. Finally, she said, "Barry, if you really have to know, whenever Rick acted like a child, he was treated like a child.
" I looked at her for more explanation and then she said, "I spanked him. I made him take off his clothes and then I put him over my knee and spanked him with my hairbrush until he cried. And then I made him stand in the corner with his red butt pointing out until I decided he had been punished enough. Happy now? Now you know!"
I was shocked and I'm sure my face showed it. I really didn't know what to say; Nancy picked up on that and started talking again.
"I'm not proud of it," she said.
"I didn't enjoy spanking my kids when they were little, and I hated spanking my husband. But I do feel, and so did he, that it helped our marriage. If he hadn't been killed, I'm sure we would still be together and he'd still be getting spanked every once in a while."
I asked Nancy how she felt it helped their marriage. She said that once she had started punishing Rick for childish behavior, the incidents became less frequent. He himself had told her that he hated getting spanked and he found himself avoiding doing some things that he knew would get him into trouble with her.
Also, she said, that while she certainly didn't enjoy spanking him, she found that when she did, whatever anger she had about his behavior dissipated rapidly. And afterwards, when she would see him standing in the corner sobbing, she would feel he had paid a fair price for his behavior, and they could move on.
"But I still hated it," she said.
She told me that nothing about Rick's death was good, but a few weeks later she saw the hairbrush in her dresser and told herself that at least she'd never have to use that again. She said she had moved the brush out of her dresser on to a shelf in the closet so she didn't have to see it very often. I asked if there was any other way we could keep our relationship together.
She was obviously sad about it but she said there wasn't. I didn't want to give up, though. I loved her and didn't want to lose her. Believe me, when I went to her house that night, the subject of spankings was not something that was on my mind, but I made a quick decision that if that was the only way to stay together, I would do it.
"What if you and I tried the system you had with Rick?" I asked. She seemed surprised and sat there for probably ten seconds.
Then she said quietly, "Stay there," and she went upstairs. After about two minutes, she came down the stairs holding a hairbrush.
She sat down again and faced me.
"I do not want to do this," she said.
"I like you, I love much about you, but when you act like you did yesterday – and you do act childishly too often – you exasperate me.
The other men I dated after Rick's death didn't mean enough to me for me to even consider this.
I could end those relationships without thinking twice. But I do feel differently about you. I'd like to continue with you, but not with your childish tendencies unpunished.
Do you really, really want to do this?" she asked, while she lifted the brush and held it in a threatening way.
I told her, no, I didn't want to do it, but if she thought it was the only way we could stay together, I would.
She sat there with a sad face and it probably took about 30 seconds before she spoke, but she finally said,
"Stand up and take your clothes off." I did what she told me to, and felt myself becoming embarrassed as I did. She had seen me naked before, but we had not had a situation where I was naked and she was fully clothed. As I undressed, with each piece of clothing I took off, I started to feel more and more inferior to her. As I undressed, she moved to an armless chair in the room and sat down. There was no doubt that she was taking full charge of the situation – it was a side of her I had seen a little bit of before, but not nearly to the same degree.
I do feel nurses generally have an aura of authority about them, and Nancy seemed very comfortable taking a strong leadership role. Fully naked, I walked over to her. To the best of my memory, I had never been spanked as a child, but I at least knew what to do – I lay down over her lap with my right hand and my feet touching the floor. For a few seconds at least, it felt somewhat enjoyable, being naked and sprawled over her legs. I could feel her lightly rubbing the brush on my backside and that also felt good.
"Are you positive you want to do this?" she asked me once again.
"I love you, I'll do whatever it takes to keep you. I'm sorry for yesterday," I said.
"I'm going to make you a lot sorrier," she said and the brush landed on my butt for the first time.
At first, it didn't feel too bad, for the first dozen or so spanks. But then as the brush started landing on spots that had already been hit, I could feel real pain. I started to squirm a bit, then I found myself kicking my legs. It was really starting to hurt and I was moving, trying to avoid the next spank. Nancy knew I was starting to feel it, and she did not let up one bit. I felt her right leg lock itself over the back of my legs.
I tried pushing up with my hands but didn't have any leverage. Then I reached back with my right hand to try to cover my butt – she grabbed my hand and pinned it to the small of my back. Now I was completely helpless – I couldn't move very much, certainly could not get up, and couldn't cover my aching butt at all. This was starting to hurt much, MUCH more than I could have ever imagined. My pride totally gone, I begged her to stop.
She took pity on me and did stop, moving her leg and releasing my arm so I could get up. I stood in front of her rubbing my butt. I can't quite say I felt like a child, but I did feel that I had more than met my match with her – she was in charge, and if the relationship continued, I knew she was always going to be the dominant partner.
"Hurts, doesn't it?" she said to me.
I was still out of breath and just managed to say "Yes" very weakly.
"Good. It's supposed to. And I can make it hurt a lot more. You're not crying. If there's another time, I will ignore you asking me to stop so soon.
" I almost laughed despite the pain. "That was soon?" I said. It didn't seem so soon to me.
"You need to do some serious thinking," she told me.
"We can continue as a couple, but if we do, and if you act childish or irresponsible again, I will spank you again."
I did.
She did.
And despite the fact that neither of us liked the fact she spanked me, we were married a year later. Ironically it was on a Sunday, 52 weeks to the day from the football game that got me into trouble. So here I am. I know that in the next few minutes I'll move into the corner and have to wait for her to get ready. I know she makes me wait longer than necessary because she feels it's part of the punishment to make me stand in the corner thinking about what I know will be happening.
Eventually, she'll call me over. The first sight when I turn around will be her sitting in the chair holding the hairbrush, and every time I see her like that I honestly get scared. I suppose that's part of the punishment also. Then I crawl over her lap, and she rubs the brush over my butt for a short time while lecturing me about my behavior. I really hate that. I never know exactly when she'll start with the brush, and the longer she makes me wait, the worse it is. But then when she does start, it hurts so much that nothing else matters anymore.
I would have thought that I would get used to it after a few spankings, but that doesn't seem to have happened. Today is going to be the ninth or tenth time she has spanked me, and it seems that each time it gets worse. And she was right. I cry. It's so embarrassing, but I can't help it. I guess that's part of the punishment too. I think I hear a car… damn, there's the sound of the garage door going up. I have to move to the corner now.
How to Spank Your Husband: five tales of female led relationships