Good Femdom Help Is So Hard To Find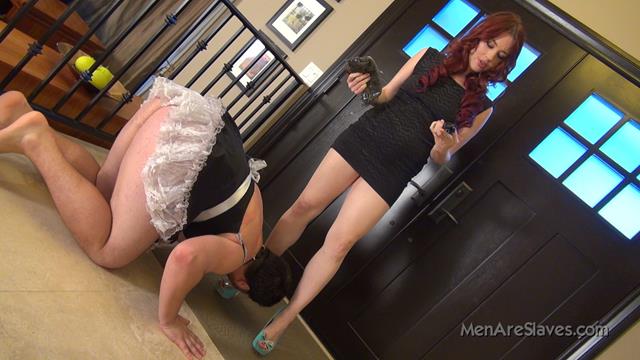 It had been a long and aggravating day and Diana was in a mood. First, she'd gotten a flat tire on her way into work, causing her to get a grease stain on her favorite skirt and making her late for an important meeting.
At lunch she had rushed home to change skirts and found her houseboy, Phillip, sitting outside by the pool, talking on the phone and sunning himself as if he didn't have a care in the world. The living room and kitchen were still in complete disarray from the entertaining she had done the night before and it didn't look like he'd bothered to start cleaning any of it up yet. She hadn't said anything to him. She was in too much of a hurry to change and get back to work. There would be hell to pay tonight if things weren't cleaned up to her satisfaction by the time she got home. She wasn't paying him to sit around and bullshit.
Things hadn't gotten any better through her afternoon at work. Two clients called to bitch at her about how unhappy they were in how their accounts were being dealt with. She'd sweet-talked and cajoled them both in that special way she had, but inwardly she just wanted to tell them to shut up with their baby whining and let the adult professionals do their jobs. That was the worst part of her job, taking crap from whiny people who didn't know half as much as they thought they did. By the time she could grab her keys and purse and head to the basement lot to her car, Diana was ready to strangle the next person that got in her way.
She toyed with the idea of heading over to a new bar she'd noticed recently. She'd never been there before, making it the perfect place to scope out for a new man she could take her frustrations out on. Dominating and humiliating some bottom feeder was exactly what she needed right now. She needed to sit on someone's face and bury it in her ass, making him lick her until she screamed. She needed ass worship, and she needed it now! But picking up a stranger meant getting a hotel room first and as much as she needed a good ballbusting session, she also needed all the comforts of home. "Besides," she reminded herself, "you need to see if that no-account Phillip got his work done." That thought alone prompted her to start the car and hurry home.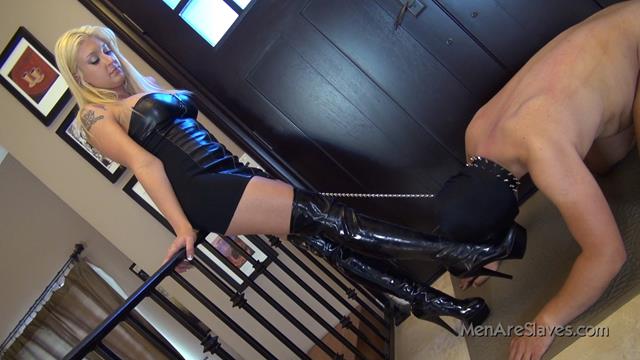 Diana was halfway home when a car driven by an obvious idiot turned out onto the street right in front of her, making her slam on her brakes to avoid rear-ending the moron. Her brain boiled over and she saw red and knew that if she gave in to it, she'd be arrested for beating a fellow motorist to death with her road rage. She counted to ten while breathing deeply. Then for good measure, she counted to twenty more. Finally, she felt like she was cooled down enough not to go completely homicidal, and she stopped shooting daggers to the car in her review mirror and continued on her way home.
By the time she arrived, Diana's rage had cooled to a slow simmer, the pulse of which was fixated on Phillip and whether or not he had done his job properly. If he didn't, she'd be tempted to fire him. Perhaps, by the time she was through punishing him, he might wish she had simply fired him. But she knew that wouldn't be nearly as gratifying as what she had in store for him if she wasn't happy with his clean up efforts. Part of her was secretly hoping that he'd messed something up, just so she could enact her ballbusting punishment and get her satisfaction in ass worship.
Diana cut the engine as she pulled into the driveway and let the car glide silently into her customary parking spot. No sense in alerting that lazy houseboy before she had to! She stepped quietly out of the car and shut the door behind her with only a mild bump of her hip. She slipped up to the door and tried the knob. It was unlocked. That was one violation of her rules right there and Diana made a mental note on her internal tally sheet. Quietly she stepped inside and closed the door. She took her heels off so they wouldn't click on the polished tile and give her presence away. Her nylon-covered feet padded lightly across the floor to the entrance to the living room. She could hear music playing from the direction of the kitchen, but she saw no sign of Phillip from where she was.
Diana's eyes examined the living room in great detail, looking for anything that might be out of place. Phillip had apparently done some whirlwind cleaning since she'd left earlier that afternoon because if she hadn't been here to see the mess for herself, she would never believe how bad it had been. Every cushion was in place on the loveseat, chair, and sofa. The floors were neatly swept. All evidence of beer cans and cigarette butts had been removed and the wooden furniture gleamed with the loving polishing they'd obviously received. The air was scented with lemon oil and vanilla. Diana stepped into the room and looked around intensely, but despite her scrutiny, she could find nothing out of place. She found it very disappointing.
Her disappointment only fueled her anger. She'd find something wrong if she had to make something up. The audacity of Phillip to relax in the sun while chatting on the phone was enough of a reason. Besides, she needed to relieve some tension and getting him all caught up in some serious ass worship was just the thing to cure her ills. Her pussy was already damp from thinking about it.
She stepped into the kitchen. She identified the source of music as the radio on the window sill. The kitchen was spotless. The countertops gently gleamed in the light and the floor showed of fresh polish. Not one speck of food lay within view of her eyes and all traces of the party had vanished. Diana was frustrated and dismayed. How had he managed to clean everything up so well in such a short amount of time? It was time to look at things more closely.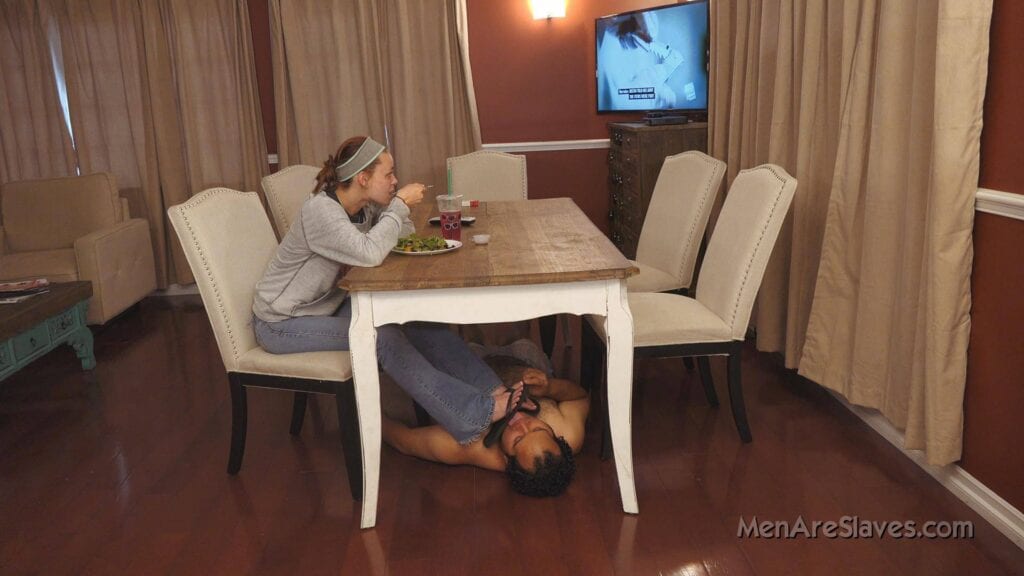 She opened the refrigerator and drawers. Nothing. A quick peek in the trash revealed that it had not been taken out, although it was overflowing. Mentally she jotted down a second check mark on her tally sheet. In the living room, she found any number of items hidden away under the chair and couch cushions, including one of her bras. However, how her bra had gotten there was a complete mystery since she'd still been wearing hers when she'd made her way through the beer fog to her bedroom last night. Alone.
While she puzzled over her bra, Phillip walked into the room from the hall. "Oh wow, I didn't even hear you come in!" he said, looking surprised and a bit guilty.
"Yeah, I've noticed you having that problem today," Diana said, sarcastically. "You didn't see me earlier today either when you were looking so casual and relaxed on the phone out by the pool. She was gratified to see Phillip's bald head go a bit pale at this revelation.
"You're lucky I don't fire your ass right here on the spot. I'm still thinking about it, though. Depending on your actions in the next hour or two, I might let you keep your job," Diana spoke quietly and sternly.
Phillip nodded and said, "I understand and will do whatever you ask."
"I don't ask," Diana said firmly. "I tell. Now, help me out of these stifling clothes."
The houseboy hurried over and helped Diana undress down to her thong and teddy. Then she shoved him down and picked up the remote that she'd spotted sticking out from under the couch. She stuck it in his mouth, saying, "Does this belong under the couch? No, it does not! It belongs on the coffee table!" Then she smacked him across the face with her bra and said, "Does this belong under the couch cushion? No, it does not! And what was it doing out here anyway? Have you been raiding my underwear drawer again, Phillip?"
Phillip grunted his assent, cowering a little when she smacked him again. "I was just curious about it," he admitted.
"Well, if you're so curious about my underwear, here's a good close up look at my thong!" and with that, Diana climbed on his chest and sat back on his face, burying it right into her pussy and ass. "Taste it, you naughty houseboy! Taste it and tell me what it tastes like!"
Diana kept Phillip engaged in pussy and ass worship until she lost count in the number of times she had climaxed. Phillip's face and neck were dripping with her juices by the time she finally set him free. "You can keep your job, this time. But you are walking on thin ice. And no leaving the house tonight. I might want to punish you later and you better be around if that happens." Diana told him.
Phillip nodded and hung his head in humiliation. But inside, he smiled.