Here's a list of 50 Femdom ideas, and often times, emasculating tips for a submissive man. Also roleplaying scenarios and fantasies my Mistress and I have either created or picked up from various online sources to keep the "cuckold" fires burning and to keep each sexual experience kinky and intense for all parties.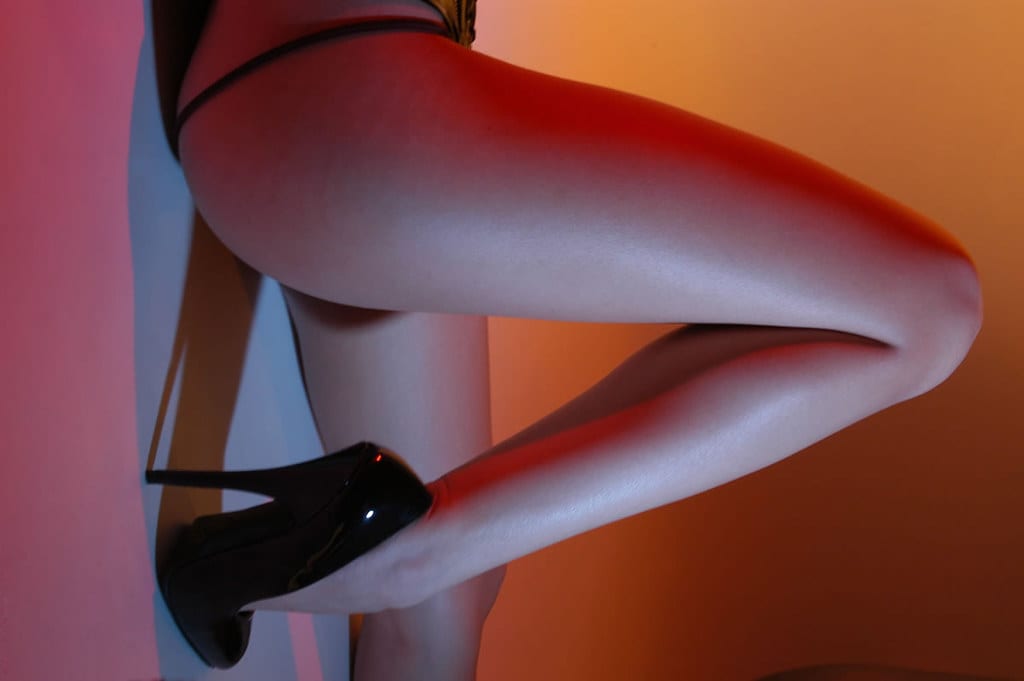 There are 3 categories:
– Femdom ideas for your submissive man
– Cuckold fantasy role-playing
– Real-life cuckold scenarios
The first two categories are all ideas or fantasies you can try out without a third party involved. The last category…, well, let's just say that's where it gets really interesting ;). ENJOY!!

Femdom Ideas for your submissive man
♠     Send hubby out shopping to buy you feminine articles (makeup, panties, bras, tampons,…) Have him buy condoms, asking the woman behind the counter whether they have "extra small" condoms in stock.
♠    Make him wear a female deodorant and/or perfume.
♠    Feminize his name, or come up with a cute 'girly' name to call him, and use it regularly.
♠    When eating out, choose his meals for him, and be the one to give the waiter the order.
♠    Have him paint your toenails and then have him paint his own.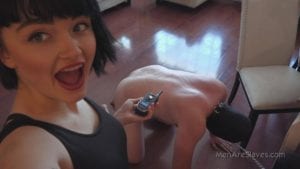 ♠    Insist that he sit down when using the toilet to pee.
♠    Make him carry your handbag occasionally in public.
♠    Invite your friends over for a drink and have hubby serve all of your friends. Tease him while doing so: "be a good little hubby and make us a drink. – Good boy…"
♠    Make him kneel in front of you regularly to beg for something (to let him out his chastity cage, to give you oral sex, to massage your feet, to get any kind of sexual favors,…etc).
♠    Have him buy his own lingerie set (bra, panties, and stockings) and make him wear it regularly while pleasuring you, fucking him with a strap-on, or while watching you masturbate. Verbally tease him while doing any of the above ("You may be my hubby, but you can hardly call yourself a real man, can you?…I mean, look at you… Don't you think a woman needs a real man?…etc)
♠    Have him completely shave his legs and pubic hairs at least once of month. While clean-shaven, have him rub his legs and pubic area in with a female body lotion whenever it's 'playtime'
♠    Keeping the house neat and tidy must be part of his daily routine
♠    Have hubby pick one of your sexy lingerie sets out for you before a night out with your girlfriends. Remark what a shame it would be if no other men were to enjoy the look of it on you that night. Ask him if he agrees, and whether or not he encourages you to flirt openly with other men while out with the girlfriends.
♠    Give him a minimum of 10 strokes with a paddle or cane every month, and connect it to things in his behavior the past month that could be improved upon. Start off immediately with solid strokes that are felt. Light strokes are not taken seriously at all. Do not be afraid to end it with 3 or 4 extremely hard strokes. He needs to feel clear and unmistakable pain at your hands. Then soothe him by gently rubbing his ass while he repeats what parts of his behavior he intends to improve upon the following month.
♠    For at least one week each month, whenever he cums, have him lick up his own cum…whether it be after masturbating by himself, cumming inside you, or on top of you. Forbid the use of any towels or cleaning tissues… This will train him to remain submissive, even after he cums, reminding him that you call the shots, even after his orgasm, which goes against his natural male instincts. This must become a routine.
♠    Fuck his ass with a strap-on while he masturbates. Order him to cum within ten minutes. Set a timer. If he fails, he doesn't get to cum that evening. Whether he fails or succeeds, have him follow it up by giving you oral sex.
♠    Have him make a mold of his own penis (search "clone a willy" in Google). Once made, have him give it a long, intricate blowjob. Then fuck his ass with it before fucking his ass with your biggest dildo. Ask him whether he feels the difference between his smaller cock and a real man's cock.
Cuckold Fantasy Femdom ideas Role-playing
♠    Comment on how well other men look to you and what exactly you find sexy about them. To add some spice, comment on the things you see that are bigger/better than your hubby's (I love his big shoulders, he looks like he probably has a huge cock, he looks like he has more money than you, etc…)
♠    Tell hubby that, lately, the men you come across at work or informally, you fantasize of as potential Bulls, which makes you horny. Tell him you can't wait to have sex with other men.
♠    If hubby has a boss or colleagues he doesn't get along with, or even friends he becomes competitive around, tease him how you'd love to be fucked by one of those men and made to feel like their whore. Tell him you'd love for those men to tease him about it after fucking you.
♠    Keep hubby in a cock cage for at least two full weeks. Towards the end of the second week make a point of walking around the house naked or in sexy lingerie before you go out to work or for a night out with your girlfriends but deny hubby any sexual favors. Use this opportunity to receive oral sex, or a foot or back massage. To tease him, let hubby know he's not permitted to fuck you, but if he's got the nerve, he's free to call up another man to come over to fuck you while he watches.
♠    For aspiring hot-wives who have not yet cuckolded their hubby, buy a condom, open it and throw away the actual condom, keeping only the wrapping. Organize a night out with your girlfriends. When you come home later that evening, suggestively give hubby the ripped open condom wrapping. When he looks up at you in shock and asks about it, tease him with it, letting him know you let another man have sex with you that night. Keep him guessing for as long as possible about whether you did or didn't use the condom that evening. Unzip his trousers, and masturbate him slowly while teasing him, "Maybe I really did use the condom tonight…would that make you angry, or does it secretly turn you on?… Is your cock getting this hard because I'm masturbating you, or because I might have been fucked by another man tonight?…etc)
♠    Another beginner idea is to set up a night with a girlfriend, which hubby is aware of, but from that point on, role-play that you're going off on a date with a rich businessman, who, after taking you out for dinner, will be taking you back to his hotel to fuck. While with your girlfriend, send regular role-play text messages letting hubby know how things are going "with the businessman". ("Strong, handsome looking man…certainly looks like he knows what he wants…and tonight it's me…", "Just arrived at his hotel…he's booking a room right now…so nervous, but also so turned on…hope you're still sure about all this…" "He just fucked your wife"…etc).
♠    Another role-play idea is to create a cuckold scenario where you fantasize about doing as many things as possible with a Bull that you would never (or not easily do) with hubby. Be creative and think of all the things you're sexually 'uncomfortable' with or things hubby hasn't easily been able to get you to do (blowjob, receiving a facial, an mff or mmf threesome, swallowing a load of cum, receiving anal sex, receiving a golden shower, giving a rim job, receiving a rim job, having an orgasm during intercourse if this generally doesn't happen with hubby, …etc ), and fantasize out loud about wanting to experience all these things with a Bull while hubby listens or watches.
♠   Tell one of you closer girlfriends about hubby's sexual kinks and fantasies (cuckold/femdom/strap-on/chastity cage, etc), then let hubby know you told her and share her reaction in detail.
♠    Wear an anklet as often as possible when you go out, with or without hubby and make sure hubby is aware of it. Seek not only his approval but make him beg you to wear it ("So you don't mind those other men might see the anklet and think I'm available sexually? Is that what you want? How badly do you want other men to see me as available? Why don't you get on your knees and beg me to put it on…")
♠    Go to a club with hubby, ideally one with predominantly black men and flirt openly with strangers. Let them rub you up, buy you drinks and come on to you. Agree with hubby upfront how far you can go with these men (Kiss on the lips, French kissing, a hand-job, a blowjob…) all while hubby watches from a distance.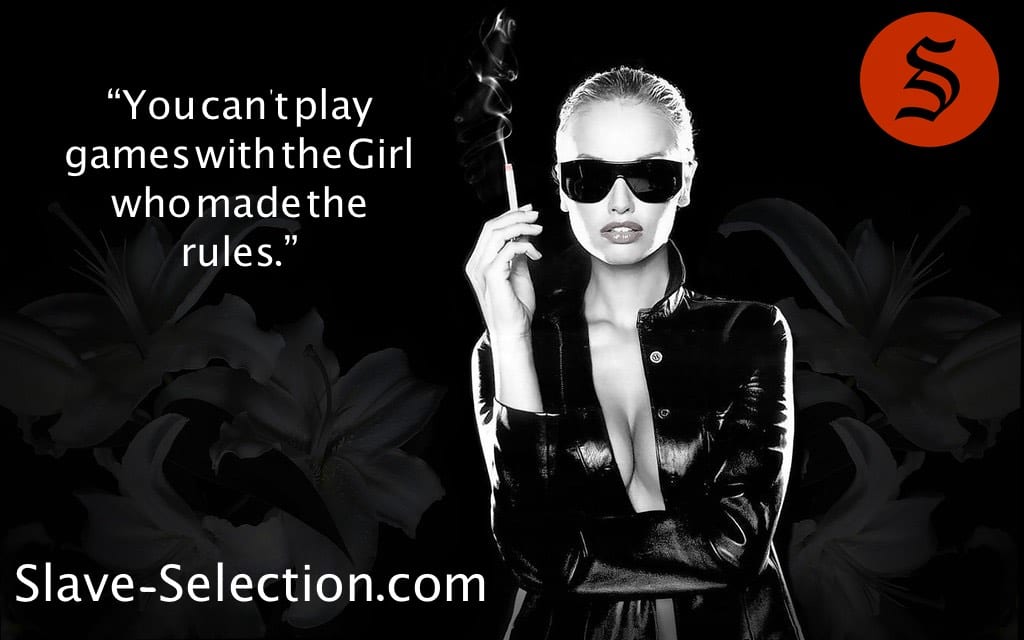 Actual Cuckold Scenarios for your submissive man
♠    Play the Femdom Game "A Cuckold's Delight": Place hubby in permanent chastity for a full month, (uncaged once a day to be teased briefly before taking a shower). During that month, deny him any orgasms whatsoever, (possibly also require him to wear panties under his clothing), while performing any/all household chores. You, on the other hand, are free that month to enjoy as much leisure time as possible whilst also experiencing as many orgasms as you want…BUT hubby's task is not only to keep your home looking tidy, and pleasure you orally whenever you desire…there's one more catch: in the course of that month, he's to set you up with a minimum of 1 Bull. If the minimum target is met, he's uncaged at the end of the month and granted a week to use you however he pleases. If however, he fails to set you up with a Bull (for whatever reason) the game is automatically prolonged by another month.
♠    Tie hubby to a chair in the bedroom and make him watch you and your Bull have sex in the marital bed. After some intimate foreplay with french kissing, and caressing, beg your Bull out loud to fuck you. The more desperate you appear to look, the more it will drive hubby mad…
♠    Have hubby lay against the headboard on the bed, as you lean against him or sit on your hands and knees in front of him. Then look into hubby's eyes and have your Bull roughly fuck you doggy style so that hubby can feel the power of his thrusts while looking in your eyes.
♠    Tie hubby to a chair in the living room and disappear off to the bedroom to have sex with your Bull, denying hubby the privilege of watching. After some time, take a break from fucking your bull. Go out into the living room where hubby's waiting, hair a mess, makeup smeared, and have a glass of water. Say hi to your hubby, walk over to him and give him a french kiss. Then, grin at him mischievously, go back to the bedroom, close the door and lock it.
♠    Give your Bull a blowjob in a semi-public place while hubby stands guard (under a bridge, in an underground car park, on a reasonably deserted beach, etc) For the more advanced hot wives, arrange to meet your Bull at the beach, and have sex on the sand at night while hubby stands lookout.
♠    Spend time socializing with your Bull for 10 to 15 minutes in the living room before any action and while everybody is still fully dressed. Perhaps put on a porn movie to set the tone a bit. While socializing, or watching the movie sit next to your Bull, kissing, teasing, stroking, unbuttoning and treating him like a new boyfriend while hubby watches.
♠    Have hubby beg your Bull to fuck you. Have him beg your Bull to give you what he hasn't been able to have all these years. Demand him to say it out loud. At this stage, it's all about humiliation. Make fun of hubby's cock and sex skills in front of your Bull ("You see this…this is how a real man, with a real cock, fucks a woman,…etc")
♠    Go to a restaurant together with hubby and your Bull. While waiting for the main meal, take your Bull out to the car or restaurant bathroom area for a quick sex session (fucking or blowjob) then return to the table in time to enjoy your meal together. Make a point of kissing hubby on the lips when you return in order to confuse all the waiters and other guests.
♠    Take off your wedding ring and have hubby take off his wedding ring, and lay them both on your stomach or chest, side by side…while your Bull is fucking you. Then have your Bull pull out and cum over both rings. Have hubby put both his and your ring back on full of your Bull's cum.
♠    Make a point of arranging that hubby drive you and your Bull around for half an hour while you and he make out in the back seat. For the more advanced hot wives, at some point, make your husband drive you and your Bull to a motel while you and your Bull both make out a bit in the back seat. Then, once you've arrived, check-in with your Bull and make hubby sit in the car and wait until you're done fucking your Bull in the motel, whenever that is. Alternatively, have hubby drive you to your Bull's house for sex. Then make him wait in your Bull's living room while you're taken to the bedroom to get fucked.
♠    Have your Bull spend the evening at your place. Once going off to bed with hubby, arrange with your Bull that at 4 am, he is permitted to slip into your marital bed (awakening both you and hubby), then crawl between your legs and fuck you right beside hubby. For the more advanced hot wives, have hubby sleep in the guest room and spend the evening in the marital bed with your Bull. When doing this, go visit hubby once an hour in the guest room, so that he can touch, taste and smell the sex on your body. On your last visit, request that hubby wake you and your Bull up with breakfast ready for the both of you.
♠    Make hubby wear women's clothing, make-up and a wig and sit watching while your Bull fucks you. His task for the night is to be your Bull's personal maid, fetching drinks or snacks if necessary.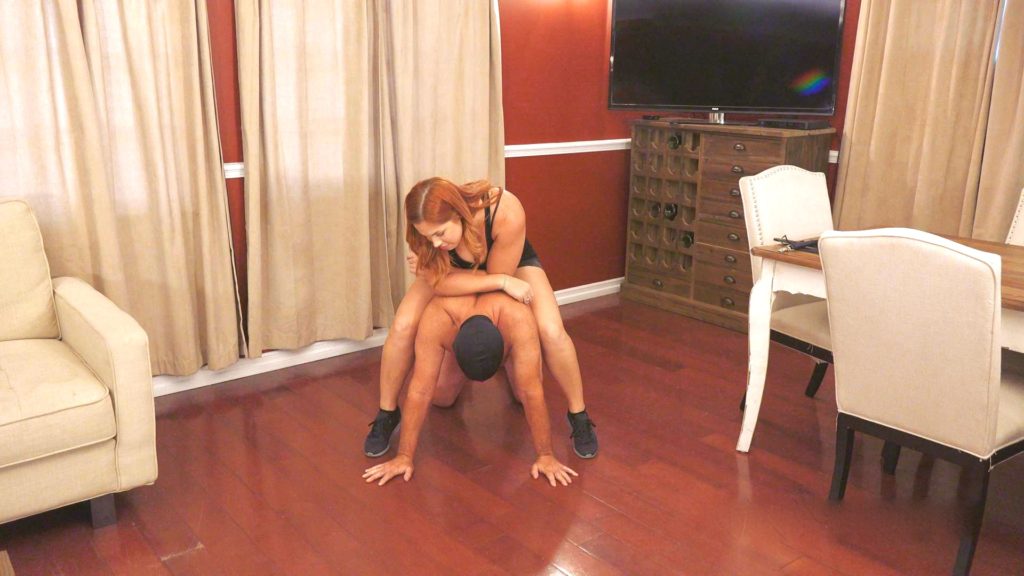 ♠    Put your husband in chastity while your Bull is over and have your Bull wear the key around his neck as he fucks you. For the more advanced hot wives, have your Bull take the key back home with him and hold onto it until the next time he comes over. Hubby stays in chastity until that next time, so it's in hubby's best interest that that next time comes sooner rather than later.
♠    Put your husband in chastity, tie him to a chair, and have him watch your Bull fuck you. Afterward, with hubby still strapped to the chair, have your Bull cum all over hubby's chastity cage and cock while you watch smiling.
♠    Make hubby go outside and clean your Bulls car, inside and out, while your Bull fucks you in the marital bed. As an alternative, have hubby take your Bull's car to the carwash and pay to have it cleaned inside and out, while your Bull fucks you in the marital bed.
♠    Have your Bull bend you over his knee and beg him to give you an erotic spanking in front of hubby. (I'm a very naughty girl, please spank me, daddy) Even if it hurts, let it continue for longer than you're "comfortable" with, before finally begging your Bull to fuck you to ease the stinging. (Please, I can't take it anymore,…please fuck me, please, I'm begging you…) This is especially effective if hubby is not permitted or encouraged to spank your bottom.
♠    Get into a position where you are able to intimately kiss hubby, while your Bull fucks you. Keep the kissing going until your Bull cums inside of you. For maximum effect, when you hear your Bull is cumming, moan out loud along with him while still trying to kiss your submissive man.
♠    Have hubby put his face inches away from your pussy while your Bull fucks you, then tell him to masturbate while doing so. For the more advanced hot wives, have your Bull cum in your pussy, or on your chest if you use condoms, and have hubby lick everything clean. An alternate idea is to have the Bull pull out and cum on hubby's face or in his mouth.
♠    When giving your Bull a blowjob have hubby come sit right next to you. Alternate between intimately sucking your Bulls cock and intimately French kissing hubby with some verbal teasing (Can you taste/smell his cock on my lips? Here, taste what a real man's cock tastes like, etc). For the advanced hotwife, after five minutes of doing the above, grab hubby by the hair, and force his mouth down gently onto your Bull's cock ordering him to get your Bull nice and hard before he fucks you.
♠    Have your submissive man get your Bull hard by giving him a blowjob. Then have your Bull fuck hubby up the ass. For the more advanced hot wives, keep hubby in chastity for one week prior to meeting up with your Bull. Remove the chastity cage when the time comes for your Bull to fuck hubby up the ass. If hubby ejaculates before your Bull is done, that would be great, as he has to endure the humiliation of having your Bull continue to fuck him after he cums. If he doesn't, and your Bull cums first, then lock his cock back up in chastity without being permitted to cum. Do not release him from chastity until the next time he puts his ass up for your Bull.
♠    Take photos and video of hubby sucking other men's cocks and getting fucked up the ass by lots of other men, then have him put a copy of all the footage on a USB stick that you keep securely. Tease him by threatening to show his closest friends and family all the footage if he ever steps out of line.
♠    Consider getting a "Queen of Spades" tattoo (or something symbolizing your love of black cock) put somewhere on your body. This will ensure hubby is constantly reminded of his role as your cuckold, as well as attracting attention from any black Bulls you happen to come across…
♠    Convince your submissive man to get some sort of "cuckold" or "owned by…' tattoo put somewhere on his body. Even if it's something symbolic, have him make it permanent on his body to remind him that once a cuckold, always a cuckold.