List of male Humiliations:
Once he'll "Do Anything to please You" here are some ideas on male humiliation that will keep Your slave attentive and in his proper place, and will hopefully be entertaining for You.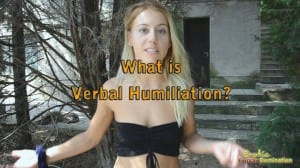 – Make him wear Your panties or lingerie, dress him up as a little girl or a French maid.
– Make him do housework naked or dressed in women's clothes.
– Have him pamper You, have him:
– give You a foot/back/full body massage
– give You a pedicure/manicure,
– paint Your finger/toenails.
– bathe You/shave your legs.
– cook and serve You a nice dinner.
– Make him hand wash Your panties and lingerie.
– Make him polish Your shoes with his tongue.
– Make him wear a collar and lead him around with a leash, like a dog.
– Attach a leash to his balls or cock ring, and lead him around with that.
– Tie it off in front of the sink while he does the dishes.
– Ride him around as Your pony boy…spurs? a riding crop?
– Dress him up like the slut that he is, wear a strap-on dildo and make him beg to suck it. fuck him. (don't forget the fuck-me red lipstick!)
– Make him wear Your panties or lingerie under his regular clothes when he goes out or goes to work so that he will think of his Mistress constantly.
– Make him masturbate for You, make him beg for permission to cum, don't let him, punish him if he does.
– Make him screw himself with a dildo.
– Make him earn his rewards; for example:
– Allow him to kiss Your ass after the dishes are done.
– 1 minute of pleasure for him for 10 minutes of Yours.  5 minutes of pleasure for him after he makes You cum 5 times.  Spank him 10 times for each minute it takes him to make You cum.
– If You think he's earned an orgasm, make him cum on Your feet or Your ass and then make him lick You clean.
– Order him to bring himself to the edge of orgasm and stay there until You give him permission. When You give the command he must cum within 5 seconds or he will be punished and/or not allowed to cum at all. (keep him that way for 30 minutes, an hour…or as long as You want)
– If he's really horny and bothering You, You may want to curb his interest by ordering him to jerk off 5 or 6 times in a row. Use it as skin conditioner… 3 times on each foot, have him spread it around and lick them clean after each time.
– Always make him lick You clean after sex.
– When You go out, order him to tie himself up, be naked or dressed up as a girl and be kneeling at the door for when You arrive.
– Lock a padlock on his balls.
– Give him a golden shower.
– Make him think of a new way for You to humiliate him. Punish him if You don't think it's good enough. Make him post it to the net (and send it to me to add to the list)
Feel free to add any male humiliation suggestions to our list!