Punishment Night Part 2 – nettles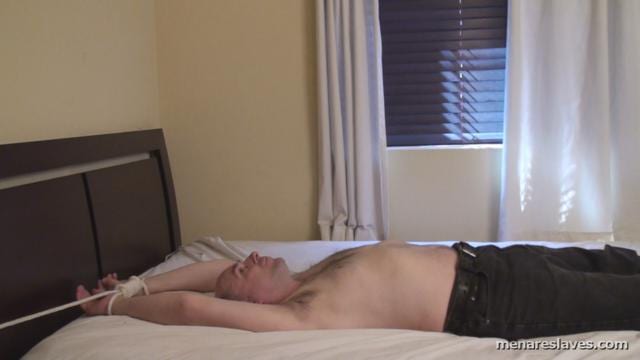 I finished watching two hours of television and returned to my pet that was still bound to the bed.  He was still squirming,  trying desperately to itch himself after the nettles have been doing there job.
I put my gloves on and removed his blindfold,  his big blue eyes were begging me.  I removed my sock from his mouth.
"you've been a good boy not spitting out my sock,  how did it taste? "
" like a sweaty foot Mistress,  please remove the nettles,  they are driving me crazy. And I really need to scratch "
" I asked about the sock, not a life story"  I snapped.
"but since you have been good with the sock,  I think you deserve a little pleasure"
I removed the stinging nettles and lowered his thong.
Placing my sock over his manhood I held it and allowed him to thrust against it to help scratch the itch.
His manhood and thighs were covered in lots of little white bumps from the nettles,  it must have been driving him crazy.
"I'm not going to let you put that anywhere near me until the bumps go down,  I don't want to catch your itch hehe"
I lifted up my little skirt and lowered myself onto his face.
Placing the front of my satin thongs over his mouth,  he was commanded to lick and not stop.

He was still squirming in his bondage which I love,  and with his expert tongue working on me through my thongs it didn't take long until I came hard.
On our bedside table, we keep a few toys for easy reach,  on the top of the pile was some tape.
I grabbed my other sock,  the one he wasn't sucking on for the last two hours and stuffed it into his mouth,  then placed a large strip of tape over his lips.  I would be right here with him,  so he didn't need to be able to spit it out this time.
I stood over him on the bed,  looking down into his eyes I slowly lowered my thongs. The same thongs he made me come in, not five minutes ago with his tongue.
I put my thongs over his head,  making sure to have the crotch right over his nose.
"I want you to smell what you won't get to feel tonight"
With the tape gag and sock stuffed into his mouth, he had no option but to breathe in through his nose,  though my wet thongs.
I found some cooling lotion and with my gloved hand,  I very gently massaged the lotion into the area stung by the nettles.  Soothing him and teasing him at the same time.
Eventually, I got bored and decided it was his bedtime.  I released him from his bonds and removed the gag and thongs and let him used the bathroom under supervision,  I don't want him playing with himself.
He got back into bed and I reattached his cuffs to the chains.
I whispered in his ear that if he's good I will wake him up nicely in the morning,  which is my way of saying,  "I will wake you up with my mouth"
I replaced his blindfold and replaced my thongs over his face and told him to go to sleep and dream of me.
Which eventually he did.