My New Identity After My Sissification Transformation
I love my sissification by my femdom wife and continue to live like this in my femdom relationship with her. My wife takes care of the daily chores and punishes me whenever I make a mistake or she sees fit. I have new identity after being sissified by my charming wife. The swinging nose ring on my lips tells me that I am the property of my wife. The long drop earrings give me a feeling of being commanded 24 hours a day. Anklets and other pieces of jewelry give me the feeling that I am my wife's decorative object.
She must feel proud showing me off to her friends but even after one year of being sissified, our relationship was always a normal vanilla relationship in public. I tried hard to show my devotion at a level where she felt comfortable introducing me as her sissy slave husband to her friends or be in public with me as her sissy slave. I asked her if any of her friends at the office were in femdom relationships. She said, "I don't talk about these issues with my friends." Although things change.. and so did my fate.
My Wife's Friend Sees My Feminized Look
It was Saturday afternoon, I was in red high heels, a dazzling blouse, and a mini skirt with feminine pieces of jewelry and cosmetics (lipstick and eyeliner) on while preparing lunch for her. She was in the bedroom when someone rang the bell. I immediately run to change my dress while my wife asked me to open the door. I removed the sissy dress and opened the door. My wife was on the sofa in the guest room. It was her close friend from the office. I opened the door and ran back to the kitchen. Her friend had seen me wearing lipstick and a necklace and she was talking about that to my wife.
I was sweating in excitation thinking about this. When my wife said,
It's my femdom wife's order which means she is comfortable with calling me sissy in front of her friend. I had removed my lipstick and necklace. Initially, I didn't want her friend to see me as my wife's sissy slave. I brought her friend water.
her friend said and I was excited that she found out that we are in a femdom relationship. Did my wife tell her or did she know it when she saw me wearing jewelry?
Mistress Cindy Arrives At The Door
My wife introduced me as the feminized husband hers. I was very excited that she introduced me as her sissy slave husband. I am proud of being her sissy.
"Does your friend know that I am your sissy slave?" I asked my wife with her permission.
"She saw you wearing a necklace and lipstick," she said with a smile.
It was a mistake but my femdom wife smiled at my mistake and at that moment I thought my dream had come true.
Next Sunday evening, the doorbell rang before I had a chance to put the sissy dress on my wife ordered:
"It's Mistress Cindy, open the door".
I shivered in excitement at the thought that my glorified sissification would be shared with her friends. I was naked with jewelry on my body. My femdom wife denied my request to wear a skirt and blouse. I opened the door and her friend smiled at me and I was sweating. I closed the door and went to bring water to my friend's wife.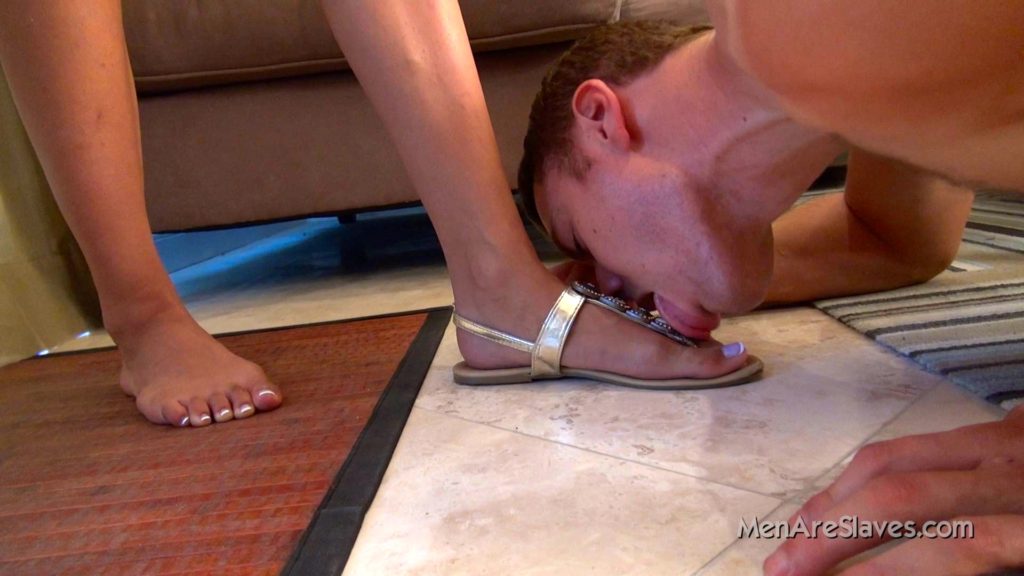 Kissing Mistress Cindy's Feet
My wife introduced her friend as a femdom mistress and spanked me because I didn't greet her properly. I said
"Hello Madam" and got the second spank
"Did you forget the greeting rules?"
Ahhhhhh!! It's my dream come true. I immediately bowed down and kissed Mistress Cindy's stilettos shoes. She was impressed by the way I was sissified. She caressed and pulled my nose ring. There is no better feeling of sissification than flaunting your nose ring to your mistress. It made the sissification process worth it.
Her gentle touch on it and the slightest of tugs she does to my nose ring made me want to cum. My wife notices my hard-on and orders me to wear a dress. She doesn't want me to cum anywhere else except Mistress Cindy's stilettos shoes. I went to the bedroom to wear the dress she like most and picked out more feminine jewelry to wear. Meanwhile, my femdom wife comes to the bedroom and orders me to wear her pink bra and panties.
Pain is Pleasure For A Sissy
At that moment, I had a surge of erotic feelings. I looked at her with a hesitant smile and she said in an authoritative voice,
"We haven't started yet sissy."
I was very excited to see her dominant side loving the way she introduced me as her sissy slave husband to her friend. I yearned for her to introduce me as her sissy slave husband to a group of friends or in public. As a proud sissy slave to my wife, I devoutly follow all of her orders. She used my nose ring chain as a leash and walked me to the guest room where Mistress Cindy was.
I danced for my femdom mistresses and they appreciated my way I was trying to please them. My wife put a jewel plated inflatable anal plug in my ass as punishment for delaying in kissing Mistress Cindy's feet.
"Nice jewelry should be worn in your butt."
My femdom wife said. I smiled and nodded and said,
even though I was in pain. But pain is a pleasure for a sissy. Pain gives my wife better control over me.
As they were playing with their sissy (me), I was about to cum but my femdom wife didn't allow me to cum. I immediately fell at her feet and started kissing them. Mistress Cindy ordered me to lick my wife's feet. While I was licking her feet I came a little bit on the floor. This was against the rules as I was only allowed to cum on her feet or sandals and lick them clean afterward.
For being disobedient, I was punished by inflating the anal plug in my butt and licking the floor clean before my femdom wife deflates the anal plug. Joyfully, I licked the floor clean and came on my wife's feet a few more times. The biggest pleasure in this world is to lick your own cum on your wife's feet. My femdom wife and Mistress Cindy defined a new set of rules which would emasculate me even more by reducing my male existence and boosting my sissy slave personality publicly.
A New Set Of Emasculation Rules
1) I must wear panties and bras 24 hours a day even when I am at work.
2) I must greet my wife's friends by kissing their feet when they come to visit us.
3) I must wear lipstick, nail polish, pieces of jewelry, and my nose ring must be attached to a designer gold chain at all times. This is used as a leash by the wife. The nose ring is traditional Indian jewelry.
4) I should wear my inflatable anal plug 24 hours a day until my wife tells me to remove it since this is now part of my clothing attire.
5) I should keep my eyes on my nose ring or on my wife's stilettos shoes when I am in her presence.
6) My nose ring is my slave identity and I must be proud of it and show it off to all of her friends that she introduces me to as her sissy slave husband.
No Greater Pleasure Than Making Her Happy
I loved the way my femdom wife introduces me to her friends and being flaunted as her sissy slave husband in front of her friends gives me a lot of pleasure. There is no better feeling than wearing jewelry, especially the big designer nose ring with a leash chain attached to it. It makes me feel emasculated and gives me a deep sense of feminization. I always have to wear it at home. My wife played with my nose ring with her feet and said she is proud of having me as her sissy slave husband.
This new set of rules gives me a deeper sense of feminization. My femdom wife knows very well how to emasculate me thanks to Mistress Cindy who gave her new ideas for punishing me. I want to make my wife happier by being used for her pleasure.  I love being sissified by my wife. It makes me so happy to see her smile.