The True Mistress Snow White
It takes courage to grow up and be who you really are, and Snow White has got it.
As every evening the seven dwarfs walked through the forest on their way home, singing together
"Heigh-ho Heigh-ho, it's home from work we go!"
As Bashful opens the door he immediately notices something is not as usual. Someone ate of their food.. someone started a fire in the fireplace…
Sneezy curls his nose and sniffs "What is that wonderful scent?"
"Shhhh!" Quietly they climb the stairs, one by one, excited and scared at the same time.
They're spread out over their seven little beds sleeps the most beautiful creature they ever saw. Raven black hair draped over the little pillows. A pair of the most sensual plump cherry red lips they ever saw. Her long curly lashes softly butterfly on her cheeks. Her skin so fair and creamy, a peachy round boob with a candy pink nub escaped from the frill of her dress. A perfectly shaped leg sticks out of the cloud of tulle of her skirt. Her bare toes were as delicate as flower buds.
All seven they stare at her, mesmerized. This exquisite view burned on their retinas, bedazzled by her perfume. Their little cheeks blush and they all feel the same sweet fire creep under their skin, some of them setting up a huge tent in their little trousers.
Dopey leans forward, stretching out his tongue, the wet tip flicks over the princess's toe. Bashful holds his breath as he sees the boldness of his dwarven brother and can not hold himself any longer, his mouth greedily sucks a toe of her other foot. Soon all seven dwarfs are licking and sucking Snow White's leg and feet. Sleepy climbs on the bed, his eyes bulge as he sees the perfect rosebud nipple, his lips wrap around it and he suckles happily, snuggling close to her, his erection throbs in his pants. But he wouldn't be Sleepy, his eyes close and he doesn't even need to dream, he is already there.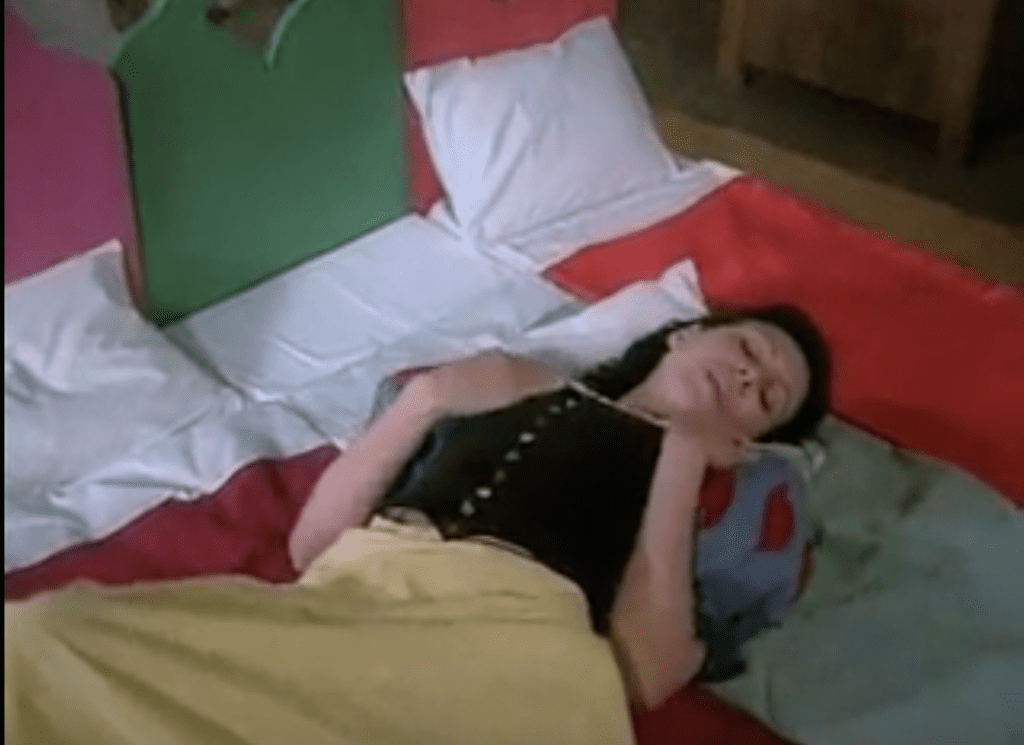 Snow White parts her full lips, a soft blissful sigh escapes as she feels so many warm wet mouths nibbling, beards tickling, tongues teasing against her skin.
She opens her eyes and squeals, six little men back off, their faces filled with fear. Sleepy sleeping steadily sucks the nipple with renewed vigor. Snow White looks at him, horrified and throws him off the bed. "Ugh!"
"Who are you???" she pants, pushing her hard nipple back into her dress. Her glance travels over the little faces and then over the big bulges in the little trousers.
Doc clears his throat nervously "We are the seven dwarfs, Miss, you are in our house"
Snow White looks around her, remembering the calamity that brought her here.
"Oh!" and she starts to weep softly. Her tears flow abundantly as she realizes she has nowhere else to go. The seven dwarfs engulfed by her sadness hesitatingly try to comfort her.
"Miss, you can stay here, we will do everything to make you happy!"
The princess sniffs, her beautiful eyes blink at bashful "Everything?"
"Everything, Miss Snow White!" and they all nod firmly, encouraged by the twinkle in her eyes and the smile that sunsets her pretty face.
Snow White giggles and jumps out the little beds, tugging the velvet ribbons of her dress. "Bring me scissors!" The little dwarfs run in all directions to obey her commands excited by her promising and cute cooing.
Immediately she gets to work, cutting the ribbons in smaller pairs. "Take off your clothes, little dwarfs!" A wave of protest out of the bearded mouths. Her face shifts to a rigorous gaze.
"Come on, you said  e v e r y t h i n g ! " She taps her foot and all seven start to unbuckle their little trousers and stand in a row butt naked.
Snow White chuckles and ties seven pair of wrists and seven pair of ankles. She squeals of delight seeing seven erected dicks, all of them of significant size with beautiful mushroom heads, proudly sweeping in the air.
As a true Disney figure, she stands at the window singing a beautiful song with a remarkable singing voice as a few birds come to the rescue and bring her two long soft feathers. She kneels down in front of the dwarfs and starts to tickles 7 pairs of balls, the soft plush teasing them mercifully.
Soon the room is filled with soft moans, Snow White's cheeks glowing, her eyes dancing from one cock to another as she makes them throb with the two feathers.
She watches Grumpy's ballsack climb already, Sneezy's squirting pre-cum like crazy. One feather ticks against Happy's frenulum and his tiny body tightens and starts to squirm uncontrollably, big gulps of hot cum shoot from his throbbing cockhead.
"Happy!!!!"Snow White yells, "I did not allow you to cum, you little slut!" Happy blushes while his dick still violently erupts another string of hot jizz.
She grabs the little man by his neck and pulls him close to her "Now I will have to punish you, Happy!"
Snow White takes a few of the dwarven shirts and cuts them up to blindfolds. The seven dwarfs moan and whine as she blinds them leaving them with anticipation of what she will do to them.
Happy's cock still hard an erect so close after his orgasm lies bend over her knees, she uses her bare hand and spanks his perky ass. Every slap makes the other six react, their dwarven peens big and hard as ever. Breathing fast all desperately trying to hold their orgasm to please her.
Happy's ass cheeks are red and hot and as she separates them with two fingers to check his little tight hole, he moans and trembles on her lap.
"Oh! So you like your little dwarf cunt played???" She inspects the little starfish and watches his reaction, thinking as there are no dwarven girls around they maybe use each other. She spits and rubs small circles wetting him, his cock is even bigger poking against her lower leg.
Snow White grabs Sneezy by the beard and pulls him close to her, positioning right behind Happy, her fingers wrap around his shaft and she rubs the swollen purple helmet of his cock against the tight little wet asshole of Happy.
Sneezy protests trying to wiggle his dick out of this embarrassing situation but Snow White shows no mercy. " E v e r y t h i n g " she giggles and pushes against Sneezy's lower back watching his throbbing member slowly disappear in Happy's ass.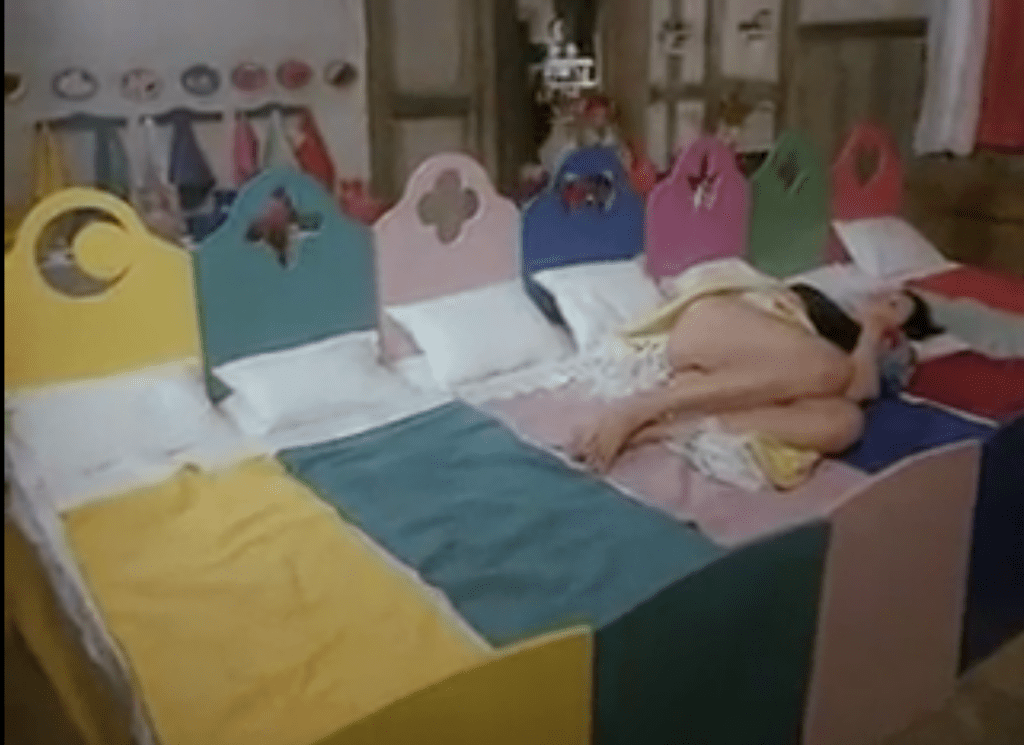 Snow White snickers and pants, her own body tingles of pleasure as she forces the two little gnomes on to each other, hearing their shameful cries mingled with moans. She slides one hand underneath Sneezy's ass, grabbing his balls from behind, controlling his movement firmly, her other hand underneath Happy's body closing around his twitching cock, squeezing him in the same rhythm as she forces Sneezy deeper into his ass.
Those little dwarfs are maybe not really gay or into each other, but as they say, a cock has no eyes and soon both Happy and Sneezy are lost in pleasure and surrender to Snow White's commands.
Te other five dwarfs hearing the moaning and the cooing of their new Mistress, tremble softly awaiting their turn in a docile way, their cocks jump in the air, strands of pre-cum everywhere.
Snow White lets go of Happy's cock for a moment and grabs Doc by the beard and places him in front of Happy's face, her fingers lead Doc's hard member towards his mouth, Happy to far off to object opens his mouth and she pushes against the other dwarf's ass so he fills it with his throbbing meat. Doc arches his back, his head thrown back, his eyes closed as the warm mouth starts to suck him, the wet tongue slides back and forth over his shaft and he growls like an animal of lust.
Snow White's breasts heave, her hand slides under Happy's body again, grabbing at his cock, but this time she rubs the thick head between her legs, feeling the heat through the fabric of her dress.
So close, the delightful spiral circles deep inside her slowly expanding, she could orgasm right now, but she doesn't. Too much fun to come yet.
She rubs Happy's cock head fast, pulling up her skirt, now only the soft lace of her panties in between the hot spongy helmet and her throbbing clit. She feels him shudder as he starts to explode, wetting her panties with his hot jizz, his ass contracts and she watches his asshole suck on Sneezy's cock like a hungry mouth. Sneezy squirms and moans loudly as he pounds the tight ass and fills it gulp after gulp with his thick white semen. At the same moment, Doc grabs at Happy's head and starts to unload in his tight throat. The beautiful symphony of 3 erupting cocks, Snow White can't but hum another Disney song "With a gulp, with a grin, get a wiggle on your chin, you can make things cum with a zum, zum, zum"
She places the three dwarfs back in the line, all three flushed, their cocks half-erect. Snow White giggles and takes of the blindfolds of all seven, she stands up and gets out of her dress, slowly removes her frilly underwear. They all stare at her mesmerized not sure where to look first, the peachy round ass, the beautiful perky breasts with blushy nipples or the plump pair of lips between her legs. She sits down on the floor and spreads them with her fingers, giving them a sneak peek of her pink entrance. It's glistening with wet, she is so close. Her inside softly throbs at them.
It's so quiet, she can't even hear them breathe. Two fingers slide between her labia and she dips them in her juice, then one by one rubs them under their nose, her scent lingering on their upper lip, then travel up their nose, flaring nostrils, moans and sighs and twitching cocks.
Snow White grabs a feather and flicks it over her clit, she groans in a Disney way and stops, she rubs the wet feather tip against Bashful's nose, smothering him more with her scent and orders him to stand between her legs. She places the tip of his dick against her pussy and feels the hot silky skin of his cock head. He quivers, the sensation of the warm wet pussy against his twitching cock too much, his glands expand, even more, his balls climb uptight, desperately he tries to distract his thoughts to hold himself, but his prostate throbs, his fluid makes it way through his shaft and he starts to shake violently as he shoots hot strings of cum against Snow White's pussy. He collapses under the intense orgasm, she squeals pretending disappointment, slapping him against the side of his head, her sex glowing and reacting to the sultry feel of the warm wet fluid.
She grabs Bashful by the beard "Now, you little dwarf, you made my beautiful pussy all dirty with your cum, as a penalty you will lick it clean!" A common sigh of rapture escapes seven mouths, they all want it. So badly.
Snow White grabs Bashful's head and leans backward, spreading her legs wider to give him full access. The seven dwarfs not only have huge cocks, they also have a large pointy tongue. She moans in bliss as he starts to lap her pussy licking up his own cum. She breaths slowly holding herself on the edge, enjoying every second of this intense pleasure.
Her thoughts race with more naughty ideas, her body tingles like never before. She motions Happy and Sleepy to come and suck a nipple each.
Snow White's muscles tremble to feel those three warm wet mouths. More! She needs more! She motions Grumpy, he has the biggest cock of them all, big throbbing veins on his shaft, a massive purple head, she lets Bashful make room so she can push Grumpy's cock inside her tight throbbing tunnel. "Bashfull to the side and keep licking my clit!" Panting of all the sensations, she moans lustfully and calls Dopey to get on his knees underneath Grumpy's balls, he is the smallest and fits there. She orders him to put his tongue inside her ass and he does immediately, snaking it eagerly inside and out. Her hand wavers at Sneezy and Doc to come and kiss and lick other parts of her body.
"All hands on your cocks, dwarfs, but do not cum before I tell you!"
Snow White floats on a cloud of total bliss. Six mouths and one cock bringing her to heaven. She moans and sighs, overwhelmed by lust and pleasure. Happy and Sleepy's mouths teasing her swollen nipples, Bashful's tongue licks her clit with soft fast strokes, Grumpy's twitching cock stretches her tight oozing pussy, filling her completely while Dopey's tongue slides in and out of her ass. Sneezy and Doc leaning over her, their lips nibble and kiss and travel allover her body.
She breaths slowly, relaxing all her muscles expanding the feeling, the house is filled with moans, sighs, squishy wet sounds and she feels her little dwarfs shiver as she starts to cum around Grumpy's cock. Her eyes stare at his face and he uses all his willpower to not explode in her heavenly squeezing tunnel so he can keep pleasing her.
Lustfully she allows her seven dwarfs to orgasm, the gulps of semen fly forcefully around the room, her body is covered in their sweat and cum, but they don't stop. For hours they lick and nibble, taking turns sliding their huge cocks in her wanting sex. She enters a state of bliss and has one orgasm after another, ordering them around as needy slaves, watching their twitching dwarven cocks tirelessly explode. They eat and taste and follow her instructions carefully until she is exhausted and falls in a blissful sleep.
All the animals of the forest came to the window wondering what all the moaning is about, watching the pile of dwarfs pleasuring the beautiful princess. What a happy sight.
Snow White and the Seven Dwarfs lived a life filled with lust and delight. During the day they worked in the mine, in the evening they cooked and cleaned and washed for her. During the night all seven used their fingers, mouths and cocks to bring their Mistress to ecstasy.
They lived happily ever after.
What do you mean the prince?
Who needs a prince when you have seven dwarfs like that???

We could all really take a lesson from Snow White, starting with her new found fashion sense! Don't you all agree!
[fblike]