7 Femdom Rules Every Dominant Wife Should Know
1.) Keeping him locked is keeping him interested.
An important component of a man's sexual reeducation should include experiencing the pleasure of ceding sexual control to his Dominant wife. I'll go out on a limb and say practically any essentially strong Femdom marriage or relationship will benefit from male chastity. The reasons are at the same time both complex and simple. In fact, I'll slide out even further on the limb and claim if you're an average healthy woman and you enjoy a healthy sex-life then male chastity should be an integral part of your life. Your partner will be more complacent and more focused on your needs. Keeping him locked up is non-negotiable. His orgasms are yours to give, not something that he has a right to by default.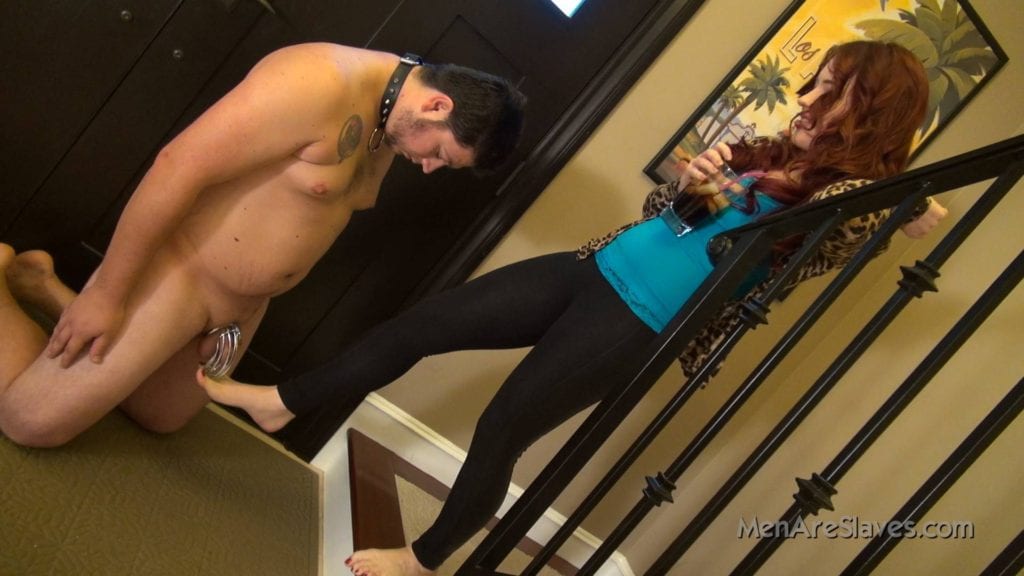 2.) In a Femdom relationship… getting the strap-on is not an option.
He'll scream like a little sissy bitch the first few strap-on times. All of that's very normal. But just keep at it. Your goal is to make it a very normal part of his experience. After a while, some pretty wonderful things will start to happen. His selfish, argumentative masculine edge will dissipate. He will become much more cooperative and attentive to your needs. His submissive side will come out and blossom. He will become much less concerned with his orgasms, and more focused on yours. His erogenous zone will slowly start to shift from the head of his penis to the opening to his asshole and his prostate gland. It is therefore very important to make sure your partner receives a good Dominant wife fuck session one a week.
3.)If he cums, he cleans
Another basis Femdom Rule I guess. If you have given your partner the privilege of an orgasm, it is vital that he cleans up his own mess. It doesn't matter if he came in your pussy, on himself or on the floor. It is a vital part of his submission that you force him to clean up. Of course, he never cums unless you had an orgasm first!
4.) If you have penetrative sex, stay in control
When you crave sexual penetration and your lover is not around, you must ensure it is done in a way that not only satisfies you but maintains your dignity and dominance over your partner. You can do this by using the Cowgirl position, where you control the entry and penetration of his penis into you but the best way is probably the Amazon Position.
Place your partner on his back with hands behind his head, tell him to keep them there.  Handcuff him if you want.  Then, lift and spread his legs and push them backwards toward his shoulders (like you would normally do when you fuck him with your strapon).  Pull his erect cock up and sit on it, riding him up-and-down with your crotch pressing onto his ass. Ride him harder and harder, as you push back his legs to his shoulders, and pushing his cock deeper into you.  You are now in full control as a Dominant wife "Amazon" fucking him.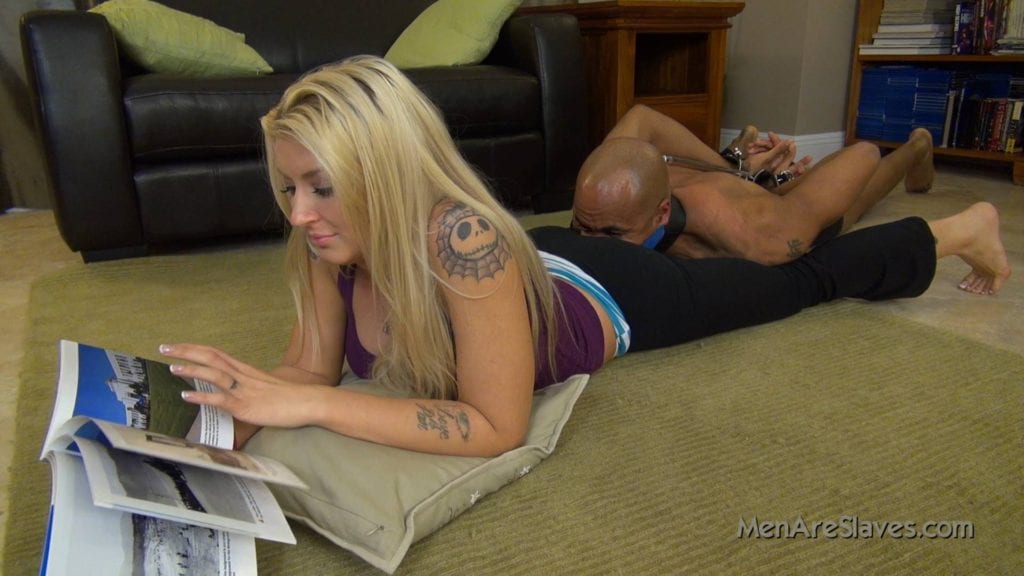 5.) Submissive men wear panties
At least most of the time 🙂 A slave should not wear undergarments if the design of the item of apparel is expressly approved by you. A simple way to enforce your dominance is to each day decide if your partner can wear normal underwear or should wear girly panties. Simply lay them out before you go to bed each day, it takes less than a minute but will definitely make his submissive clock tick! If you want to take it a step further you could send him to work wearing holdup stockings. None will notice but he'll be reminded of his status every minute of the day!
6.) Spank him once a week to make sure you have his attention!
Rigorously adhering to a schedule of weekly discipline session for a submissive partner is very important.  At a scheduled time each week, you and your partner know that you will have him over your lap, over the back of a chair, or over the edge of the bed for an extended session with the cane or whatever tool you select. This session may include or be preceded by a scolding about his behavior of late, and a recounting of what has pleased you and what has left you wondering exactly how lazy he thought you should allow him to become. This is the session that will fix that laziness and it provides the opportunity for you to vent your frustration – like a discharge of built-up electrical power. When the frustration and irritation are gone the spanking ends, and not before. What's important here is that this is not ' playtime' and this is not for his pleasure. Spankings are meant to hurt as your partner is supposed to actually learn from the lessons you try to teach him.
7.) Get a lover… He needs to be humiliated
I made a post about the importance of cuckolding not so long ago so I will keep this simple. Getting a lover is something you do as much for yourself as you do it for your partner. As a Dominant wife, you deserve hot steamy sex every once in a while and you deserve the freedom of cuckolding your partner (whose little tiny penis is locked up most of the time) gives you. It serves as an important outlet and opportunity for you to further explore your sexual fantasies (as well as fulfill those of your partner) and desires, and to quench and fulfill sexual needs that your partner cannot possibly hope to satisfy. You don't need to fuck around with just anyone; finding a good, understanding, lover takes time. That being said, if you don't have one yet, you better start searching (because that's half the fun 😉 )!
Putting the above together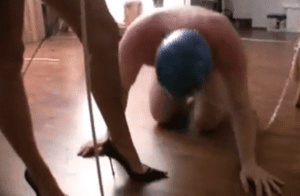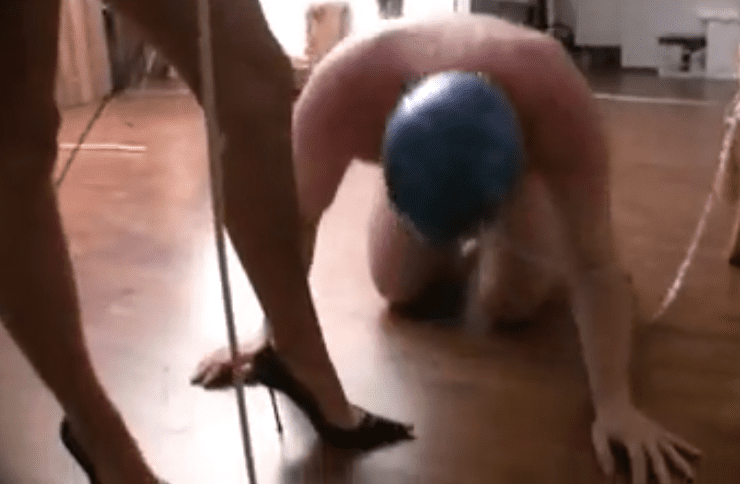 Keeping up a Femdom relationship can take effort and it is important to try and keep that effort to a minimum. Therefore it is important that you keep it simple: Spanking is once a week – unless he deserves something additional. Set a time and keep to it; usually this will take no more than 15 minutes of your time.
He is always to wear a chastity cage of which only you have the key and is to wear the underwear you prepare for him. Again, strong reminders for him that you are in charge with minimal effort from your side. Picking out his panties for the next day takes about 1 minute and can actually be a lot of fun. Keeping him chaste has great benefits and minimal effort as well.
Make sure to have time at least twice a week for sex in your relationship. In the busy schedules, people tend to have these days that will require effort at times but forcing yourself to a set number will enhance your sex life greatly. With having sex in this context I mean you having an orgasm. Additionally, you make sure to fuck him with your strap-on at least once a week. Penetrative sex happens on occurrence; whenever you feel like it. And remember to make him clean up whenever he gets the privilege of an orgasm!
Last but definitely not least, start looking for a second man in your life if you don't have a lover yet. If your partner is anything like mine, he'll crave it even more than you.
Keeping the above in mind you can greatly improve the quality of your relationship by dedicating about one hour a week to your lifestyle.