Let The Femdom Humiliation Games Begin
For this, you will need (3) 24-sided dice, a computer printer (to print the list below), and a male slave which you can find just about anywhere. You can get the dice online at eBay, Amazon, or any number of other stores. Dice like this is used in the fantasy game Dungeons & Dragons and may be available over the counter from comic book stores.
The game is pretty simple, you allow the submissive man to roll the dice and let chance determine his activity/punishment torment/humiliation. Some of these are quite lengthy and some are quite painful. A few require specialized equipment (tall ceiling and a hoist) and some involve items not in most modern households (wooden clothespins, cotton rope, whips, paddles), but may be quite common in the house of a practicing Femdom Dominatrix.
The game is set up with live-in D/s couples in mind but can be played as a party game with multiple couples – sort of like a D/s version of spin-the-bottle. A lot of activities can be part of a session between a pro-domme and a client. Most of the activities are set up for a male submissive and dominant femdom woman.
However, please feel free to write your own version for gay participants. After all, it is hard to tie up the cock and balls of a femdom woman just as it is to have a submissive lick a man's pussy. A word of caution; a calculator may be needed since you have to add the sum of the 3 dice to determine the activity on the list. I suppose you could use a single 24-sided dice but don't rely on the submissive man to remember the numbers from the first 2 rolls of the dice.
At the end of the list, there are two special activities you may want to try. They are quite elaborate and are not part of the 72 listed activities.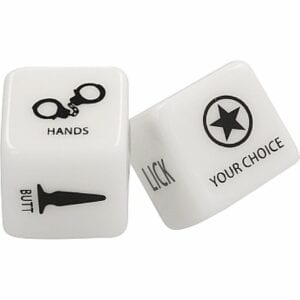 So Without Further Ado, Roll The Dice And See What You Are In For
1. The first one doesn't count, since it is impossible to roll a 1 with (3) 24-sided dice.
2. The second one doesn't count either since the lowest number you can role is
3. Make him strip naked while you keep your clothes on. Have him stand on a chair in the center of the room.
4. Have him kneel before you and kiss your feet including licking between your toes. You may do this at a secluded but not deserted public place.
5. Have him masturbate while you drive. Make him cum on the front of his trousers (definitely not on your car's upholstery) and let it dry. Do not let him change his pants for the rest of the day.
6. Have him address you as "femdom mistress", twice in each sentence (e.g. "Femdom Mistress, yes Femdom Mistress.") If he forgets, have him strip, bend over, and give him 1 hard swat with a paddle, before getting dressed again and re-engaging in conversation.
7. Have him kiss and/or lick your buttocks, then make him beg to kiss your anus.
8. Have him polish your toenails, then remove the polish and do it again in a different color. Repeat as often as you like.
9. Shave the hair under his arms, his chest, and his pubic hair.
10. Tie his hands and have him undress you with his mouth and teeth only. He may have to bite the buttons off but don't worry, he can sew them back on.
11. Don't let him masturbate or touch his cock without your permission, including when he needs to use the toilet or scratch himself "down there", which he will want to do if he rolled #9 a few days ago.
12. Have him naked and kneeling in front of you with his knees spread apart. Tie his hands behind his back while you read or watch tv. Occasionally nudging his balls or penis with the toe of your shoes. You may also use him as a footstool.
13. Using some strong string (stronger than kite string), tie a slip noose in the end and tighten it around the head of the penis. Tug on the string, pull it, shake it, lead him with it, whatever is your pleasure. Make him beg to have the string removed. Tell him to get used to being led by his dick, because eventually, he'll roll #29.
14. Show your slave your panty crotch under your skirt, make him smell it, but not touch it.

15. Tie your slave spread-eagled to the bed and tease him to keep him erect for hours. Touch his cock but only enough to keep him erect. Don't let him cum.
16. Place clothespins on his nipples and jiggle them rapidly. After 10  minutes remove them, then replace them so they are pinching the opposite sides of his nubs. Jiggle them some more. Remove only one clothespin and tug the nipple until the pain subsides but continue to jiggle the other nipple for 5 minutes before releasing it. Squeeze it very roughly until he screams. Make him thank you for being so kind.
17. Tie your slave spread-eagled to the bed. So he can see what you are doing, thread a 4-foot length of string through the spring of a clothespin and tie it firmly to the clothespin. Next, thread 20 or 30 other clothespins onto the string – use a whole package of clothespins. Starting with the first clothespin, clamp it to his scrotum near his anus. A clamp as many pins as you can to his ball sack and penis in a random arrangement. You may not be able to clamp them all since he may run out of loose skin to clamp onto. Sit on his face and have him lick you until you cum. After you orgasm, pull the string very hard to release all the clothespins from his cock and scrotum.
18. A variation on the previous activity; tie only one clothespin to a 3-foot length of string and clamp it on his scrotum or cock. Do this for the rest of the package of pins – one pin per string. Have him lick your pussy while you "encourage" him by pulling off 1 clothespin at a time.
19. Put on his favorite lingerie and tease him with it. Scratch him with your fingernails. Tickle him. Pinch his nipples. Sit on his chest and find out what he would do or what gift he would buy for you if you allowed him to kiss your nipple. Let him almost kiss it but pull away, make him beg. Take a break, put some worn panties over his face and leave the room for a while and let him think about what else you might do or give you.
20. Squat above his face, make him reach with his tongue to taste the crotch of your panties.
21. Tie him naked to the bed and put a blindfold on him. Make him lick you to several orgasms before you eat lunch. When you return, have him do it again. Then leave him on the bed alone for an hour or so and then lick you to climax several more times. Repeat as often as you like.
22. Rub his face against your pussy or sit on his face but gag him with your panties so that he can't lick you.
23. Tie his balls off to something behind him (bed, footboard, kitchen table, etc.) position your pussy or ass just out of reach so he has to tug on his tied balls to kiss/lick your pussy or ass.
24. Masturbate using a dildo or a vibrator or your fingers and when you are satisfied to have him lick your pussy clean and fingers, or dildo, or vibrator, too.
25. Put the base of the dildo in his mouth and make him satisfy you with it making sure his nose presses between your ass cheeks. When you are satisfied make him lick the dildo clean.
26. Tie him down to the bed and tie one hand to his penis but do not give him permission to masturbate. Leave him like this with a long porno video playing.
27. Make him suck on a dildo all day. Do not allow him to take it out. Buy a pizza and have it delivered. Make him answer the door.
28. Put the panties you wore yesterday over his head so he can smell your intoxicating odor.
29. Have his nipples and cock pierced and permanent rings installed? You might also consider having the word "SLAVE" tattooed below his navel.
30. Make him wear Your panties or lingerie, dress him up as a little girl or as a French maid. Tell him how pretty he looks and that he really should have been a girl.
Editor's note: There will be a follow-up article with more Femdom Humiliation Games and punishments, teases, and humiliations, just as soon as the author, WR Maxwell, gets himself untied, which usually takes a day, or two.