Pegging me
She entered me slowly and softly. Lying on my back with her on top of me and being dominated and pegged by her, made me flush with excitement and anticipation for what was to come. I had never been so sexually aroused and it was so intense that I had to struggle to keep from shooting right then with this pegging.
Never thought of myself as a submissive but wanted to submit to her dominance completely. I would do anything to please her and gain her approval.
She pumped faster and deeper into my accommodating and waiting manhole. I spread my legs as wide as I could because I needed to engulf her entire cock. It felt so good that I moaned in extreme satisfaction. From the look on her face I knew she was getting very aroused as well. Her eyes were barely open and she was breathing almost heavily.
She stared at me and said: "UMMM my new pet enjoys my cock, doesn't he? Nothing turns me on more than pegging a submissive; but fucking a submissive who loves it as much as you, really gets my juices flowing. "I am getting wet already".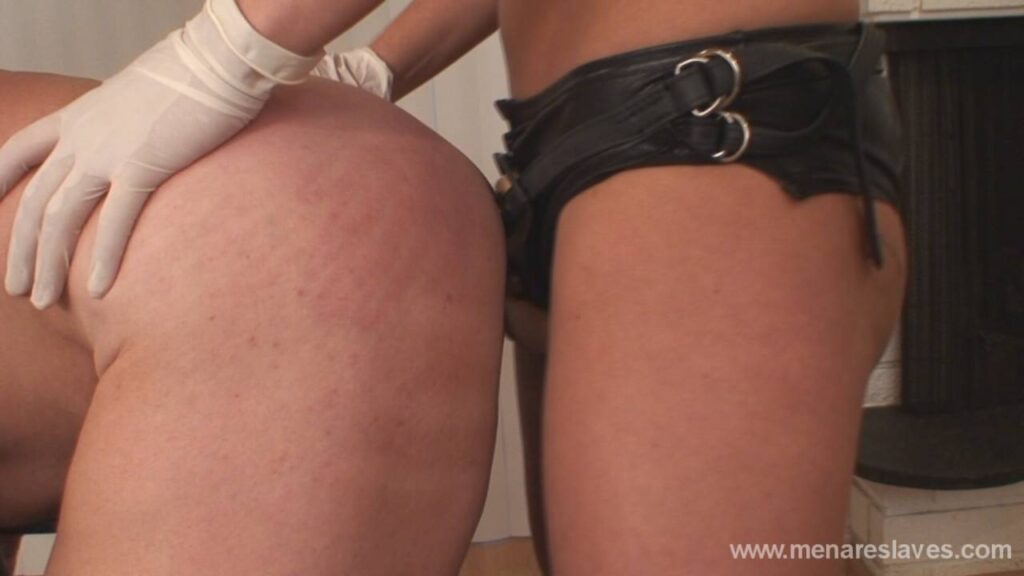 With that said, she positioned me on my hands and knees and began to doggy fuck me. She thrust deeper and deeper until I could feel her leather holster brushing against my bare ass. It felt sooo good. I moaned loudly and started to push my ass up toward her, taking her cock really deep into me. She moaned with delight as she positioned me to lie flat on my stomach.
My hard cock now rubbing against the sheets. She squatted over me and slipped her cock back into position. She must have added more lubricant as it slid in without effort. With her arms and hands on my back, she continued to fuck me and give me great pleasure. She started to grind my ass with her leather holster rubbing against my ass. My cock pinned against her sheets added to my excitement.
This was by far the greatest sexual arousal I ever experienced. I could not control and blurt out. "Please own me. I have to be yours. Collar me, brand me, take me. I want the whole world to know I belong to you".
Yes, my pet so far so good but you will have to show me more before I commit to you she said as she fucked me harder. She slowed down and I felt some moisture on my ass. She withdrew her dildo and leaned back on the bed. I turned around just as she removed her holster. The holster and her pussy were layered with her CUM. I could not control myself I crawled over and started to lick the cum from her holster. When I licked it clean I started on her pussy. She spread her legs wide and moaned in approval.
Yes, my new pegging slave, you have earned my collar. We will get you fitted tomorrow but for now, I am not through with you.
I couldn't bear the excitement and anticipation of what was coming next.
TO BE CONTINUED.