My Femdom Chastity Keyholder
At this point in my life, I needed some excitement and wanted to explore. Life is too short I kept rationalizing in my head. I had been married for twenty years with two kids that were grown up. My sex life was boring and very rare, so I tried to spice things up with my fantasies about Female Domination. I hoped my wife would feel empowered by my suggestions, so I bought her some fetish clothing, handcuffs, and whips. She was needless to say, not into it! Life went on. She didn't really like sex and so I turned to the internet for my fantasies.
Dominatrix Dating
I loved looking at websites with these incredibly hot dominatrixes and reading about how they dominated men was such a turn on. So one day I decided I would go for it and contact a Mistress for a session. I called Mistress Adora, so nervous I was shaking. I was amazed at how authoritative she was over the phone. We set a day and time and I was very sweating. I knocked on the door to her apartment and was told to enter. I walked in and was mesmerized at how stunning she was, dressed all in black leather. She was wearing thigh-high boots, a tight skirt, leather jacket, and even a leather bikers cap. She was gorgeous with an amazing figure, bright red hair and heavy makeup. Visually, she was everything I ever fantasized about. She immediately ordered me to the floor to kiss her boots. She could tell how attracted I was to her and quickly smiled before getting back to her stern demeanor. We chatted about my interests and I could tell she liked me too. Then we had an incredible session for an hour. This was not my first visit to see a Mistress, but it had been a while. And, this was definitely my best session. When it was over, I got dressed and was ready to leave. Then a huge surprise! She came up to me a gave a kiss, I mean a long passionate kiss that blew me away. I have never had such an incredible kiss in all my life. Then she asked me to have dinner with her. I felt sooo lucky.

Femdom Dinner
At dinner, she asked if I would like to have a Femdom Relationship with her, no money involved. Wow, All these thoughts came into my head. Yes, of course! Then, hello, you're married, how would this work- you will get caught. My answer was definitely. Then she asked me the question I hoped she wouldn't: "Are you Married?" I told her the truth, not sure how she would respond. I had never wore a wedding ring because I didn't like how it felt on my finger so you couldn't tell. She responded by saying that we could continue but that from now on she would own me and that I was not allowed to have sex with my wife anymore. I secretly thought, well that's not really a problem.
Femdom Training
So, my training began. Mistress Adora was often very stern but had those moments where she could be very tender. The first week I was told that I would always be naked in her presence except for my collar and leash. I was trained to worship her boots and feet, give her massages, paint her finger and toenails, and I was required to lick her pussy for hours and give her as many organisms as she wanted. I loved serving Mistress this way. The next weeks, she started to use me as her domestic slave. I would clean, dust, scrub her floors, vacuum, and do her laundry. After a time, she started making me wear a maids outfit and high heels while cleaning. I found it very humiliating and she knew it. She liked it that way. It was really hard learning to walk in heels. She would often find fault with my work and discipline me for my lack of detail. I was trained to be obedient and not speak unless directed to.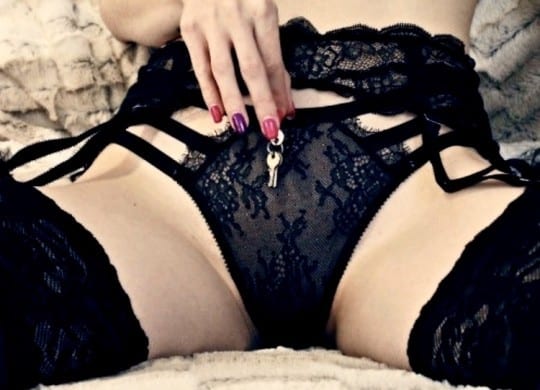 The Chastity Cage
Then she decided that I would be put in chastity. I never saw this coming and was mortified about getting caught with this device around my cock and the thought of not being able to masturbate about her at night crushed me. I tried my best to stop this from happening and was at the point of tears. Mistress Adora then gave me an ultimatum- she would be my Femdom Keyholder or we were done. So, I meekly accepted my circumstances. Now, my training changed again. I became her bitch. I was told that I was no longer a man. She trained me to pleasure her strap on and started fucking me regularly with it.
Femdom Keyholder bitch
When I was not being fucked she inserted a butt plug in my ass. At first, it was very degrading but I started to look forward to my training. Each day or two she would increase the size of my butt plug and the size of her cock. She was now my Femdom keyholder and I was now truly her slave. She loved teasing me and would laugh because I couldn't get hard. Every three weeks she would milk me, but then she would lock be back up. It was amazing how much more submissive this made me and how much harder I worked to please my Mistress. I never ended up getting caught. But, after seven months of being Mistress Adora's property, I decided to end it. One month later, I missed her domination so badly that I tried to crawl back into her life. She would not take me back…