Meeting My Dominatrix Princess In Person
After over a year of a strictly online Mistress/slave relationship development period, my beautiful eternal Dominatrix Princess, (whom I to refer to as "Princess or Dominatrix Princess") summoned me to fly to her home city for the weekend. It would be the first time we meet in person, though we have communicated via Slave Selection chat, email and video chat nearly everyday since meeting online. Dominatrix Princess picked a hotel suite for me to book. It was on the water in a hip downtown area.
The hotel  was very beautiful and I was excited to check-in that Friday afternoon. The suite was on a high floor with a deck and a view of the city. It would be a perfect play space for my weekend in submission to my Dominatrix Princess. Soon after setting into the suite She called me and ordered me to remove all my clothing except for the chastity device, (which I always wore for Her), and a leash that I would kneel and present to Her upon Her arrival. She informed me that I would be serving Her and a couple of Her friends at a cocktail party in our suite and would be arriving soon to prepare for the evening with me.
Permission To Speak
When She arrived I was in awe of my beautiful Dominatrix Princess and as I knelt before Her She took the leash and held my face up to look into Her eyes. Our eyes met for the first time in person and it was a magical experience.  Dominatrix Princess: "I give you permission to speak. Say something to me puppy." Me: "I love You so much Dominatrix Princess! I want to melt into You and become Yours."
"Puppy" is Her special nickname for me and I always get a warm wonderful feeling when She addresses me like this. She smiled and gave me a kiss and told me to stand up and go bend over the couch. I of course obeyed Her and waited patiently, naked and bent over as She took Her time opening Her bag to bring out the brand new remote control butt plug She bought for me to use. She walked around me and put the plug in my mouth to lubricate it.
Fitting Puppy's New Butt Plug
Princess: "Suck on that for me, puppy." I did as I was told as she pushed and pulled the plug in and out of my mouth for a minute or so. Then she inserted it in my ass and smacked me, telling me to get dressed so we could go to the store. As I got dressed I could feel her watching me closely. She held up the remote to the butt plug and smiled mischievously.
Princess: "I think I'll be using this a lot this weekend, my dear slave." Me: "Yes Princess. That makes me very excited." She chuckled and then took the leash and led me toward the door. As we walked I could feel the vibration in my anus as She played with the remote control. Turning on and off, then adjusting the intensity setting. I walked a bit gingerly and she looked at me and laughed.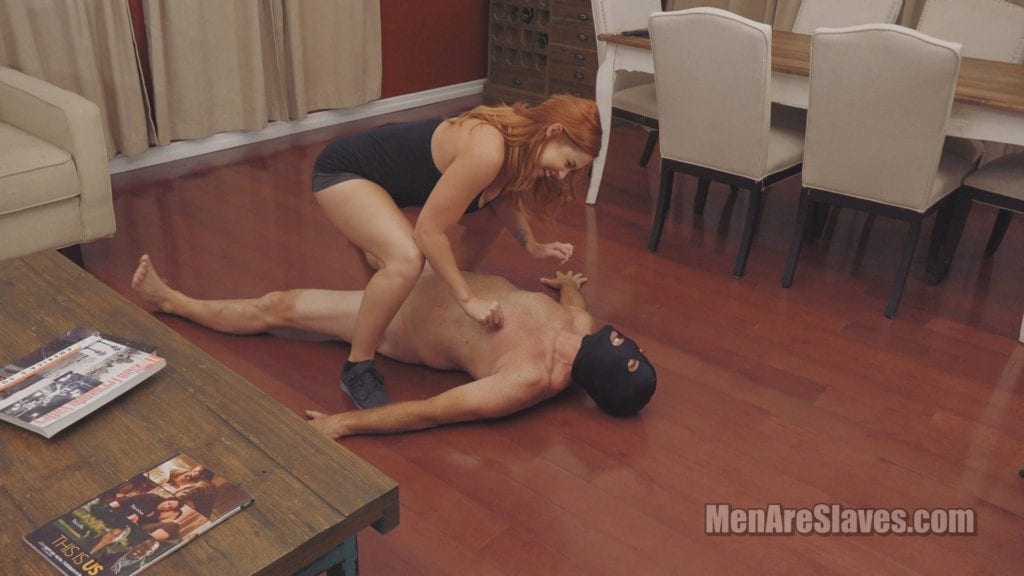 Worshiping Princess Act II
After the party, Princess and I cuddled outside on the balcony, enjoying the peaceful distant city ambiance and taking in the lovely night air. A soft breeze blew over my naked body as I knelt on the ground at Princess' feet, cuddling with Her legs. She sat back in the comfy outdoor recliner and leaned back, closed Her eyes and sighed deeply, enjoying the massage I was providing Her.
Princess: "Puppy, tell me a story about when we first met, like,,,hmmm, what was a good moment that you remember?" (She caressed my hair and forehead while I responded…). Me: "Well, I remember the first time You had me masturbate and cum for You. You were very pleased with the latest devotion I sent." Princess: "Yes, puppy, I remember. Tell me about it."
State of Submissive Bliss
Me: "Wow….how can I say it. I was in such a passionate state of submissive bliss, feeling your intimate power enveloping me. Subspace. Princess then grabbed my hair a little tighter and massaged my scalp, caressing with both gentleness and assertion of Her dominance over me. Me: "I was excited that you immediately had me send You a pic of my erection. I felt so open, vulnerable, honest,…and warm. Safe."
Princess: "That was the first time I saw you hard, puppy. It was very cute. Princess turned over and took my face in Her hands, looking with affection and power into my eyes." Princess: "I showed it to my best friend. She said you'd make a good slave and would like to paddle You Herself." Me: "And She did!" (We both laughed, and continued to cuddle.)
Princess: "Yes She did. That was fun, wasn't it puppy." Then Princess pushed me down to the ground to lie on my back looking up at Her. She took Her panties off and held them just above my face, teasing me, brushing them across my nose. Princess: "Open your mouth, puppy."
I did as told and She gently tucked all of Her panties into my mouth. I was blessed and intoxicated with Her divine Goddess scent. Then Princess kneeled over me and sat over my face, lowering Herself down upon me, teasing me by pulling away and then returning again, to smother me with Her sexual essence.
I was in Her Heaven with Her.