What is a foot fetish?
A foot fetish is a type of sexual attraction or obsession that involves feet and toes. People with a foot fetish are often sexually aroused by the sight, smell, touch, or even the thought of feet. This fetish can manifest in different ways, from wanting to kiss, lick, or smell feet to being sexually stimulated by the act of someone else touching or rubbing their feet. Foot fetishism is one of the most common fetishes, and while it may seem unusual to some, it is a natural variation in human sexuality.
"Under My Feet: 12 Days of Dating a Man with a Foot Fetish."
This cute femdom, foot fetish erotica was published by Miss Shanaya.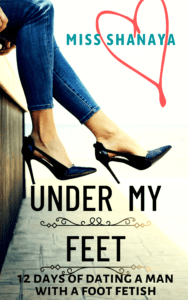 Description of this book
What if the man you desire and admire the most is not what he appears to be on the outside? What if the man of your dreams one day shocks you with the revelation that he has dark and kinky desires, especially for a woman's feet?
Would you end the relationship, or would you give this man a chance who shows all the green flags except for his childish, immature foot fetish?
'Under My Feet' is the story of one such beautiful woman who is infatuated with a sexually submissive, but socially and financially accomplished man.12 days is all she has to explore all the possibilities, assess the man, and experiment with her sexuality. After that, they might not meet each other for a very long time.
Will she take a leap and indulge? Or will she let this relationship die a premature death?
The book is available on Amazon (Kindle and Paperback).
Here is the US link: