It all started with Slave Selection – connecting kinky people with other like-minded individuals. Having moved to a new city, it was perfect timing. Time to explore the new me, further learn, and push the boundaries of my dominant self. Accepting it as a part of me and allowing that side to be unapologetically me.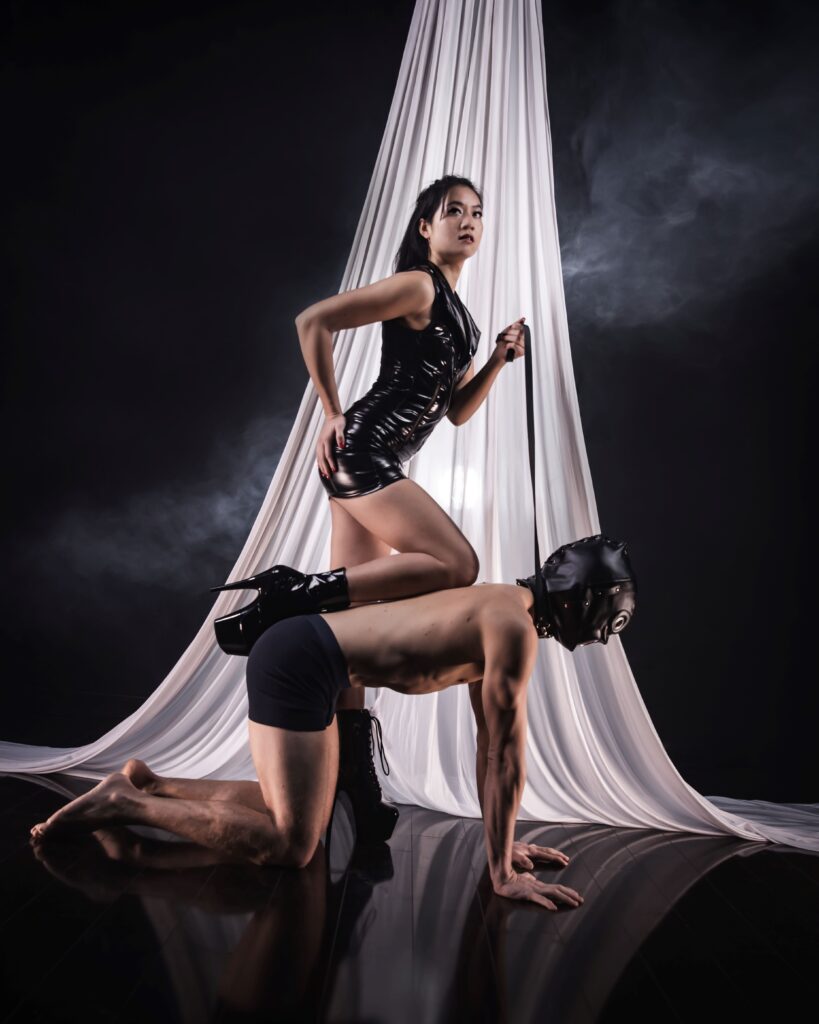 A thoughtful and sweet message was received via Slave Selection. Viewed and vetted through photos appeared a twink-looking, skinny shy guy with tattoos and ear piercings – a skater boy. Messages lead to playdates which lead to my first time ever, fisting. He became my regular guinea pig to play with and toy with who turned into a trusted puppy. Having been in the realm of kink and BDSM for 7 years prior to him, I was still excited and hungry to explore different aspects of myself – my inner Goddess. A feeling of empowerment, hunger, and energetic buzzing.
We had been doing anal training on him for quite some time and he was eager to see if he could fit my fist after all that training.
Fisting and Femdom: Exploring My Dominant Desires
No time like the present to try something out you've been working hard for. I was in a hotel and called him to come over. We had been talking about fisting but this would be the first attempt. I told him to strip down and then I teasingly stripped down (yes, you don't need to wear clothes to be dominant, in fact, you should be comfortable in whatever it is, the clothes or your skin). Him on all fours, me putting on gloves wet already seeing how his asshole was puckering – begging for my fist to stretch it open.
Gentle foreplay with just fingers and with a bit of easing into it, the fist slid right in. The excitement that I felt from this being the first hole I'd ever filled with my whole hand made me so wet that I had one singular long drool dripping from my vagina all the way down to the floor. Seeing that got me even hotter and that drool thickened like a waterfall gushing down to the floor. Since he did so well, I allowed him to pleasure me by sitting on top of his face. The control I had over him, the obedience and eagerness he had to please me was what truly fueled me.
No Limits with Femdom
After I got off, I shoved a pillow on his face – making him my faceless sex toy. To turn it off as I'm done with it. Multiple orgasms for me and him aching in denial. After a few breaths of reality, we cuddled, with sprinkles of face slaps like firm kisses.
I was excited about the possibility of my foot going up there! Elated, relaxed, and calm – I saw the training pay off and what the future holds for such a good boy. His dedication to me was something that was comforting. (Spoiler alert, we did put a foot up there!)
I've told a numerous amount of people. From friends to strangers. The majority of the response was that they shared my enthusiasm for how hot it was and wanted to have a similar experience or were happy enough to live vicariously through me. The joy of sharing this with others is that I've attracted other open-minded individuals who are all supportive and hot 😉
To this day, I will think back to this moment fondly as the waterfall of wet juices flowing from my vagina was the hottest thing.
My only regret was that it wasn't recorded.
Small Choices, Big Changes: How Femdom Shaped My Life!
This exploration was just a surface of the things that were to come. This experience has changed the things that I knew turned me on. I didn't realize how hot I'd get from fisting others.
Everything gets better with experience. The more people you explore with the more times you experience it – you learn more about yourself and how to navigate the play and your emotions properly. Don't let your guilt and shame get in the way of you feeling absolute pleasure. It's fun!
Years later, I am in a female-led relationship with my partner, working as a professional dominatrix and standing tall on top of my collared slaves. I wouldn't say one event can be life-changing but keeping an open mind and exposing oneself to many things will lead to a series of small choices that allow you to shape your life, and your reality to what you want it to be. You can make one of those small choices.