For the first time, Matt did a very nice job, as my Femdom slave.  It could have been that I was so horny, or in fact, I was so excited that he seems to fall into his role so quickly.  My first wave of orgasms came over me very rapidly.  And after about 25 minutes I counted to around a full dozen.  I let him continue for the full hour, just to make sure he understood who was the boss.
"Slave, you may stop.  Let me take my legs down and you can sit up."
"Did you like it?  Was it everything you thought it would be?"
"It was wonderful.  I would never have thought it would be so fantastic to serve you."
"You will have plenty of time to do it over and over.  Now before we move on to my next little adventure, I will have to ask you to clean my toy again."
Matt looked very strange at me.
"Yes, is there a problem?"
"No, Mistress.  But, you want me to use the bathroom this time, right?"
"Oh, now I understand.  Yes, I used it in my ass.  Do you have anything against my ass?"
"No, Mistress.  But it is a little dirty, so I was thinking…"
"Don't think.  You will clean it the only way you will know.  And that is with your mouth."
Time to show him who is in charge!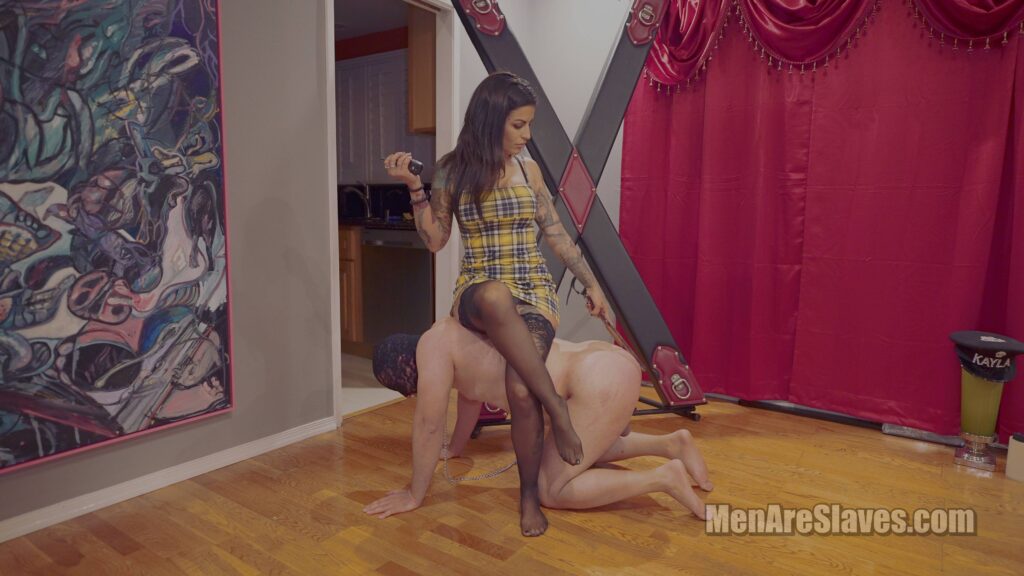 This time Matt hesitated, so I figured I need to show him who was in charge.  So far Matt had shown such fantastic obedience and enthusiasm to all my commands that I wanted to give him a chance to surrender deeper into submission all by himself.  I firmly grabbed Matt's arm around his wrist, and with my other hand, I took a tight grip on his hair.
"Let's see if this will help!"
I pulled his head so his face was close to mine, and I stared into his eyes.
"I did give you a command.  And I do expect you to do it.  Understood?"
"Yes-Yes.  I'm sorry.  But I could never put that in my mouth."
"Oh.  You have so much yet to learn.  The way you have behaved so far, I almost forget that this is still new to you.  I guess I have to be more patient."
"Thank you, Mistress.  I knew you would understand."
My hand was still holding onto his hair, and I could easily tilt his head slightly back.  At the same time, I used my other hand to move the dildo which was locked into his hand over to in front of his face.  I held it there for a second or two while I was looking into his eyes.  Then without any warning, I quickly pushed the tip of the dildo up against his lips.  And before he realized what had happened the dildo had slipped into his mouth.
Time for him to discover who he really is!
At first, he was trying to pull away, but I continued to hold him tightly.
"Yes, I do understand.  But the bottom line is that you have job to do.  So you better start using your tongue and clean up my dildo."
I could see the struggle in his head through the expression in his eyes.  He managed to hold out for ten seconds but saw in his eyes that he was ready to surrender.  He started to work his tongue and with his hand slowly move the dildo in and out.  Tears were running down his cheeks, but he was obeying.
"Clean it well.  I do have a policy about cleanliness."
When Matt had finished he handed my toy back.
"Very nice.  It almost shines.  You did such a good job."
"So now you have discovered who you really are.  I'm sure you never thought this would happen when you came to work this morning."
At times, it seemed like Matt had had enough time to think about what just had happened.
Time for him to accept I have found a way to control Him!
He looked like his old "self", business-like and confident.
"I know you are confused and maybe regretful, but rest assured it is all true, and deep inside you love it.  And more importantly, there is absolutely nothing you can do to change it or even reverse it.  I have found a way to control you.  At first, I learned about your system.  And today, I have broken down your last wall."
"What?  I don't know if agreed to all of this."
"No way.  I will walk right out of here and call security."
"I would not do that if I were you.  You see I can still control you.  But I do appreciate your feisty response."
"This was just another session with a very interesting ending.  Nothing more.  Do you understand?"
"Still fighting.  Great.  It will bring me even more pleasure to bring you to your knees. I don't think you fully understand.  You are already at the point of no return."
"How the hell did you come up with this shit?"
"Matt, do you remember this?  I put my fingers between my legs and held them up in front of his face.  You can have this every day, or never again."
Time to explain he could not resist
With just one little whiff, Matt froze.  While he was under my spell, I explained what was happening and how he could not resist.
"What the hell did you do to me?"
"You know what I did, and you know I will continue to do even more.  And you can't nor do you really want me to stop you."
"Now, that was extremely rude. You shall never use that language again.  Is that understood?"
Again I placed my wet fingers right in front of his nose.  I could see in his eyes that he would surrender.  He inhaled a couple of times, then I saw him opening his mouth like was trying to taste my finger.  I pulled my hand back immediately.  He looked at me and started to beg.
"Oh please.  Let me taste it."
"I don't think so.  You are clearly not ready for this."
Time for him to surrender and become my cunt licking slave!
I never heard a reply.  Instead, Matt bent down and started sucking my fingers.
"Oh, wonderful.  You will be a wonderful femdom slave.  And I guess you probably haven't in your mind fully comprehended what your future situation will look like.  As my femdom slave, I will not boss you around.  Instead, you will beg to fulfill my every wish.  There will be no limit to what you will be capable of doing to make sure that you don't disappoint me.  To start with, you will become my femdom slave to serve my every sexual desire.  I also will take over your role here at work since you will no longer be capable.  Your car, house, and all your assets will also be transferred over to my name.  By the time I am finished, you will have nothing.  I will take it all.  But rest assured, I will take care of you."
"I'm not sure about all of this."
"That is OK.  The process has already begun.  Remember I have been here for weeks, and every time I have prepared you for this.  Today was just the final hurdle to jump over.  And you did fine.  You are mine now.  And in a certain way, I am yours."
"Mistress, I do understand, and I do surrender. Yes, I will sign over everything.  I will become your cunt licking slave."
"Now, that's what I like to hear.  Are you really sure?"
"Yes, I know now that I have found my future."
"Is this really your rational and informed decision?  How do I know you're not trying to trick me?  It's very important that you know what you are doing."
"There is nothing that I have been more certain about in my entire life.  I promise.  I will do anything for you."
"Fantastic.  You will not regret this, ever.  And to make this final, I just have one more thing to do."
Time for me to become the new General Manager
I walked over to the desk, pushed the intercom button, and said: Lori?
"Yes, Mistress", Lori answered.
"It is time.  Can you come in for a moment?"
When Lori enter the room, she looked at us with a straight face and asked:
Before Matt had a chance to reply, I interrupted and explained that we needed to type up some official company letters.
I explained that Matt had made a decision to step down from his position as general manager, and he had appointed me as his replacement.
I had prepared Lori ahead of time what was going to happen today, and since Lori and I had a strong friendship she played along.
"So you see Lori, Matt here has made a decision to surrender himself to me.  He is now in my control.  Isn't that right, slave?"
"You will say, Yes, Mistress, from now on.  Do understand?"
"I guess while Lori is here I can test your level of submission to see if you are ready for your new role.  If I ask you to do something else for me.  Will you do it?"
I kept my promise and Matt is living his life as a very Femdom slave forever and ever.
"What do you want me to do?"
"The response is Yes, Mistress.  Do you understand?"
"So, let's try this again, will you do it?"
"That's' better.  I will tell you what to do.  Lay down on your back.  I will stand over you so you can see my wonderful pussy better.  I will slowly lower myself down towards your face. When I tell you, you will open your mouth, but keep your tongue in.  Is that clear?"
"Now here comes your first task as my femdom slave.  I will piss in your mouth, and you will drink every drop-down without spilling anything.  How do you feel about that?"
"What do you think about that Lori?"
"I like to hear him beg for it", Lori replied.
"You heard the lady.  You better beg for it first."
"Please, fill my mouth with your wonderful nectar."
"Now that's sweet.  But just so we are clear, I want you to beg me to piss in your mouth.  And I want you to be loud.  Any problem with that?"
"OK then, let's hear it."
"Please, piss in my mouth!"
"Piss in my mouth, please!"
"I guess I can't deny such a polite request.  But before I grant you your wish, tell Lori what you are."
"I am your piss-drinking, cunt licking femdom slave.  Please fill my mouth with your piss."
After I was done I stood up and looked at Matt's face.
"Did you like it?  Maybe you wanted some more?"
"Yes, Mistress.  I loved it, and yes, I wish I could have some more."
I kept my promise and Matt is living his life as a very happy cunt licking and piss-drinking Femdom slave forever and ever.