My Sissy Meets The Bull For The Night
Dear Diary,
I open the door and with my bull, I met at the bar and I see my cuckold wearing the cute maid outfit in his cage. For now, I have better things to worry about, after all, I have the key around my neck to my sissy's dick and she is about to have a show. My sissy is not allowed to get hard without my permission and is certainly not going to cum tonight, but I am.
The real man from the bar unzips my dress and it falls to the floor. I have designer lingerie on and hurriedly unzip my bull's pants to find a massive cock. I can barely fit it in my mouth and we start fucking. This is the best sex I've had in a while as I orgasm on its girth. I can feel my bull's cock clench as it releases into me.
I lead my cuckold in her cute outfit and make my sissy kneel and clean the dripping cum from my pussy. As my girlfriend's tongue tickles my clit, I say,
"You like that you pathetic little sissy slut, eating my bull's cum from my pussy. I bet that sissy pussy is getting excited. What would you do if I let you fuck me, would you like that?"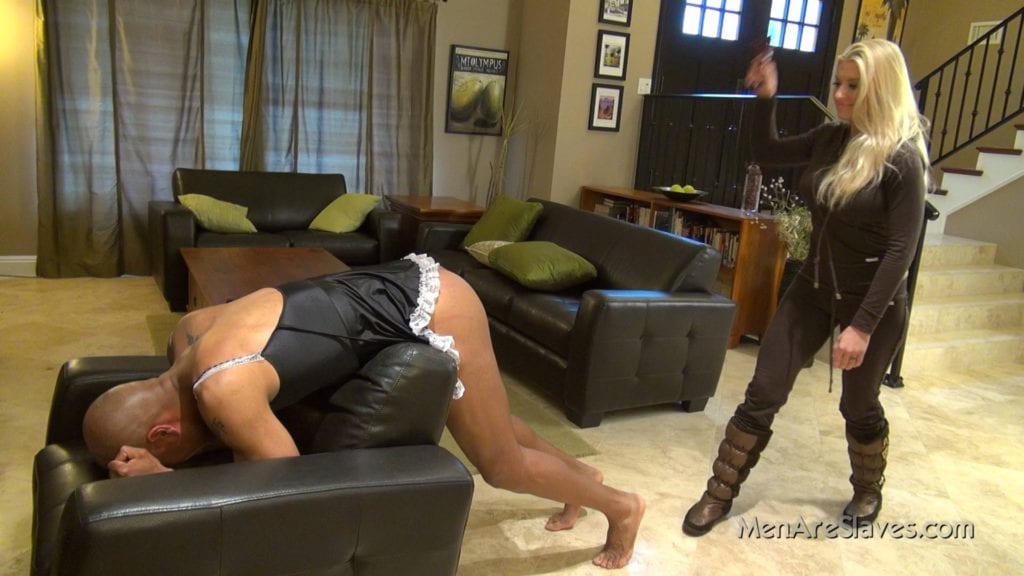 Strapon Sex
I lift my sissy's head and look into her eyes and say
"Yeah, not a fucking chance, I only fuck Alpha Males. Alphas are not sissies."
I grab her collar and push her over to the bed,
"Stay down," I say as I grab a 12-inch strapon and spray some lube on it.
Then lift her skirt and drop her sissy panties to her ankles. She can't run away. She knows what is coming as I slap her ass,
"What a good little slut you are," I tell her as I shove the strapon inside of her feeling her resist.
I slap her ass and say,
"Relax, it's going in pretty deep. What a fucking pervert you are to get fucked like this. You are such a little whore."
The sensation is unreal as the dildo massages my clit. I hear the chastity belt bang into my pussy as I shove the strapon in harder. My bull is now behind me and I feel his hard cock as he grabs my tits, OMG!!! He is inside me….