My Sissification Continues
Yes, I am a sissy and proud of it. Many of you are only dreaming of being a sissy but not only am I a sissy I have a divine mistress who sissified me and helped me develop a sense of servitude for her. She trained me to do her chores and I have a deep sense of obedience for her. I know I will be punished for my mistakes, but I prefer she punish me at her whim not because of my mistakes. My wife keeps me emasculated and I always work hard to be the perfect sissy serving her. I challenge myself to do chores to the best of my ability and I get rewarded for it as well.
My femdom wife was on an official tour and I was home alone. Since I am a good sissy I keep doing my chores with my sissy clothes on. My wife had other plans for me. She asked her friend to find out whether I was following the rules in her absence. I was completely unaware of this plan. It was unthinkable because only a few friends knew that I am a sissy and whenever someone knocks on the door I hide my necklace and take my dress off and wear attire that is more manly.
Mistress Cindy Arrives
Wednesday evening when I came home from work, just before putting on my sissy dress someone knocked on the door. Still wearing my work attire, I immediately rushed to open the door. It was her friend from the office. "Show me your necklace, sissy!" She commanded. I didn't know who she was but I was sure that she knew about our D/s relationship and my sissification. "I just got home from the office and am still wearing my work attire. Please don't tell my wife that I didn't follow the rules". Your wife sent me to check up on you and you failed to follow her sissification orders!" Her response sent shivers down my spine.
My wife had always made me aware of her plans but this time she surprised me by handing me over to an unknown mistress, which was totally unexpected. "Come with me slave, you need monitoring and correction," She commanded. "I am a slave to my wife and I don't follow orders from anyone else but my wife," I said.  She didn't like my disobedience and called my wife. "I know you need correction so I asked my friend Mistress Cindy to keep you in line." My wife said on the phone and I was scared of the thought of Mistress Cindy not sparing me of her wrath for my disobedience.
Being Publicly Humiliated
Mistress Cindy walked to her car and I followed her without her having to order me to do so. Sitting in the driver's seat she said to me in an authoritarian voice, "Go back into the house!" "Sorry madam, forgive me for my disobedience," I said "Go back to the house and put your sissy clothes on like your wife taught you to during your sissification. My wife must have instructed her to publicly humiliate me. Even though I was unaware of this plan, I was aroused by the idea of being publicly humiliated. Doubts crossed my mind as I wondered if this was her idea.
Going inside to change, I decided to wear a big hoop polki nosering with multiple wide chains attached to it which were supported through my hair clips, vinyl black bra, and a leather skirt that I chose to wear. I knew wearing the big hoop polki nosering would make my wife proud of me. I wear all the jewelry I can with four-inch red heels. Even though I felt comfortable wearing high heels at home, it was difficult for me to walk in them due to how excited I was. I walked to her car and she smiled at me which was a big reward for me and gave me permission to drive her car.
The Erotic Humiliation Of Being Sissified In Public
Her bungalow was just five minutes away, within walking distance from the house. She stepped out of the car and sat on a chair on the lawn. I parked her car and walked up to her. "Can we go inside Madam?" I was afraid our neighbors would see me sissified. She caressed my nosering and pulled me down to her heels. I rubbed my nose on her heels despite the pain it caused me while she tugged on my nosering chain. "Go and get my leopard stilettos in the house." I ran and brought the stilettos shoes. She asked me to change her footwear and I did it immediately. "Walk back to your house sissy slave!" I was afraid someone would see me and walking back home would risk having a lot of people see me.
"I want to serve you until my wife returns," I requested. "You will walk home as you have been instructed to do so." Is this what my wife had planned for me or is Mistress Cindy doing this on her own accord? I was clueless, but no sissy can deny the erotic humiliation of someone seeing her in a sissy dress. I am wearing my complete sissy outfit. The idea of flaunting myself in front of others wearing my sissy outfit gave me a raging hard-on, which Mistress Cindy felt immediately.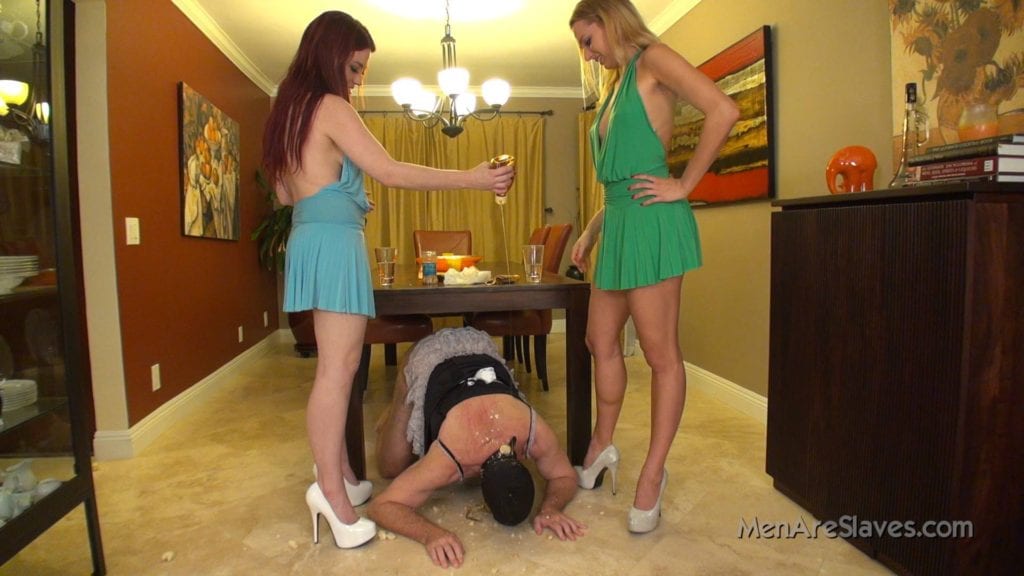 Cum On My Shoes
"Cum on my stilettos, slave." She moved her leopard high heel stilettos towards me, "Cum on my heels and lick them. Leave afterward! I'll be watching you from the terrace." She commanded as if she was testing my devotion to serving my mistresses as a sissy. I took this humiliatingly erotic challenge as a way of proving my devotion to my mistresses. If I do this, I know my wife shall be proud of me.
I immediately took my dick out and started stroking my cock. Within a few minutes, I came harder than I had ever cum before all over Mistress Cindy's shoes. "Good sissy slave…now lick every drop of cum and don't leave any behind on my shoes." Quickly, I started licking her shoes and didn't leave any cum behind. After, I started walking out of Mistress Cindy's bungalow. Suddenly I feel the gaze of men and women.
This Form Of Sissification Excites People
Females are attracted to me because they want a sissy like me in their lives and men are jealous of me because they want to be sissified like me. I was shivering and moving with small steps toward the house. I was hearing what people were saying. Some were taunting their husbands to be like me while others were putting their dog leashes on their hubbies. Since my big hoop nosering is traditional jewelry in Asian countries, they were more appreciative of my sissy attire.
Americans were excited about this form of sissification (they usually use French maid outfits to sissify men instead of jewelry). The men didn't have the courage to show their desire to be sissified and regretted missing out on the eroticism of being sissified by their wives. After walking a few steps, I started feeling confident walking around as a sissy in public. Mistress Cindy was watching me from her terrace and she was smiling. Her smile made me cum multiple times that evening when I got home. I came on the stilettos I wore that night and licked them passionately all night long.
The next day I saw men in my neighborhood wearing a nosering with a chain attached to it controlled by their wives. My wife and Mistress Cindy revolutionized the sissification movement in a single instant and I still jerk off to this moment even after a month of it happening. I feel proud to be a sissy who motivated many men to become sissies. I want a gynarchic world where men are sissy slaves and enjoy this erotic feeling while women rule and enjoy their superiority. Thank you Mistress Cindy for your guidance and leadership.