Be Careful What You Ask Your Mistress For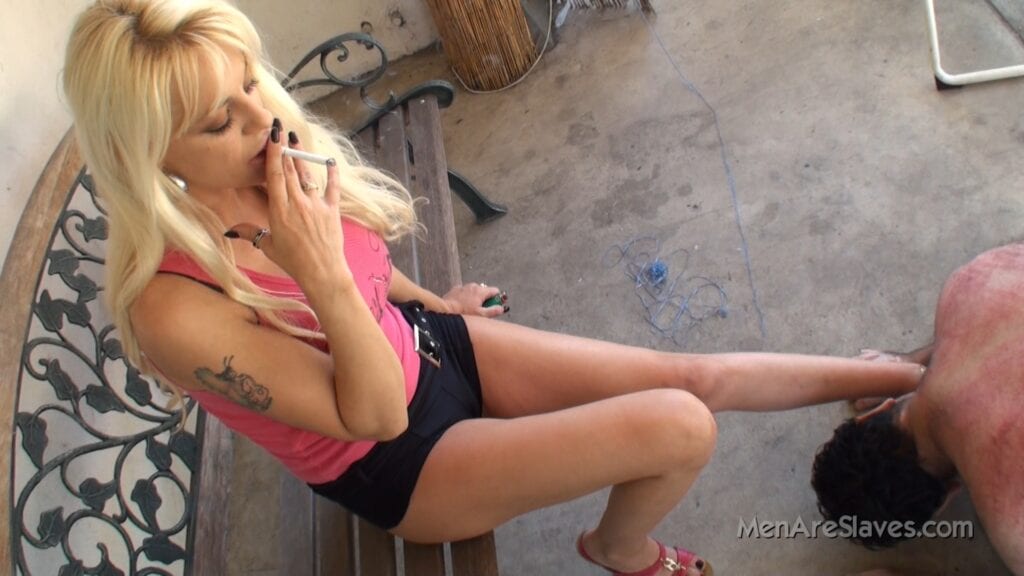 I wanted a relationship with a Mistress in the worst way. I decided to place a post on Slave Selection (for dominants women and submissives men) hoping to get a response.  My spirits were high at first when I wrote about myself thinking that my efforts would immediately pay off. I was so disappointed when my emails were not answered and the few messages I got were clearly written by people that didn't know English very well. I kept hoping to hear from the dominant female I so badly wanted to serve. After two months, my prayers were answered. I got a simple message from Mistress Nicole that read: "If you truly wish to want to be my property then fill out this application. Note, if it is not complete do not bother sending it."
I clicked on the attachment and was surprised to see that it was two pages long of in-depth questions similar to a job application. It wanted to know my experiences, qualifications, what sets me apart from other applicants, essay questions on my philosophy of female domination, and even asked for references. I spent a long time writing, rewriting, and rewriting again my application wondering if my answers were good enough. I sent back my application to be Mistress Nicole's slave with high hopes but unsure if I was worthy.
After a full week, I received an interview. My instructions were to meet her at an outdoor cafe with a rose in my hand for her. I arrived early and got an outdoor table in the corner and waited. I actually waited for thirty minutes and began to think that I was getting stood up. Feeling disappointed and defeated, I looked up and before my eyes were this Goddess right in front of me. She held out her hand for my kiss, which I did. I handed her the rose and she looked into my eyes. I could feel her dominance and be amazed at how sophisticated she looked. Then she told me to slowly turn around so she could inspect me. "Sit down," she said. We ordered a drink and she began interviewing me by asking more and more about myself and why I would make a good choice for the position. Then, she looked through her purse and pulled out a cigarette. She held it in her hand that looked at me and waited. After a short time, she scolded me "A slave always lights his Mistresses cigarette." "I am sorry Mistress, I don't have a lighter," I said. "Well, you better have one ready in the future," she said. I thought about it, does that mean she is considering me. Then we continued our discussion and she left telling me she would let me know.
Two days later I got a call at work from Mistress Nicole telling me to meet her in twenty minutes at a given address. I was really busy at work and really didn't have the ability to just leave. So, I lied to my boss and quickly rushed out the door. I barely arrived in time to the address and glanced at the sign above the shop to see that it was a bondage S&M store. I went in and bent down to kiss Mistress Nicole's boot. I felt pure exhilaration. She told me that I was going to be her property and that we were meeting to pick out my collar and the necessary equipment for my servitude. We must have been there an hour buying my collar, a chastity device, a strap on, rubber underwear, a ball gag, and lots of fetish clothing for her including black latex boots, gloves, and corset. This was the best shopping trip I have ever been on!
My next instructions were to follow her to her home for my training. I called my boss on the way telling him I would not be back for the day. When we arrived she immediately had me take off my clothes and kneel. She placed the collar around my neck and then told me to present myself for inspection. I stood, and she slapped me across the face. "What is this?" She grabbed me by the nipples and then by the hair on my chest. "You are not permitted to have any body hair, is that understood? Go to my bathroom and shave off all that disgusting body hair at once. This is the second time you have disappointed me, don't let there be a third! I did as told, and once again got ready for inspection.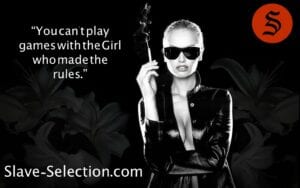 Mistress Nicole was in complete control of me and we both knew it. I thrived her dominance and I became her obedient slave that did everything I was told. She trained me to meet her specific requirements, and I loved her strict discipline. She used me as her servant, houseboy, ashtray, and do all cooking and cleaning tasks. She even used me to serve her at her parties and show off my training to her friends. I was even used as entertainment at her parties. The ladies showed off by taking turns whipping me, fucking me, and having me worship their boots and heels. I served them food and drinks and served as their ashtray. I was also lent to her friends from time to time to serve them. I really loved serving Mistress Nicole and her friends, but often thought to myself "Be careful what you ask for!"