I unlock my Slave Selection boy toy from his chastity cage at least once a day, to play with him and give him a wonderful raging hardon.
I need to KEEP him "finely tuned" as well as remind him daily – who is in charge.
Well, Last Night after sadistically teasing and edging him for well over an hour (watching TV in bed), I decided it was time to let him cum – he had been so wonderfully obedient, devotional and venerating towards me for the last two or three weeks. I had never tried it before, but I had him get almost upside down for me, so I could make him ejaculate and Cum right into his own mouth.
He was very hesitant at first, but he knows better than a question – anything I ask him to do… It was a little awkward for him, as he's not exactly a small guy, but rather quite the muscular virile male – but once he was in position, I started fucking his sexy vulnerable ass slowly with my previously prepared lubed up chrome Butt Plug – while deftly milking my Stud Muffins Magnificent 8″ Cock of Curved Perfection at the same time…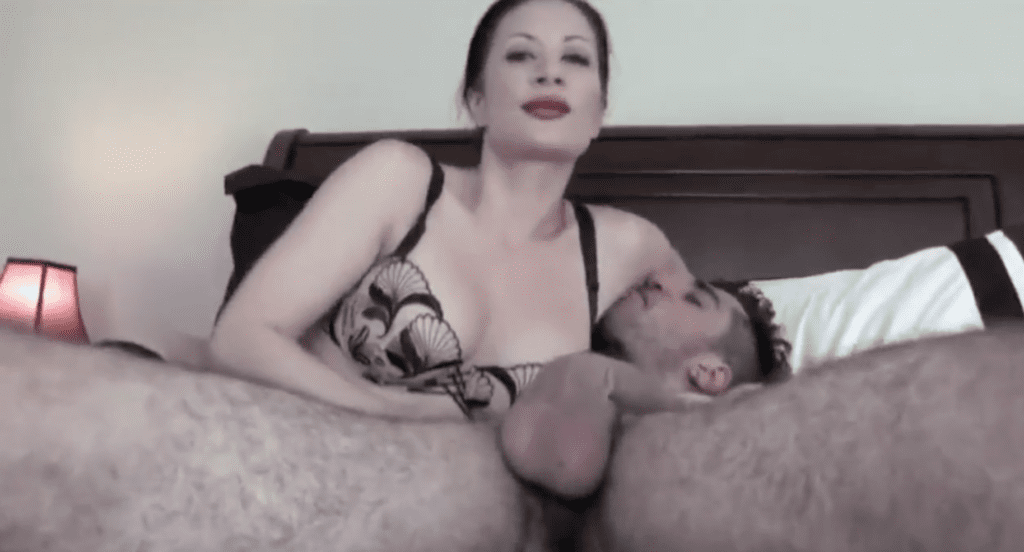 I had never before used my dildo type Butt Plug on him like this and he was completely shocked and surprised (he's such a manly man)… After a few superb extraordinarily close edgings, I finally took him OVER the edge and I Made Him Cum.
His mouth was wide open as I instructed, maybe because I was making his Long Anticipated (Cherished) Climax feel so Unbelievably Good… Nevertheless, His Miraculous Manhood suddenly strained impossibly harder in my hand and a moment later, a Huge Streaming Load of his  Ejaculate shot with astonishing force into his wide open mouth and hit the back of his throat. It had been a long time since I had "allowed" him to Cum and I had edged him daily, for two or three weeks, so his first explosive eruption was a whole lot of cum…  His second squirt torpedoed again (instantly) squarely into his mouth but his third pressurized load – some landed on his face and beard. His mouth quickly filled as he continued spurting and erupting in rapid succession – and as he continually tried to swallow (as I instructed him to) – he began to choke on the sheer volume of pudding filling his mouth.
He eventually swallowed it  ALL  which made me so very dominant and happy that he was obediently recycling his own healthy testosterone as I Commanded…  He had never CUM so hard or so much before for me, I guess the dildo up his sexy virgin ass, massaging his prostate made all the difference… His Rock Hard  Monster  Pulsing in my hand, felt harder than ever, as I leaned over and down to him and licked the remaining beads of salty sweet cum from his face and beard and then fed it to him in a final kiss..  I then allowed and encouraged him to get up and lay upon the bed with the Butt Plug still buried in his adorable ass.