In the beginning, everything was great. I'd fantasized about a D/s relationship forever, and being in one was a constant adrenaline rush, even before we got into the real BDSM. At the start, Mistress' domination of me was purely mental.
I took her out to dinner or to shows. We went for walks through the Brooklyn Botanical Garden and watched a movie in Prospect Park, sitting on a blanket and drinking wine from a bottle in a paper bag. All the while, she trained me on how to act in her presence and how to speak to her. It took some getting used to.
"Don't talk to me like that."
"Like how?"
"What did you just say?"
"I said that you don't want to take the L train at rush hour."
"What was wrong with that?"
"I don't know."
"Think about it."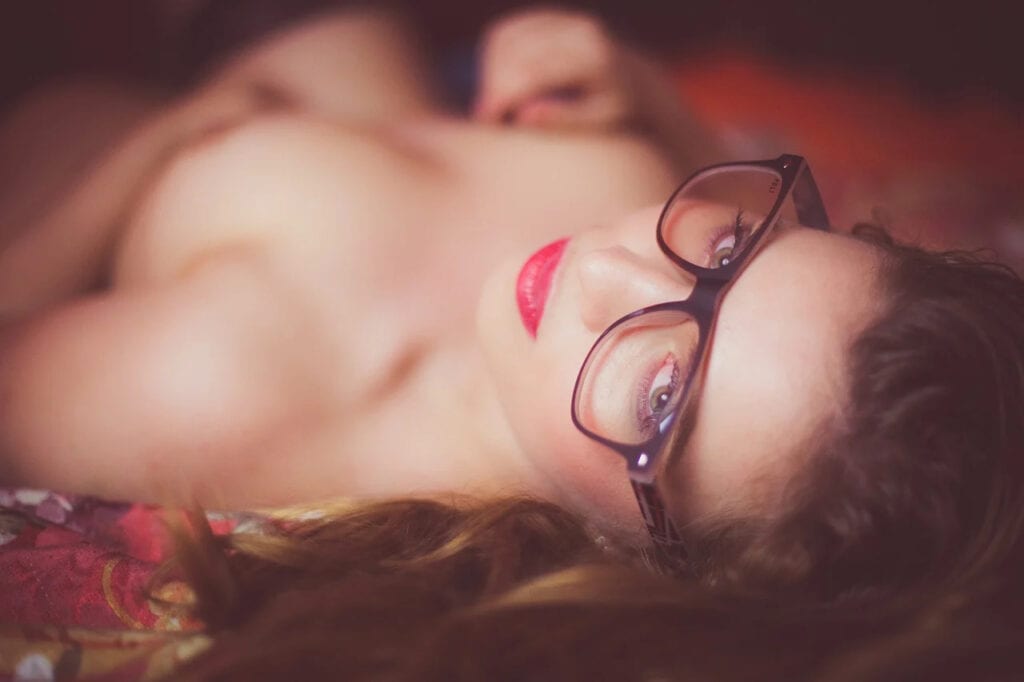 I thought about it for a minute, but I had no idea.
"You don't tell me what I want. If riding the L train at rush hour is awful, say that, but don't presume you know my desires."
"I'm sorry, Kiara. I didn't mean anything by it. That's just how I talk."
"It means something to me, and I just told you not to do it again, so don't."
Jesus. "Yes Kiara."
I lusted after her, but for the first three dates, I didn't even get to first base. She held my hand and gave me a kiss on the cheek at the end, and that was it. It had been a long time since I'd had to wait more than a couple dates to have sex. But the slowness added to the excitement, and I was constantly tucking my erection under the band of my underwear to hide it. ​I must have passed some type of test on our fourth date, because she was more touchy with me, and a little more relaxed. When we reached the door to her building, she took my hands in hers. ​
"Thank you for a wonderful evening, pet." ​She always called me pet. Never my real name. ​
"Thank you for a wonderful night, as well." ​
"You can't come up yet, but I want you to know that I'm pleased with you, and I'll see you again in three days. You'll pick me up at 7." ​
"Yes Kiara." ​
She smiled, and I knew we were going to kiss. I love that moment right before the first kiss: when you realize what you most want is about to happen. She was standing on the first step to her building, which made us almost the same height. She put her hand on the back of my neck and pulled me to her, until our foreheads touched and our lips met. I sank into her. She pulled back and we both smiled. She kissed me again, pushing her tongue into my mouth, exploring, claiming it as hers. I felt her full breasts against my chest. My hard dick was pressing against her. She bit my lower lip, then pushed me away. ​
"Good night, pet."
​After our sixth date, she finally invited me up. She lived on the top floor of a four-story, eight-unit apartment building. We kissed the whole ride up in the elevator. At her door, she turned. ​
"As soon as we're inside, strip. Everything off, then stand in the middle of the living room with your hands at your sides." ​
Her apartment smelled faintly of jasmine and was decorated with a lot of greens and yellows. I kicked off my shoes and pulled off my shirt and p
ants, followed by my socks and underwear. I looked around. The apartment was very neat, and there were a lot of books.
​"Face the couch." ​
She ran her hands softly over my upper back and down my arms. I shivered. It was hard not to fidget. She traced her finger down my spine, then squeezed my butt. She came around in front of me, trailing her hand over my hip and up to my chest. She made circles around my nipples, then squeezed them, watching my reaction. She squeezed harder and harder until I inhaled sharply. She moved down to my stomach and my thighs. She took my dick in her hand. Her other hand went down and held my balls. Her touch was both soft and firm.
​"You have a nice cock, pet."
​"Thank you, Kiara." ​
"In my apartment, you call me Mistress."
​"Yes Mistress." ​
"If this works out, you'll call me Mistress all the time, even in your thoughts. When you write about me, you'll only refer to me as Mistress."
​"Yes, Mistress." ​
"Good boy. Every time you address me, you must use my title. Do you understand?" ​
"Yes Mistress." ​She squeezed my balls. I moaned. ​
"Are your balls really that sensitive?"
​"Yes Mistress."
​"When was the last time you masturbated?" ​
"Yesterday, Mistress." ​
"Did you enjoy it?"
​"Yes Mistress. I thought about you as I did it."
​"That's the last time you'll masturbate without my permission. Is that clear?" ​
"Yes Mistress." ​
She slowly stroked my dick. My knees almost buckled. Her touch was so confident, so erotic. ​
"Come. Kneel." ​
She sat on the couch and pointed to the floor in front of her.
​"Massage my feet."
​I reached for her foot, but she placed it on my chest and pushed. ​
"I gave you a command. How do you respond?"
​"Yes Mistress. Sorry."
​"Better." ​
I began to knead the arch of her foot. I pressed in with a knuckle and moved down to the heel. She didn't seem to enjoy it much. ​
"Is this ok, Mistress?" ​
"It's fair pet, but no better. What type of shoes do I wear?" ​
"Heels, Mistress."
​"Where do you think my feet need massaging, since I wear heels?" ​
"I don't know, Mistress. The heel?" ​
She didn't answer, and I couldn't tell if my answer was smart or stupid. How should I know where heels hurt your foot? I didn't wear them. ​I tried different spots, but she didn't care for them much, either. ​
"Enough, lie on your back. Head toward me…closer."
​I scooted back until my head was between her legs. She placed her feet on my face. ​
"You can kiss them for one minute. Show me you appreciate this honor." ​
"Yes Mistress."
​I lavished kisses on her feet, trying to cover every inch of them. I licked from her heels up to her toes. My cock pulsed. I gave her small bites on the balls of her feet. All too quickly, the minute was up. ​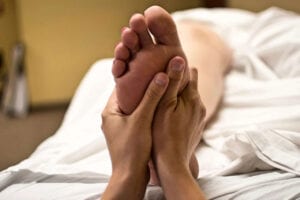 "Get up. Get dressed. It's time for you to go." ​
I tried to hide my disappointment. All this time, and I got to be in her apartment for, like, 15 minutes.
"This is a test," I told myself.
"This is normal. Just accept it."
​I got dressed and she walked me to her door. ​
"Knees." ​
I dropped to my knees and she ran her fingers through my hair. ​
"Research how to give a foot massage. Be back here two nights from now at 8 with a dozen roses. Understand?"
​"Yes, Mistress…wait. Sorry, Mistress, but I'm seeing a movie with a friend that night." ​
She didn't say anything. She just stared at me. ​
"I can move it, though." ​
"Between now and then, what are you not going to do?" ​
"I'm not going to masturbate, Mistress." ​
"You may crawl behind me and kiss my ass, once."
​"Yes Mistress."
​I crawled to her round, perfect ass. I had masturbated furiously to sinking my face into it, to licking it and hearing her moans. I placed my hands on her waist and gave her a slow, worshipful kiss. ​
"Good boy. You may stand." ​
She kissed me goodnight, a passionate kiss that helped take some of the sting out of being dismissed so quickly. I made a note to Google foot massage techniques. ​Two days later, I was back at her apartment with a dozen roses. She put them in a vase, then walked to her couch.
​"Kneel. Show me what you've learned." ​
I placed her right foot on my thigh and massaged down the front of her shins, slightly to the outside. I had learned that these are called the peroneals. I ran my knuckles down them.
​"Flex your foot, Mistress."
​I put my forearm near her ankle. ​
"Now point your toe." ​As she did, I ran my forearm up her peroneal.
​"Oh! That feels great!" ​I smiled to myself.
That move had come highly recommended. I did it three more times. I moved to her calf. It was tight. ​
"Lighter." ​
I put my fingers between her toes. With my other hand, I held her heel, then I pointed her foot to counteract the normal flexed position when wearing heels. Mistress sighed contentedly. ​
"You did your homework. Well done, pet." ​
"Thank you, Mistress."
​I was pleasing my dominant!  She leaned back and closed her eyes. After a little while, I switched to her left foot. I massaged her for a long time: a half-hour, I think.
​"Enough. Put my foot down." ​She stood.
​"Come. Crawl behind me." ​She walked to her room, her hips swaying seductively. She stripped off her clothes as she walked.
​"Pick them up. Fold them and put them on my chair."
​"Yes Mistress." ​I folded her clothes and put them on her chair as she lay on her bed. Her body was gorgeous. Her skin gleamed. I had dated women with "perfect bodies," but none of them made my heart and cock jump like Mistress' body. She looked over at me.
​"Go to the kitchen and bring back a rose."
​"Yes Mistress." ​I stood. ​
"Did I say stand up?" ​
"No Mistress." ​
"Get back on your knees. Crawl. And remember that later when you're being punished." ​
"Yes Mistress." ​When I came back, the lights were low, and Ella Fitzgerald was playing. ​
"Massage me with the rose. Rub it all over my body. Pay attention to where I most like it: those are my sensitive spots. Consider this a test."
She turned her head away from me and rested it on her arms.
​"Pet?" ​
"Yes Mistress?"
​"Impress me." ​
"Yes Mistress." ​I ran the petals of the rose slowly across the back of her neck, then over her shoulders and down her arms. Her skin was so smooth. I listened to her breath as I went down her spine and swept across her lower back, just above her hips. I softly brushed her ribs, hearing a quick intake of breath. Ribs. I'd remember that. I moved the rose around her butt, contented sigh, then down her legs and over the soles of her feet.
​"That's nice, pet." ​
"Thank you, Mistress."
​"Are you shaking your leg?" ​
"Yes Mistress. I do that sometimes." ​
"I've noticed. Can you stop it?"
​"Yes Mistress."
​I went back up her body, getting her forearms — another good area — and the palms of her hands. She turned over, and I took a second to admire her heavy breasts and her thighs, her trimmed pubic hair. I ran the rose around her breasts and over her stomach. She liked it when I brushed lightly between her shoulders and neck. She liked her hips rubbed and her thighs, especially her inner thighs.
​"Put down the rose. Worship me with your tongue and lips, every inch of my body. Start at my feet." ​

She turned over, and I brought my lips to her foot. My dick pulsed it was so hard. It had been really difficult to keep my hands off of myself that last two days. I was glad I did, though. I licked the balls of her feet and her arches. I imagined that this was the only part of her I'd ever get to touch, and the only time I'd ever get to touch it. I sent all the passion I was feeling through my lips and into her. She moaned. I felt like I had finally found who I was supposed to be with. ​Kissing her all over was more fulfilling and erotic than sex with most of the women I brought home from bars. I took her big toe into my mouth and ran my tongue around it. I ever so lightly bit the tip. Mistress giggled. I hadn't thought I'd enjoy foot worship so much, but if my rock hard dick was any indication, I did. I took my time as I kissed up her calves, then her thighs. I gave her ass a lot of attention, kissing and licking every bit of it.
​"Keep moving, pet." ​
I kissed her back and her ribs. I kissed her shoulders and the back of her neck. I lightly bit her ears. My cock was leaking precum. Mistress turned over, and I kissed her forehead and her eyebrows. I kissed her eyelids and down her cheeks. I softly brought my lips to hers. She opened her mouth and our tongues entwined. I was nearing sensory overload. I wanted her so badly, but I knew I had to be patient. I was pretty sure I'd get to fuck her if I just did as she said. I moved down her body, kissing around her dark nipples before sucking on them. I slowly increased the pressure. ​"Ohhh." ​I moved down her sides, over her ribs, her stomach, her thighs. I went down her legs and to the top of her feet. I began to slowly kiss my way back up her legs. There was only one place I hadn't kissed. ​She was already wet. I licked her slowly, delicately. I had all the time in the world and only one thing I had to do: please her, please Mistress.
​"Good boy."
​Her hand came down and rested on my head. ​
"That's it. That's good. Right there." ​
I kept licking, keeping a steady pace and pressure. She started to moan and move her hips. Her breathing got deeper, louder. She inhaled sharply.
​"Harder!" ​
I pressed harder into her. She was so wet! I rubbed my face over her pussy, covering myself in her. I pressed my nose into the base of her vagina. I brought my face up, making contact with my nose, tongue and chin up and over her clit. She gasped and then laughed. She gripped my hair. ​
"Oh God!" ​She was squirming and moaning. I focused on her clit, licking it, sucking it up into my mouth, kissing it.
​"Oh my God! Just like that." ​She arched her back as she screamed and swore and pressed her pelvis into my face. She exhaled deeply, then pushed me away. ​
"Knees. Side of the bed." ​She lay on her back, breathing. Finally, she turned to her side and looked at me. She caressed my cheek with her hand. ​

"Eyes down. Hands palm up on your thighs. Good. This is called "position." When I say "position," this is what you'll do. Clear?" ​"Yes Mistress." ​
She didn't say anything. I stayed on my knees waiting. I wondered why I was waiting here, and how long I'd have to wait. My dick got soft. I wondered if I were going to get any attention. ​
"Get dressed slave. Come back tomorrow night at 7pm." ​
"Yes Mistress." ​I crawled behind her to the door. ​
"You may kiss my ass before you leave." ​
"Yes Mistress." ​I tried not to be upset on the way home. I kept telling myself that this was another test, that Kiara was a dominant woman and felt she needed to prove it early on. This was her way of letting me know she was in charge, and when she trusted me more, things would be different. I wasn't sure what more I had to do to prove myself, but I guess it was up to her. ​At home, I did more research on giving massages. I figured it was a good way to please her, and she would probably demand one before too long. It was excruciating not to masturbate. Often, I would absentmindedly grab my dick and give it a stroke before remembering it was off limits. I got erections in public for no reason. It felt like I was back in 7th grade, when I would get an erection every time I ordered lunch and have to awkwardly make my way back to my table without letting anyone see. I hadn't gone this long without an orgasm since my first orgasm. Mistress sent me a text the next day. ​You're doing well, pet, and I'm pleased with you. I look forward to O/our time tonight. ​
That evening I took Mistress to dinner and then a dance performance. It was modern dance, but they did some hip-hop and even some belly dancing. The last piece was a duet between a man and a woman, both long and lean. I could see the muscles in their legs and arms as they moved. The music was primal, full of chanting and rhythmic breathing. Their bodies intertwined, and for a short while they seemed like animals wrapped together in an intricate mating dance. It was ridiculously sexual and personal, but I didn't feel awkward watching. I felt connected to them, part of it but at the same time apart. By the end, they were both covered in sweat, sliding over each other as the music hypnotically pulsed. When it was over, I realized that my mouth had been open for a while. Mistress grabbed my hand. Her eyes were full of lust. ​
"Take me home. Now." ​We kissed the entire cab ride back to her place. I was so aroused I didn't think I could stand it. I don't know how much the fare was, maybe $23. I gave the driver $40 and told him to keep the change. ​
"Strip, crawl to the bedroom." ​
Mistress walked in front of me to her bedroom. I stared at her hips as they swayed back and forth.
​"Undress me." ​
I stood and slid her shirt up over her head. I wanted to tear her clothes off, and I breathed deeply to steady myself. I looked into her eyes as I unclipped her bra, then undid her skirt and let it drop to the floor. She placed her hands on my ribs and kissed me. I sunk to my knees and kissed her stomach. I kissed the front of her underwear. She looked down at me without smiling. She ran her fingers through my hair. I pulled down her panties and she stepped out of them. She sat on the bed and guided me to her. ​
"Lick." ​
I pressed into her, feeling her wetness cover my face. I wanted to devour her. I licked the inside of her pussy, listening to her breath, deep and steady. I kept licking, until her fingers grabbed the back of my neck and pulled me hard against her. I kissed up to her clit and sucked it into my mouth. She dug her nails into me. ​
"Right there!" ​
I kept her clit in my mouth and ran my tongue over it, seeing if I could find that one spot that drove her wild.
​"Fuck yes!" ​I stayed on it. ​She started growling, then moaning. ​
"Fuck!! Fuck!! FUCK!" ​She came, loudly, bucking her hips, keeping me pressed tightly against her. ​
"Position." ​I got into position.
I heard Mistress' breathing go back to normal.
​"Get on the bed." ​I looked up. Mistress was on her knees, her beautiful ass sticking out. I softly kissed her ass cheeks, moving slowly inward until I got to her asshole. ​
"I know you've been dying to lick my ass."
​"I have, Mistress."
​"I could tell by the way you looked at it." ​I stopped licking for a moment. ​
"Is that how it always is with the guys you date?" ​
"Keep licking. Some guys love licking ass and some don't. But those who do especially love it with me." ​
I pushed my tongue inside her. She bucked.
​"Ohhh…fuck! You fucking whore!" ​She started rocking back and forth, pulling away and then thrusting back. ​
"Lie on your back. Now!" ​She climbed on top of me and sat on my face. Her hands grabbed my wrists and pushed them down against the bed. I started licking her ass again.
​"Oh fuck oh fuck oh fuck!" ​She let go of my wrists, and I could tell she was rubbing her clit. I could feel her muscles clench and unclench my tongue. ​
"Right there!" ​Her voice was guttural and thick. I stayed right there until she screamed as she came. I kept licking and licking and licking.
​"Go rinse your mouth out with mouthwash and come back here." ​
Finally I was going to get laid, or at least get to cum. As I came back to the room, I stopped and gazed at her. She was resting on her elbow, her dark hair cascading down to the bed. She looked like a Goddess. It felt completely natural to serve and worship her. She turned and looked at me. She smiled, knowing — I think — what was going through my head. ​"Lie on your back." ​She ran her fingertips down my chest, tracing around my nipples and down my stomach to the creases of my hips. I wanted her to tear into me, to consume me. ​
"Hold onto the headboard." ​I grabbed the headboard as she slowly, agonizingly explored my body, running her fingers around the muscles of my abdomen and down to my thighs. ​She kept bringing her hand close to my dick, but she didn't stroke it. Every once in a while she would brush it with the side of her hand, or she would rub my inner thigh and the back of her hand would press against my balls. ​
"Oh, please, Mistress." ​
"Be patient." ​
"Sorry, Mistress."
​She resumed lightly brushing my thighs as my cock pulsed and leaked precum. I had fantasized about a woman controlling my cock, but I had never thought it could feel like this, the powerlessness, the complete and utter desperation. Mistress controlled my cock now, and my orgasms.
​"Pet?" ​
"Yes Mistress." ​
"Stop bouncing your leg." ​
"Sorry Mistress."
​"Open your eyes."
​I looked up at her. She was smiling kindly. ​
"You've been waiting patiently pet, and now I'm going to teach you an important lesson about serving as my submissive." ​
She grabbed lube from her bedside table. She popped the cap and poured some onto my cock. I looked up at her. She was so gorgeous. She wrapped her fingers around me and gave a long, slow stroke. It felt electric! I arched my back and sent my hips upward. She sat in front of me and pulled my legs over her thighs. She pushed my cock against my stomach and slowly ran three fingers up its underside. I had never felt anything so wonderful in my entire life. I shivered.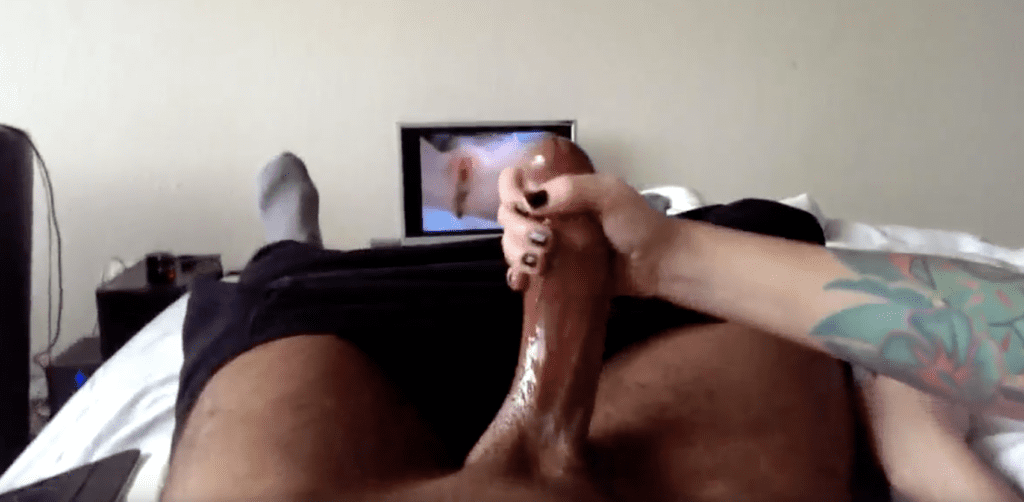 ​"Keep breathing, pet. I'll let you know when you can cum." ​
"Thank you Mistress." My voice was ragged. ​She moved her fingertips up and down my cock. ​
"You belong to me. Your cock belongs to me. Your orgasms belong to me." ​
She lifted her hand, keeping it a few inches above my cock. It took all of my self control not to press up against her fingers.
​"Say it." ​
"I belong to you, Mistress. My cock belongs to you. My orgasms belong to you." ​
"Good pet." ​She brought both hands to my cock, rubbing the underside with the pads of her thumbs. It had been three whole days since I'd last cum, and I was so insanely horny I could barely see straight. I wasn't going to last long. If she would just give me some solid pumps I would explode. But she was reading me, I finally realized, and she was going to stretch this out as long as she wanted. She ran the heel of her palm over my cock, then one finger around the head. ​
"May I touch you, Mistress?" ​
"Yes pet." ​
I ran my hands over her thighs and down to her knees. Everything felt hypersensitive. Mistress played with my foreskin, bringing it up over the head of my dick and then pressing it down. She lightly gripped my penis and gave me a slow stroke. ​
"Oh God! Oh please!" ​
"Oh please, what, pet?"
​"I don't know Mistress! I have no control of what's coming out of my mouth when you touch me." ​
She laughed. She gripped a little harder and pumped me. Oh God! I was close! But Mistress sensed it and moved her hands to my lower stomach, just above my waist. She rubbed lightly as I whimpered, then traced around my thighs before taking my balls in her hand. She leaned forward and sucked on my nipple. I felt her breasts against my stomach. I could smell her scent. She was turned on, too. ​
"I belong to you, Mistress. My cock belongs to you. My orgasms belong to you."
​She straightened up and pumped my cock. I felt the sensations course through my entire body. I didn't like waiting so long between orgasms, but the payoff was fantastic! I pursed my lips and clenched my pc muscle. ​
"I'm getting close, Mistress! May I cum?" ​
She gripped me harder and sped up her strokes. I thought I might pass out. I felt my orgasm coming. The sensations heightened and heightened until it was too much and I arched my hips and cried out- ​Mistress took her hands off of me! It was too late to stop! ​"No! Nooooo!" ​I shot jet after jet onto my stomach.
"Please! Please touch me!" I arched my back and tried to press my dick against her hand, but she just pulled it away. ​
"Oh my God!! Oh my God! Please stroke me!! Please!!" ​
She just laughed. My hips shook as I moaned in despair. Why did she stop?! What was the point of this?! I arched my back one more time, but I knew that the most intense and pleasurable part of my orgasm was lost. I had served her faithfully, and this was my reward?! I sank back to the bed.
​"The lesson for you to learn, pet, is that pleasure comes in many forms. You're frustrated that I ruined your orgasm now, but later, when you look back, it will be insanely erotic that I treated you this way. It will remind you that I own you, and that means I own your cock and any pleasure you get from it." ​
She ran her fingertips over my stomach and around my thighs. My dick pulsed, but nothing was coming out. She took it in her hand and gave it a firm, slow stroke. The feeling was so sharp and intense that I screamed. I looked up and saw a wide smile across her face. She released my cock and scooped up some of my cum with her finger. ​
"Open." ​One of the questions on Mistress' questionnaire was would I eat my own cum for her. I had said yes, obviously. I knew what saying no would get me. I had meant it, then. But now of course, it was a different story. It was an incredibly, unfathomably disgusting story. But I was going to do it, because I had said I would, because I wanted to please her, because even though it was cruel and horrible for her to ruin my orgasm, it was insanely dominant, and it satisfied something deep and primal in me that I had been searching for as long as I could remember. I sucked my cum off of her finger, then watched as she scooped up more. There was a lot of cum. ​
"Open."
​About an hour later, I was horny again. Really horny. It felt like I hadn't even cum earlier, and I wanted to stroke my dick so badly that I almost couldn't resist it. The cruelty of a ruined orgasm was twofold: it didn't just ruin it in the moment, it failed to relieve the insane longing to cum that I felt all the time with Mistress. It was horrible and breathlessly exciting. ​I was hooked. Not only was Mistress the dominant woman of my dreams, she was a wonderful girlfriend. New Yorkers are usually closed off, at least those over 25. Most of the time, the women I dated were afraid to tell me that they liked me until I said it first. They didn't want to text or call me unless I called first, either. But not Mistress. She would text me to say she had a good time on our last date or that she enjoyed being with me and that I was a good boy. She was really supportive too, happy for my successes and not afraid to challenge my beliefs in a non-judgmental way. She wasn't afraid to be vulnerable herself, either. I guess it's easier to put yourself out there when you can make the man you're dating eat his own cum, but still. She was brave, and fun, and she drove me absolutely insane in bed. ​
I began spending most nights with her, and that's when some of the difficulties of being her submissive surfaced. I was used to being on the internet at night or working out or lounging around. I was used to doing what I wanted, basically. I wasn't prepared for the boredom of serving as a footrest for hours. At first it was exciting: being used as an object, feeling Mistress' calves across my back. But the excitement eventually wore off, and then it was just me on my hands and knees, trying to stay still and supporting the weight of her heavy legs. Mistress didn't talk to me, either. She really treated me like an object. ​
A week after my first ruined orgasm, I came over with dinner for both of us. I set the table.
​"Put your placemat on the floor." ​
"Yes, Mistress." ​
"You're not allowed to use the furniture anymore. It's not for a slave like you unless I specifically okay it. Do you understand?" ​
"Yes Mistress." ​
"Yes Mistress, what?" ​
"Yes Mistress, I'm not allowed to use the furniture unless specifically told I can do so."
​"Mistress?" ​
"Yes?"
​"What about at night?" ​
"What about it?"
​"Will I be allowed to sleep in your bed?"
​"You'll find out later tonight." ​
"Yes Mistress." ​
I was a little confused. Mistress had referred to me as a slave, but I thought I was just a submissive. Her questionnaire had talked about total control, but I hadn't thought it included furniture usage. ​Much like serving as a foot rest, not being allowed on the furniture was hotter in thought than in practice. After a few hours, it was uncomfortable. I looked over at Mistress' feet. I wondered if she would let me worship them. I wondered if it was ok to ask. ​
"Mistress?" ​She put down the magazine she was reading.
​"Yes, pet?" ​
"Is it ok to ask to worship you?"
​"It depends how you ask and how often you ask. If you act entitled or pester me, then no. But if you're respectful and you don't annoy me, I may say yes. Read my mood before you do. You should be doing that anyway."
​"Yes Mistress. I'm not so sure I'm good at that. Will you help me learn?"
​"Sure. What's my mood now." ​She looked at me.
She seemed relaxed, kind of neutral, but not in a bad way. Not ecstatically happy, but certainly not upset. ​
"Relaxed? Content?" ​
"Yes. I'm feeling relaxed. If you were to ask me politely, I would consider your request. I may say no, but I wouldn't punish you for asking." ​
"Thank you, Mistress." ​
"There's a protocol for asking to worship me though." ​I nodded. ​
"Crawl to me and kiss each foot once, then wait on your hands and knees until I tell you to sit up. Then you may ask. Try it now."
​I crawled to her and planted a slow kiss on the top of each foot. ​
"Slide your hands forward…good. Like that."
​I heard her go back to her magazine. My dick got hard. ​
"Sit up." ​She was looking at me. The magazine was open in her lap.
​"What is it, pet?" ​
"Mistress, may I worship your feet?"
​"On one condition. I'm going to beat you first. I'm going to use my crop and my cane, and it's going to hurt, the cane especially. If you take 50 strokes, you may worship my feet."
​"Yes Mistress. Thank you. I'll take 50 strokes."
​"Good." She smiled.
"Put your forehead on the floor and wait for me to finish my article. Then we'll go to the bedroom." ​
I concentrated on my breath as I waited. I wondered how long she'd keep me here. I get it that she was trying to build anticipation, but I didn't need to be taught the same lesson over and over: I get it, she decided when things happened. I heard her turn the page. I counted my breaths. At breath number 37, she closed her magazine and stood up. ​
"Bedroom. Crawl." She walked around her bed, pulling nylon straps out from below each corner of the mattress. ​
"On your stomach. Stretch out to the four corners. Put these under your stomach." ​She tossed me two pillows.
I reached out for the corners. Mistress attached leather cuffs around my wrists and ankles, then cinched them tightly. ​
"Pull. Let me see how much you can move." ​I couldn't move my limbs much, maybe a couple inches. ​
"Can you bounce your leg up and down?" ​I tried. ​
"A little Mistress." ​She walked around and tightened all the straps. ​
"How about now?" ​
"No Mistress." ​
"Good." ​I heard her walk to her closet and retrieve what I assumed were a crop and a cane. She rubbed one on my back. It had a leather tip. ​
"This is the crop." ​She began swatting my butt lightly.
​"It's for discipline and light punishment. It can hurt if I hit you hard, or if I keep hitting you in the same spot over and over, both of which I'll do. You won't fear the crop, though." ​WHAP! ​
"Ow!" ​That surprised me. It hurt!
She put the crop down next to me and picked up the cane. She hit me lightly on my butt. It stung a little. ​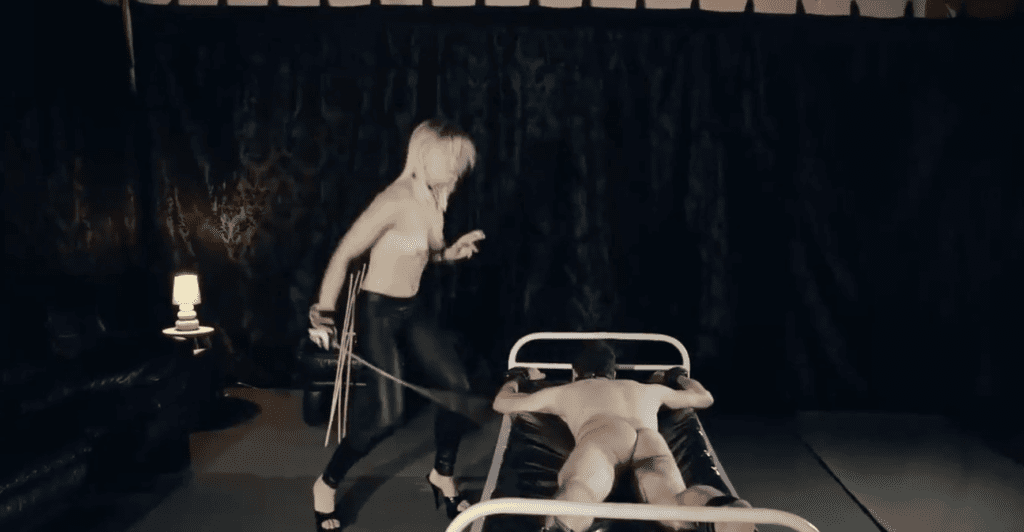 "This is the cane. It hurts. It's for heavy discipline and medium to heavy punishment. You'll fear the cane. I'll make sure of that." ​"Yes Mistress." ​She tapped my butt. ​
"This is our first discipline session, so let's talk about your safeword. Do you have one you regularly use?"
​"No Mistress." ​
"Right. You've never done this except in your head while jerking off." ​
"Yes Mistress. I do have a lot of experience jerking off, though." ​
"I can imagine. I bet you jerked off in your socks when you were younger." ​
"When I was older, 16 or 17. But when I was younger I would use my bathrobe." ​
She was silent for a moment….
Slave Training with Ms. Elsa: A femdom romance