Elyse drummed her fingers against the tablecloth. Patience had never been one of her virtues and feeling out of her element now wasn't improving anything. With a sigh, she shifted in her seat and crossed her ankles under the table.
A quick rifle through her purse put her phone in her hand: 6:52 PM.
Rob could arrive eight minutes from now and still be on time, but waiting bored her. Admittedly, she'd only been at the table for five minutes. A surprising lack of traffic and a skilled taxi driver were the reasons she'd arrived early, but that didn't make sitting alone in the restaurant's dining room any less uncomfortable.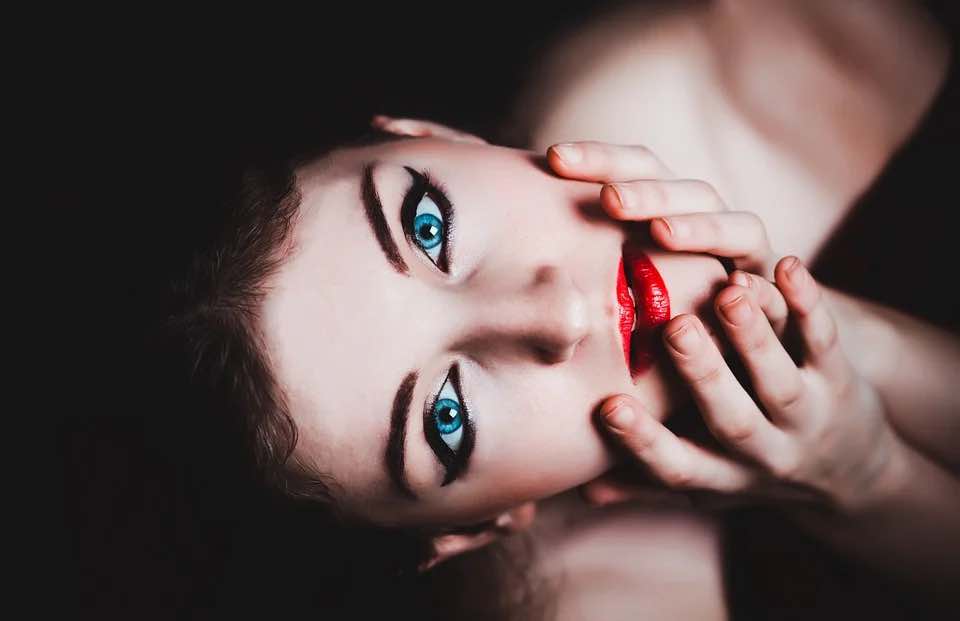 A submissive should be early, Elyse thought. That was why she'd agreed to meet Rob after all. Elyse's last relationship ended three months before and two weeks ago she'd told her friend Becca the real story behind the break-up. The other woman's eyes widened when Elyse explained she'd wanted to get more daring in the bedroom, with a strap-on to be specific.
Then Becca mentioned her husband's friend Rob, who'd drunkenly admitted having some "unusual interests" at a party. A few phone calls to get acquainted later and now here Elyse sat, impatient and alone in a restaurant. She rubbed her hand over her eyes. If he stood her up…
she didn't care to think about it. Despite trying to manage her expectations, she had high hopes for Rob. Hell, he'd already featured in a few vivid, kinky dreams. Elyse drummed her fingers against the table again, louder this time. Every passing second left her more restless.
Precisely at 7:00, Rob walked into the dining room. As promised by Becca, he was a tall man with thick blond hair, a square jaw, and dark brown eyes. His broad chest and shoulders filled out his shirt. Elyse took a deep breath as heat flared in her chest. His eyebrows rose when he spotted her, but he composed himself as he walked over.
"I'm sorry. I didn't mean to keep you waiting," he said, sitting opposite her.
"I was a little surprised you didn't arrive early." She hadn't expected him to skip the hello's and niceties, but she liked getting to business.
"I would've liked to, but I had trouble getting a taxi. I am sorry though—I know that's no excuse."
"I understand," Elyse said before taking a drink of water. His shoulders relaxed after she spoke.
I can put him at ease. That's a good start. And his looks don't hurt. Though she imagined he'd shaved before work that morning, stubble formed a shadow on his face. It gave him a rugged, masculine air—like something that couldn't be tamed. Which only made her want to tame him more.
"I hope you haven't had to wait too long. It wouldn't be a great start to this evening." He offered her a small and almost timid smile, but his eyes looked at her and took her in with confidence.
"How do you feel about this evening?"
Before he could answer, their waiter appeared. Elyse watched Rob's mouth move as he ordered. His full lips contrasted with his angular jaw and she could imagine what they'd feel like against her skin, between her legs. The waiter took her order and hurried away.
Elyse grinned. Did the waiter notice the tension too? Turning away from the departing server and back to Rob, she asked,
"So this evening?"
"This evening," he said, with a nod.
"I've been kind of nervous. Seeing you, I'm excited." He paused before adding, "You're very beautiful, Elyse."
Her cheeks heated up and she knew she was blushing in spite of her normally calm, controlled demeanor. "
Thank you, Rob."
"You're welcome. I didn't think I'd be able to make you blush."
Elyse laughed and took a breath. Apparently his timidity had passed.
"You're bold for someone submissive." His eyes opened wide as she said "submissive" and he glanced around the restaurant before leaning in and placing his elbows on the table.
"You could say I'm enthusiastic."
"You do seem eager," she said.
Without shifting in her seat, she slipped her heels off and placed her feet in his lap. Rob jumped, but he calmed himself down before anyone around them noticed. Still, his muscular thighs remained tense under her feet. Smiling, she said,
"Don't you love the length of the tablecloths at nice restaurants like this? No one around us can see my legs at all. I could even slip my panties off if I wanted to." As she spoke, Elyse shifted her legs and feet to a more comfortable position, but she also brushed the crotch of his pants. He stiffened at the mention of her panties.
"You could," he said in a tight voice. She brushed his crotch again and he grew harder. "
You seem to like the idea."
Not even the waiter's appearance with their drinks could keep her from grinning. A liquid heat started between her legs.
"You are incredibly distracting," he said once they were alone again—or as alone as they could be in a popular restaurant's dining room. One of his hands disappeared below the table and fingers brushed up the length of one calf and then down the other. Anticipation rushed through Elyse—tightening her muscles in the hopes of release.
"Apparently neither of us is shy," she said before taking a sip of the wine she'd ordered.
"You're lucky I'm in a good mood now or you'd be in trouble for touching me without permission." His fingers paused on her leg.
"I'm sorry. May I continue touching you, please?"
"You may." His fingers traced over her legs again.
"I like that you have good instincts."
"Good instincts?" he asked.
"About touching. And you're a little headstrong, which is more fun for me." His cheeks reddened now and Elyse laughed.
"Maybe you're a little more shy than I thought," she said. Shifting in her seat, she felt her own wetness again.
"Are you still hard?" Rob didn't break eye contact to look around the room as he had before, but he did blink at her.
"Yes, I am." Elyse removed her feet from his lap and slipped them back into her heels. Not having his hands stroke her legs anymore was unfortunate, but she had other things in mind.
"Why don't you get out that stiff cock of yours then?" She had requested a table beside a wall for a reason.
"I'm not sure if that's such a good idea," he said in a quiet rush.
"Is playing in public something you won't do, a hard limit of yours?"
They'd discussed their interests some over the phone, but they hadn't gone into great detail. Hopefully, he wouldn't object for much longer.
"I don't mind the idea. But here?" He did scan the room now.
"Why not? The idea doesn't turn you on at all?" The idea turned Elyse on.
The heat growing in her core demanded to be noticed. She ran a hand down her stomach and let it rest just on top of her inner thigh.
"It—I'm still turned on. I just, I don't know if this is a good idea."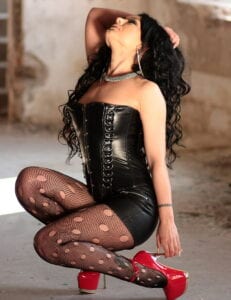 His confidence from before had passed and nervousness tightened his jaw, unless that was arousal. Reaching across the table with her free hand, Elyse caught the hand of his that still remained on the table. Unwrapping his fingers from his glass, she grasped his hand.
"Trust me, Rob. Just do this thing for me. It'll be worth it." He bit his lip and nodded quickly.
Elyse relaxed back into her seat. She hadn't realized how much her body had tensed in anticipation of his answer. The hand she grasped disappeared under the table for a moment and then reappeared. He took a sip of his drink, a generous one.
"It's out." The words practically had to fight their way out of his mouth. She rubbed her thigh through her slacks and sighed. Within feet of her, Rob was hard and filled with want—all because of her.
"Are you holding your hard-on?" she asked. Another blink and a deep breath as well, his dark eyes were wild.
"I am, yes."
"Stroke yourself, but don't get off. This really isn't the place for that." He opened his mouth like he wanted to object, but then he closed it and nodded.
"Whatever you want."
A breath later, his cheeks flushed. His right arm flexed slightly. Elyse doubted anyone else would notice the small movement. It's a shame I can't see it, she thought, but watching Rob was enough. The struggle to control himself was clear on his face: he didn't want to do this, but he wanted to at the same time.
Most of all, he wanted to do it for her. Something inside her caught fire. She was tempted to touch herself as well, but for now she wanted to focus on controlling Rob. Besides, she'd have fun with him soon enough. It'd been too long since she commanded a gorgeous man.
"Enjoying yourself?" Elyse asked a minute later, after she'd calmed herself down.
"I am," he said.
The syllables were brief and jerky. His brow furrowed.
"But it's not that simple, is it? Or are you not at all anxious anymore?"
He laughed once and looked away from her, ducking his head and facing the wall.
"I'm very nervous still," he said.
"Why don't you pause then? I think I see our waiter anyway.
"He turned to face her and his spine went ramrod straight in a moment. She fought a laugh as the waiter set her plate of pasta before her. She wondered if the poor man had ever had such an odd table. Opposite her, Rob accepted his food with real poise—especially considering what one of his hands had been up to only a moment ago.
"Do you need both hands to eat?"
Rob sighed. Her innocent tone hadn't fooled him for a moment as far as she could tell. It might look strange to anyone who noticed, but he managed to eat his tortellini with only one hand. Neither of them ate much though. Elyse studied his face and his slowly moving shoulder. Despite his languorous pace, his breathing sped up soon enough and hers did as well. How could it not?
"I think you should go a little faster, Rob. I want to see that arm of yours move more."
"If that's what you want," he said.
His eyes slipped down to her cleavage and then back to her face as his arm moved more quickly. He was good, still subtle, but the new pace was clearly giving him trouble. He stopped eating and instead took another drink before exhaling deeply.
"So how was work for you today?" His gaze snapped up to her face.
"What? I'm just making polite dinner conversation." Looking away from her, he shook his head.
"It—it was a good day at work." He inhaled sharply. "Nothing, uh, nothing too crazy from clients."
"Mine didn't get up to anything wild today either," she said.
Although Elyse worked as an event planner and Rob worked for an advertising firm, they both dealt with clients who sometimes seemed insane. On the phone a few days before, he'd made her laugh with a story about one eccentric man bringing a goat into his office. Remembering now, Elyse grinned.
"They can be so demanding, giving outlandish orders," she added.
"I know all about that," he said in one breath. His eyes closed as he finished speaking.
"Having a little trouble concentrating, Rob?" He nodded.
"Like I said, you're distracting. Maybe the most distracting woman I've ever met."
"I'll take that as a compliment. I take it no one's ever gotten you to do something like this?" All the things she could do to him played out in Elyse's mind.
"No." He opened his eyes again and took a breath before adding, "No one's ever toyed with me like this."
His arm moved more quickly and Elyse's breath caught in her throat.
"Do you like being toyed with?"
"Yes, but I don't know how long I can keep this up without getting too close." His words were short, choppy.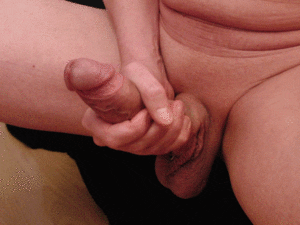 "You may stop, but only if you ask me nicely." Rob swallowed and asked,
"May I stop, please?"
"Call me 'Mistress,'" she said with a smile.
"May I please stop, Mistress? Please." His last word turned into a groan and his mouth snapped shut.
"You may stop."
"Thank you, Mistress," he said, discreetly wiping one hand with his napkin before both hands disappeared under the table. She heard or imagined a quiet rustle as he tucked himself away and zipped up.
"What do you think of taking the rest of this food home and heading out?" Elyse lowered her lashes as she spoke and gave Rob her most sultry bedroom eyes.
"That would be amazing." If she didn't know better, she would have guessed he'd just gone for a run. His strain hadn't detracted from his enthusiasm though. He was already scanning the room for the waiter, eager to head elsewhere.
"Can I tell you something?" Elyse asked, leaning forward to better display her round breasts.
"Of course," Rob said.
"I want to get a little rough with you."
If he'd been eating, he would have choked. Still, she got to watch the shock and excitement cross his face.
"I'd like that, Mistress."
"Good," she said while thinking, Do you have any idea what you're getting yourself into, Rob?
She owed Becca at least a bottle of wine for setting this up. Rob caught the waiter's eye quickly and a few minutes later they stood outside. Elyse wondered whether the man had simply managed to hide his erection or if he had the self-control to calm himself down. His voice pulled her from her thoughts.
"Sorry, what?" she asked.
"I asked where you want to go and if I should get us a taxi? You were… excited to head out."
He stood close enough that she imagined she could feel the heat from his body. He was nearly half a head taller than her; her eyes were the same height as his mouth. She looked up from his lips to his eyes before she responded.
"Oh, a taxi would be great, but you're not coming home with me tonight. I'll gladly visit you tomorrow, but I just can't help myself. I want to make you wait."
Elyse pressed her hand against his chest as she finished speaking, holding him away from her and letting her feel his hard pectoral muscles. His hard chest made her acutely aware of her wet panties. Oh, I want to take you home with me, but that'd be going too easy on you. I'll take you—but only on my terms, she thought as she rubbed her thumb in a circular motion over his chest. Rob's brows knit together in confusion then disappointment, but he nodded.
"If that's what you want, I understand I can't change your mind, Mistress."
"Good boy," she said. "I like that you're not a whiny submissive. Now, keep being a good boy and get me a cab." Before he turned and walked toward the street, Elyse saw Rob's cock begin to harden through his pants. She knew she had him.
The next evening, Elyse made sure to not arrive at Rob's early. She wanted him on the verge of breaking from anticipation. Going off his disheveled hair and flushed skin when he opened his door mere seconds after she knocked, he would be putty in her hands. Her heartbeat and breathing sped up, stirring something inside her.
"Hey, I'm glad you're here," he said, stepping aside to let her into the brownstone he lived in by himself.
She set her purse down on a table by the door. If Rob looked inside the bag, he would see the purple curve of her strap-on.
"Call me 'Mistress.' Have you touched yourself?" Elyse asked matter-of-factly as he closed the door behind her.
After she'd gotten into the taxi last night, she texted him and forbid him from climaxing until he was given permission tonight.
"No, Mistress. I did as you told me." He turned to her and his eyes roved over her body.
She could put a stop to it and tell him to put his eyes on the ground, but he was hungry for her and she liked it that way. Besides, she hadn't worn the tiniest dress she owned by accident. Just putting on the short, white dress with her black stockings had been sexual. All she had to do was loosen the drawstring at the waist or bend a few inches over to expose her dark panties to anyone around her. Rob had dressed well in a button-up shirt that hugged his muscles and dark jeans. Still, he wouldn't need those clothes for what Elyse had in mind.
"Take off your clothes," she said.
His dark brown eyes found hers quickly. "Here?" he asked, but he'd already reached for the top button of his shirt.
Pretending to give it thought, Elyse glanced around the foyer of his home. He kept it clean and minimal: earth tones, low furniture, and a few pieces of art on the walls. Up the stairs behind her she imagined she'd find his bedroom in an immaculate state, waiting for her. She looked back to him. His hands still hovered over the first button of his shirt.
"Here. And no more eye contact, boy, unless I tell you it's acceptable."
"Of course, Mistress," he said, angling his head downward as he began to undo the buttons of his shirt.
Rob hadn't worn an undershirt so inch by inch he revealed his chest and stomach to her. Heat rose in Elyse as his body came into view, first the pectoral muscles she'd felt last night and then his sculpted abs. Just before he slipped his shirt from his shoulders, she saw the v-shaped muscles that made up his Adonis belt. She bit her lip and exhaled loudly. He started to look up at her, but he stopped and kept his gaze on the floor.
"Good boy. Now, drop the shirt on the floor and finish undressing. Pants then underwear—no cheating and taking them off at the same time."
"Whatever you want, Mistress," he said as he undid the closures of his jeans and pushed them down his legs. I
In addition to his gorgeous upper body, Rob had muscular thighs, a weakness of Elyse's. By the time he stepped out of his jeans, he was fully erect. His cock pressed against his boxer briefs. He had the sort of long, thick shaft many women dreamed about men thrusting into them. It was also the sort of shaft Elyse loved to forbid men from touching, much less using to finish. Electric heat sparked over her inner thighs and the lips of her pussy. "
You're as enthusiastic as I remember," she said once the underwear was on the floor with the rest of his clothes.
"I'm very excited, Mistress." Elyse laughed, a deep, throaty sound.
"Oh, I can see you're excited. You look like an absolute slut standing there with your dick out." Rob nodded, but Elyse grabbed his jaw while his head was still in motion.
"Say 'Thank you, Mistress' when I call you 'Slut.'" His wide eyes stared at her as she tilted his face toward her.
"Yes, Mistress, I'm sorry." He quivered in her grip and his cock rose an inch.
"Good, little slut," she said, giving him a pat on the cheek and taking a step back. Even in her tall black heels he stood taller than her, but they both knew he was her little slut tonight—and for as long as she wanted.
"Thank you, Mistress." Rob looked down again, possibly at the floor, but she suspected her new submissive was looking at her body.
"Be honest, boy. How badly do you want to come?"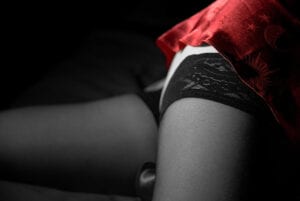 "I want to come so much. I, I've thought about you so much since last night and your order to not touch myself was hard to follow, Mistress."
"You wanted to stroke this cock like a selfish little slut?" Elyse wrapped her hand around the base of Rob's shaft and tugged. He stumbled forward and nearly fell into her, but he recovered, his stiffness still in her hand.
"I did, Mistress, and thank you, but I wanted to please you more."
"You want to please me?" she asked, giving him a squeeze.
Rob groaned and his eyes fluttered shut for a moment.
"I do want to please you, Mistress. I do."
"And how would you please me, slut?" Before he could answer, she slid her hand down him and cupped his balls.
"Thank you, Mistress," he said. His eyes closed completely now and he pushed his hips toward her.
"I'd please you however you wanted, Mistress."
"Do you remember what I told you last night?"
"I'm not sure, Mistress. I'm sorry. You said a lot of things to me." Silly slut, she thought.
"I said I wanted to be rough with you, slut," she said, tightening her grip on his balls until he gasped and squirmed. As his shoulders twisted, she returned her hand to his shaft. Elyse palmed his dick gently and then slapped it, smacking his shaft against his stomach. "Fuck!" He bent forward and covered himself with his hands. His eyes were open now. Was that too much? Then, he said,
"I'm sorry I forgot, Mistress. Thank you." Once he straightened and moved his hands away, she saw he was still hard, now with a pearl of pre-cum on the head of his cock.
"You liked that didn't you, you little slut?" She couldn't keep her smile from her voice.
"Thank you, Mistress. I did like that. I didn't know or think I would, but I know it only makes sense for you to know better, Mistress."
"What a good boy." Elyse traced one hand up her side, feeling her tight, hot body through her dress.
"How would you feel if all I wanted to do tonight was slap that cock of yours around while playing with myself? I could have orgasm after orgasm while your balls get bluer and bluer."
"I'll do whatever you want, Mistress, but I hope you'll allow me to finish."
"Do you think you could keep yourself from coming if I forbid you from climaxing tonight?" she asked as she walked around him.
"I would try, Mistress, but it would be hard for me." Even standing with his hands at his sides, the muscles of his wide shoulders appeared flexed.
With his physique, Rob belonged in rugged mountains living off the land not in New York City working at an ad firm. Elyse traced her fingers along the firm ridges of muscle beside his spine. He shuddered at her touch or was it closer to vibrating with anticipation?
"What would make it so hard for you, slut?"
"Thank you, Mistress. Just looking at you makes me want to come. You're gorgeous, Mistress."
"Good answer," she said, giving his ass a slap before going to his staircase. He jumped when she slapped him, but he kept his eyes on the ground.
"Thank you, Mistress."
"Oh, so you're one of those little sluts that likes to be spanked, aren't you?"
"Thank you, Mistress. I like any time your hands are on me."
"I'll remember that." Taking him to the bedroom right then tempted her, but she had something else in mind. The first stair pressed against her coolly as she lowered her body onto it.
The small white dress's hem lifted as she moved and Elyse made no attempt to hold it down and cover herself.
"Get on all fours and look at me, slut." Rob would have an excellent view of her panties.
"Yes. Thank you, Mistress." Once he was on all fours, he couldn't stop himself from looking at the space between her parted knees. "Enjoying your new angle?" Her panties became wet in an instant.
Rob's cock bobbed in the air and begged for her touch. He ducked his head to see his own hard-on for a moment, no doubt wishing he could stroke himself.
"It's a great angle, Mistress. Thank you for letting me look at you."
"Do you like these panties, slut?" The black lace panties matched the tops of her stockings. If he looked closely, he'd be able to see the outline of her wet slit.
"Thank you, Mistress. Those are very nice panties." Another drop of pre-cum beaded on the head of his dick.
"They are incredibly nice." She drew two fingers lightly over her slit, sending a bright pulse into her body and pulling the fabric tight against her. The simple motion mesmerized Rob and Elyse laughed at his rapt face.
"Anything to say, silly slut?"
"I'm sorry, Mistress. Thank you. I… I'm having some trouble focusing."
"Ah, I see. Let me make it simple then: be a good bitch and crawl here." Elyse punctuated her sentence by stomping her right heel into the ground, making Rob jump.
"Of course, Mistress," he said, already crawling to her. Clearly, she hadn't startled him too much.
"Now, lick. I want to see what you can do through the panties and, if you're very good, I might let you taste me." With that, she spread her knees further and leaned back on the stairs: a goddess reclining before her worshipping devotee.
"Thank you so much, Mistress," he said in a hurried voice as he positioned himself between her legs. He had to crouch and brace his elbows against the floor. It wasn't a comfortable stance for him, but her pleasure was what mattered. The stubble along his jaw she'd admired so much the evening before grazed the delicate insides of her thighs.
Elyse's head fell back and she groaned as his stubble pressed into her more. His tongue skated over the soaked fabric of her panties. The tip of his tongue pressed against her clit and tension wracked her body. She bit her lip and tilted her head forward to watch him go down on her.
"You're off to a good start," she said as his tongue flicked over her clit again. "Mm, a really good start."
"Thank you, Mistress." The heat of his breath spread over her sex. Elyse rolled her hips against his mouth, pressing the swollen lips of her pussy against his soft lips and angular face.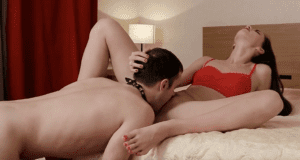 "You have such a soft, slutty mouth, boy." Rob's back arched as he lapped at her cunt through her panties. The muscles shifted powerfully.
"Thank you. I hope you'll let me pleasure you without your panties on, Mistress."
"Do you think you've earned that?" she asked.
She lifted one foot from the ground and set it on his lower back. The new pose opened her legs more and his tongue pressed the fabric of Elyse's panties into her slit. She sighed and let her eyes close. His lips skimmed over one of her thighs then the other.
"I'd like to think so, Mistress."
"You sound a little too cocky, slut," she said, shifting to press the heel of her shoe into his back. He wriggled under her heel. It made a deep dimple in his lower back.
"Thank you, Mistress. I'm sorry I sounded cocky. I'm just eager really."
"Mhm, I think I'll let you have what you want and a little more, with a certain condition of course. Stay on your knees and go get my purse." When she lifted her foot to let him move, she saw a bright red circle where her shoe's heel had pressed into him.
"Yes, Mistress. Thank you so much." He rubbed a hand over his lower back as he knee-walked to the table she'd put her purse on earlier.
"You look ridiculous," she said as he came back to her. A grown man walking around his house on his knees with a purse in his hands wasn't something she saw every day, but she could get used to it.
"I hope it makes you happy, Mistress." He kneeled between her legs and held her purse out to her. She could have him find the lube in it himself, but she wanted the strap-on to be more of a surprise.
Elyse took the purse from him, set it on the step beside her, and pulled the tube of lube from it.
"You'll need this," she said, dropping it onto the floor.
"Mistress?" Confusion clouded his voice.
"You mentioned an interest in anal play, pegging, and the like, so let's see how you like it. I imagine you'll need lube so there it is. Now, put some on one of your fingers and do as I say, slut."
"Of course, Mistress. Thank you," he said.
Her tone left no room for disagreement. As he uncapped the tube, Elyse caressed her nipples. They were so hard she could feel them through her dress and bra. Pinching them through the cloth, she sighed.
"Focus on your instructions," she said when Rob started to look up at the loud sound of her arousal.
"Of course, Mistress. I'm sorry." She continued to play with her nipples while he squeezed a thin line of lube onto one finger and closed the tube.
"Are you nervous, slut?"
"Yes, I'm nervous, Mistress. Thank you."
"If it gets to be too much, say 'Orange,' but for now I want you fingering your asshole while you pull my panties off with your teeth. If you can't keep me pleased while playing with yourself, you'll pay."
"I understand, Mistress. Nothing matters more to me than pleasing you."
"Prove it to me." She leaned her head and shoulders against the step behind her and lifted her hips to let him take her underwear off.
"Of course, Mistress," he said. Although she couldn't see him with her head tilted back, she felt the heat of his mouth on her thigh.
His tongue slid against her as he gripped her underwear between his teeth and tugged at them. In a minute he only managed to move the panties down her hips an inch. Elyse giggled: he was trying so hard and getting nowhere. Well, not nowhere: he'd succeeded in getting her even wetter by rubbing the crotch of her panties against her pussy.
"You're not doing a very good job, are you, slut?"
"Thank you, Mistress. I'm sorry. This is harder than I thought it would be."
"You may use your free hand to remove my panties. I expect you to set them on the stair once they're off. Don't just drop them on the floor."
"Yes, Mistress. Thank you for letting me use my hand." His fingers ran up her thigh, caught the hem of her panties, and pulled them to her ankles in one fluid motion. Elyse shuddered and sat up to look down at Rob. She lifted her feet, allowing him to remove her panties. He folded them on the stair beside her with one hand, his other remained busy behind him.
"Look at me," she said, anger flattening her voice.
"Yes, Mistress," he said, obeying her.
"Did I tell you to stroke my leg, bitch?"
"No, you didn't, Mistress." His hand slowed.
"Did you ask permission to stroke my leg, bitch?"
"No, no you didn't. I'm sorry, Mistress. I didn't think about it. I'm so sorry."
"It's obvious you didn't think, slut."
"Thank you, Mistress." Her open palm hit his face with a loud clap.
"Be a little more thoughtful from now on, slut. And finger yourself harder. I want you to work that ass of yours and struggle not to climax."
"Yes, Mistress. I'm so—"
"Shut up and get to work," she said, reclining back on her elbows. Elyse wanted to watch. To his credit, Rob did not disappoint once he put his mouth on her. His tongue set her body on fire as it slid along her lips. He groaned against her and the vibrations of his voice penetrated her core. His lips brushed over her sensitive clit before he circled it with his tongue. Her body quivered uncontrollably, but he didn't put too much pressure on her clit. Instead, he teased her inner thighs and soft lips, never spending too long on her opening or her clit.
Elyse's breath caught in her throat as warm heat pooled in her core. Rob's breathing matched hers. It warmed her thighs and cunt as she excited him and he excited himself. His hand worked more and more quickly.
"You seem to be enjoying yourself," she said, pushing herself against his mouth so he couldn't answer right away.
"I'm enjoying myself a great deal," he said once Elyse shifted her body to let him speak.
"What do you think of me fucking that ass of yours?" The idea of bending him over sent another quiver through her. His arm and mouth paused.
"I'd like that, Mistress." His voice was practically a whisper.
"Speak up, slut."
"Thank you, Mistress. I like the idea of you fucking my ass, Mistress," he said, almost shouting now.
Not wasting a second, he lowered his mouth to her heat again. Elyse gasped and said,
"Much better, boy. Let's hope your neighbors didn't hear or they'll have some questions for you." She didn't hear his response. The sparking warmth of his mouth spread throughout her body. She could let herself come, but she wanted to wait and let her climax build more.
She stood, letting Rob fall forward against the stairs between her legs. Elyse took a step away to give him room to move. Getting away from the heat of his body helped her focus through the haze of her arousal too, but the haze still hung around the edge of her mind.
"It's a good thing you didn't bump me, slut. Crawl to your bedroom. But quickly—I'm not in the mood to wait on you."

"Of course, Mistress, and thank you," he said.
He moved awkwardly, but she doubted he went up his stairs on all fours often. His stumbling gait made her smile as she followed him to his bedroom, her purse holding the strap-on in one hand.
"I feel like I'm taking you for a walk, like you're my little pet." Even hunched over and crawling she couldn't ignore the gorgeousness of his body: all taut skin and built muscle.
"I would love to be your pet, Mistress." Rob reached the top of the stairs and the beginning of a long hallway. And I get to watch him for even longer than I thought. I hope the poor little boy doesn't get rug burn…
"If you do well, you could become my favorite plaything, slut."
"Thank you, Mistress."
"I'm surprised you've remembered to thank me so well, boy."
"I want to please you so I'm doing my best, Mistress. I hate the idea of letting you down," he said, turning and entering the last door on the right.
As she'd expected, Rob's bedroom was simple and clean. The walls were a warm tawny and his low bed was made up with cream sheets. It put her in mind of an elegant hotel room: welcoming and open.
"It looks like you keep your bedroom quite organized, or you got ready for me."
Still on all fours, he said, "I did get ready for you, Mistress."
"Mm, good boy. Stand up and bend over. I want your ass on display. It's mine for tonight."
"Of course, Mistress." He stood slowly—either from soreness or nervousness. I'll start slow. I don't want to hear him say "Orange," she thought as she pulled the strap-on from her purse.
The strap-on was double-sided and she slid her end into her wet cunt easily. It was thicker and shorter than the side she'd use on Rob and pushed against her g-spot. Elyse moaned and gave the dick-shaped side a tug that caressed her pussy inside and out. The harness slipped up her legs and over her hips and she was ready. It was her turn to feel a tinge of anxiety now. Though she'd had the strap-on for a couple of months, she hadn't gotten to use it on a partner and Rob hadn't had one used on him. Seeing the purple cock curve up from between her legs was different knowing she'd thrust it into someone soon.
"Are you ready, little slut?" she asked while squeezing a line of lube along the strap-on's head and shaft.
"I'm as ready as I'll ever be, Mistress." His voice wavered and it renewed Elyse's confidence. In spite of whatever apprehension he might feel, Rob still wanted to give himself to her. Because she was in control. Because he was her toy, just like the strap-on.
"Good, I want to see what you can handle," she said, walking to stand behind him.
The head of the strap-on bumped his ass and Rob jumped, nearly falling forward.
"Put your palms down on the mattress or I might fuck you right onto your face."
"Yes, Mistress," he said and did as he was told. Elyse gripped her new shaft around the base and rubbed its underside over Rob's ass. Her short dress whispered over her bare ass as she shifted her hips. Goosebumps sprang up on her skin and her nipples became stiff peaks visible even in the low light. The man groaned as she laid the strap-on along his cleft and held it there.
"You love this, don't you, slut?" she asked as she slid her hands over his ass.
His muscles were tense, but he relaxed as she ran her hands over them.
"Thank you, Mistress. I do love it. You feel so good pressed against me."
"You want this cock then?" She dug her nails into him and then slapped his ass with both hands. He clenched under her hands, but then he pressed his hips toward her.
"I do, Mistress. I, I want you to fuck me. I want you inside me, Mistress."
Rob pushed his hips against her and the strap-on again, arching his back as he moved.
"Oh, you're practically begging for it, you nasty boy." Gripping his hips to hold him in place, Elyse pulled away to let the strap-on's head nudge Rob's hole.
He tried to pull away from her for a moment before settling against her and the purple dick's head.
"I am, Mistress. I need to have you inside me," he said in a raw, husky voice.
"You do sound like you're in need, poor thing." She bit her bottom lip and pushed forward, sliding the strap-on into Rob. He shook and moaned as she thrust forward until her hips were pressed against his with the strapped-on cock buried inside him.
"Thank you, Mistress." His words dropped off into another low moan when she rolled her hips against him.
"I want you to be loud for me, bitch. I like the filthy sounds you make."
The base of his end of the strap-on ground against her clit and made her gasp. Heat sprang up at the base of her neck. The drunken haze
of her near climax returned in force and she had to take a deep breath before pulling her hips away from him. The arch of his back deepened as Elyse thrust into him again and again. Sweat beaded along his back and his skin felt like it was on fire under her hands. Her own body heated up too. Who knew fucking Rob would feel so good? She forced herself to move slower than the feverish pace she wanted to set. Going too fast and hard might scare him, but she wanted nothing more than to pound his virgin ass.
"Oh god, Mistress. Oh fuck, fuck," he gasped.
His hands gripped the bed with white knuckles.
"You sound like you're enjoying yourself," she said, her own words barely more than rough exhales.
"Oh fuck, yes, Mistress. I am." Perhaps emboldened by her arousal, he worked his hips against her faster.
"It's so hard not to come." Hearing the word made her groan. Her own climax thrummed in her and over her skin: waiting. Just having her fuck him could get him off—it was nearly too much. Elyse pulled out of him, panting.
"Get on your back, slut."
"Thank you, Mistress." He half-kneeled, half-collapsed onto the bed before rolling onto his back. His cock's head glistened with pre-cum. Sweat sheened his flushed skin.
"Get these legs up in the air," she said, giving his calf a slap. Rob couldn't move fast enough.
She wanted inside him again now. Grabbing his ankles as he shifted, she held his legs up and dropped to her knees on the bed.
"Oh yeah," she said, pushing the strap-on into him.
It took her a few experimental thrusts to work out the new angle, but soon she was slamming her hips against him again. Rob slid toward the head of the bed as she pounded him. In this position, she could watch his chest heave and see how he threw his head back. Leaning forward, Elyse placed her free hand on his shuddering abs. She also tilted his ass up, letting her pump deeper into him.
"Oh fuck, Mistress. Oh god." He grasped at the sheets again and licked his lips.
"You want to come, don't you slut?"
"Thank—thank you, Mistress. I do, you make me want to come." Elyse sighed and moved her hand over his hard stomach. His words sank into her core. She wanted to make him come too.
"How badly, boy? How badly do you want to finish, to get that release?" A pulse ran through her at the word "release" and she groaned.
"I want it so bad, Mistress. So bad, but I don't want to without your permission." He ran his hands over his face and through his hair.
"I don't want to let you down."
"Do you even care that you're going to come on yourself?" Her hips moved of their own accord.
A wild throbbing started in her pussy.
"I don't care, Mistress. I just want to come, but only if it pleases you. Please." His hands twisted into the sheets again. Elyse pulled her hand from his stomach and pinched her nipples. The sensation made her gasp,
"Then finish for me, slut. I want to see you get off." Rob's body jerked against her and sent an electric charge through the strap-on into her cunt and clit. The throbbing in her released and filled her body as his cock jolted and shot cum onto his stomach and chest.
"Good little bitch, coming all over yourself," she said in a mumble as she let her eyes close and her mouth fall open.
Heady lightness burned over her body and she collapsed forward, dropping Rob's legs and barely catching herself before falling into him.
"Oh my god," she said, or thought she did, who knew?
After a minute of feeling her body pulse with her eyes closed, he said, "Thank you, Mistress."
"You were a very good boy." She opened her eyes to find him panting and looking up at her from the bed. The evidence of his orgasm remained pooled on his body.
"I'm glad, Mistress. I wanted to please you so much." Elyse nodded and tried to catch her breath before pulling out of Rob.
She shivered as the strap-on pulled on her sensitive body and Rob groaned.
"Go clean yourself up, Rob," she said before letting her exhausted body drop onto the bed.
"I really should," he said with a laugh as he propped himself up on his elbows and looked at his body.
"Mhm." Elyse nodded.
"You look like a nasty, nasty slut." She stroked the shaft of the strap-on, not willing to remove it just yet.
"Thank you, Mistress." He sat up and exhaled loudly before standing.
"Good boy," she said, watching him leave the room. Alone, she sighed before loosening the harness around her hips and pulling the strap-on from between her legs. The tugging sensation set off a thrumming cascade through her and she paused, closing her eyes and taking a deep breath. She worked it the rest of the way out and opened her eyes to find Rob watching her from the doorway.
"Enjoying the show?" she asked.
"It was quite a sight." His sentence hung in the air, feeling incomplete.
"You can relax for now and call me by my name. Come get in bed."
"Gladly," he said before taking an exhausted breath and heading toward the bed. He pointed at the strap-on.
"So is this your favorite toy now?" Grinning and surveying Rob's face and tired body, Elyse said,
"I may have another toy I like more."
If you enjoyed "Her New Toy," why not  check out more work by Margeaux Adler like the second part of "Her New Toy" :
Her Disobedient Toy (A BDSM Femdom Story) (Her Toy 2)