Pegging Strap on Fun
Pegging describes a sexual practice in which a woman penetrates a man's anus with a strap-on dildo. Because the term is quite new, many people use different terms for "pegging", such as "bend over boyfriend" (commonly shortened to BOB).

The act of pegging can be enjoyable for both partners: men may find stimulation of the anus, rectum, and adjacent organs, particularly the prostate, enjoyable provided that enough lubricant is used, and women may get direct stimulation from the dildo, from its base, from an anal "butt plug", or in the case of a form of a double-ended dildo, from vaginal penetration on the other end. Additionally, a woman could use a secondary vibrator, between the dildo and her clitoris, to get pleasure from pegging.

Some men and women may also find pleasure in the psychological aspects of submitting and dominating, respectively; indeed it is quite common for a femdom roleplay to culminate in a pegging, although as BDSM practitioners might point out, the act of being penetrated is not necessarily experienced as a submissive act, nor is the act of penetrating always experienced as a dominant act.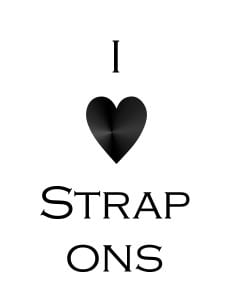 Given the stigma associated with anal sex, some people, many of them heterosexual, derive enjoyment from the taboo or gender-transgressive aspects of pegging. Some females may enjoy the feeling of having a "simulated penis," while some men enjoy the experience of receptive penetration in addition to the ability to masturbate due to the fact that their penis is "free".When it comes to bedroom antics, it can be kind of hard to keep things feeling new and exciting. Maybe you've tried watching porn together, role-playing or even incorporating BDSM, but you're still not satisfied. Moving beyond the traditional ways of spicing up your bedroom can easily fix your issue. Instead of going for the norm this weekend, go for a strap on.
Sure, strap ons can be a little intimidating, but everyone and every kind of couple can actually find a lot of enjoyment and pleasure in using one. Let's explore the who's, the how's and the what's of all things strap-on.
When you're talking about strap-ons, you're actually talking about the harness that you wear. Harnesses come in four different options for you to choose from.
There is the two-strap harness, which tends to be the most popular option. This harness allows the wearer to simply step into the straps and pull them up around the waist. It keeps your backside open and free for easy access.
There is also the thong option, which looks exactly like the way it sounds. But unlike the two-strap, this one does not allow for any easy access.
The double penetration strap on gives the wearer some of the fun, too, by featuring a dildo or vibrator that they can insert while they peg their partner.
Finally, the full coverage strap on. These are worn like underwear and are usually modeled after men's briefs or women's bikini style of underwear. While there isn't access available when wearing these, they do provide a lot of stability when thrusting.
Some strap ons come with affixed dildos. This is a great all-in-one option but doesn't allow for variety or for you to swap anything out in case the dildo is too large. Getting separate pieces will ensure that everything fits properly and gives you options. A separate harness will come with interchangeable d-rings that allow for different sized dildos or vibrators to be placed within the harness and also make cleaning up a breeze.
First-time strap on users looking to be comfortable should look for harnesses that have cushioned or padded straps. And as always, when looking for dildos and vibrators, be sure to buy ones that are made from body-safe materials like medical grade silicone and metal, glass, elastomer or hard plastic.
Now strap ons are typically thought to be used by women on other women or on men, but they are also a great option for men who have impotence problems. You can get a hollowed out dildo option that will allow you to place yourself inside of it and grow within it. This is a great way to feel connected to your partner while giving them the pleasure they want.
What do you think about pegging? strap ons?