A Submissives First Experience on Slave Selection
I have been registered for several weeks on Slave Selection, and I would like to share my personal experience on this site …
I am very curious by nature, and I wanted to experience being dominated by a woman.
So I decided to register and give this dating site a chance. Since it is specialized for dominant women and submissive men I thought it would be a good fit. I quickly responded to a profile that I liked a lot. The content of the ad was pretty close to the following: Young Domina, looking for a young man, beginners welcome.
To my surprise, I submit myself to her, and I managed to get an appointment with this young Dominatrix. I was registered on Slave Selection for less than 3 days.
Our conversation on the site's chat feature was fairly brief. We exchanged information quickly, our phone numbers and we arranged an appointment for the following weekend.
During the meeting, we decided to go for a walk in the park for a quiet chat. Everything went pretty well. After the walk, she asked me to go for a coffee with her …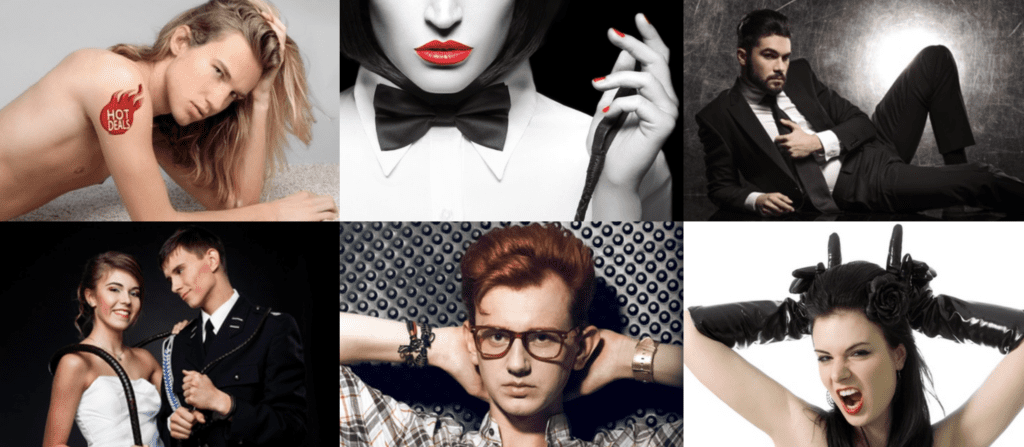 Her apartment was clean and well decorated. She offered me a drink in her kitchen. She asked me about my submissive fantasies.
A little shy, I explained that I was curious and I wished to submit myself totally to a woman. I told her also that I did not like too much physical pain and my desire to bid and frustration was more cerebral.
She ordered me to shower and grab a towel out of her laundry basket.
– You have 5 minutes to shower. Then join me, completely naked, in the kitchen.
Still wet, I arrived in the kitchen. She gave me an apron.
– Put the apron on.
Then she ordered me to clean the floor of her kitchen and the bathroom with a toothbrush. I was at it for at least an hour!
I admit I was a bit disappointed because I did not expect this. After 5 minutes, she came back. I was still cleaning.
– You better rub the floors better than this!
She returned 10 minutes later to take my picture. I did not like that at all.
After an hour, I finally finished my first chore. I went to join her in the living room. She was watching television without paying attention to me.
She told me that I had taken to long. She asked me to remove my apron and come to lie my buttocks on her lap. She began to spank me with her hands. It was painful.
After the spanking, she told me that she wanted to watch the end of her film quietly.
– I will free you when I wish!
She ran to the kitchen and the bathroom.
– Work is hurt!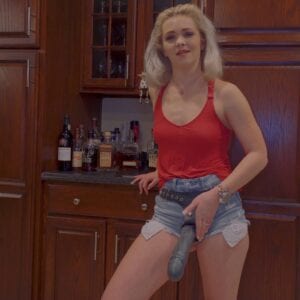 She ordered me to get against the wall, next to the TV. As punishment, she asked me to kneel with my nose against the wall. Then she took a string from her pocket, probably found in the laundry basket in the bathroom. She showed me the inside of the cotton string. It was a dirty string. She adjusted it against my nose and pressed my nose against the wall. In this way, the string was stuck between my nose and the wall. She told me not to move.
– I will train your ass if you let the string fall to the ground.
After 20 minutes I was exhausted. I dropped the string. I managed to quickly replace the string between my nose and the wall. But behind me, she said
– No, now you have to put in your mouth.
She got up, took the string and asked me to stick tongue out. She placed the dirty cotton string side against my tongue.
– Now close your mouth.
It was very salty and fragrant.
At the end of the film she stood up and asked me to accompany her in the kitchen.
– Well now let's get serious,
She explained that a dominatrix had to sodomize her subject. It was a compulsory passage, as an initiation rite. She left the kitchen for a moment and returned with several dildos and a good size plug.
– First, I'll ask you to take the plug, and after we will talk.
She placed a condom on the plug, lots of lubricant gel and gave it to me.
– Well you know what you have to do now!
Well, I executed it. I did not think it was going to be this large. It was my first plug. The object sank deep into me.
– Well, now we can talk quietly.
I realized at that moment that it was very difficult to talk quietly, naked, with a plug between my buttocks. Especially when standing in front of you is a pretty young woman in her thirties in a suit and plunging neckline. You really feel fragile.
She went into the bathroom and returned with a full glass of yellow liquid, and placed it next to the dildos. She said that these dildos were made to be attached to a belt to be used as a strap-on and that we would all choose one. These dildos had very different sizes, from small to very large. I quickly told her I wanted the second smallest. She said smiling that it was not that simple.
– You see the glass filled with a yellow liquid in front of you? The more you drink the smaller the dildo will be that we squeeze into you.
She was really vicious. My brain was served. I did not dare to drink it. I thought I knew what was in it. I told her I really did not want to drink it.
– Well, that means you will be getting the biggest dildo then, sorry.
We got up, she tied the dildo, it was very impressive, I did not laugh at all. She put a condom on the dildo.
– Now you're going to suck on your dildo.
I had cold sweats, but I was on cloud 9. She could do whatever she wanted to me. She took my head and forced me to suck on the dildo.  She took me by the hair, bent me over on the kitchen table, and began to push the dildo in me. Now her jeans were tight against my buttocks. She was so completely in me. After about ten minutes which seemed like an eternity to me, she put her mouth to my ear and asked me if I was her little whore.
I said yes. I was exhausted.
She took off her dildo, and asked me to clean it and the plug. When I finished, I placed them in the sink. She asked me to come to her side as she left the kitchen. She returned with my clothing. She asked me to get dressed. I asked her if I could go to the bathroom. She replied definitely not.
So I dressed at once. Once dressed, she showed me to the door. She gave me a kiss on the cheek and pushing me out, she pressed with her hand between my buttocks. It was very unpleasant and humiliating. We say goodbye in the hope of meeting again the next day.
Now on cloud 9, I went home.
Then the next day I had a pretty big surprise … After work, I decided to call her. I tried to call her 3 times but she did not answer. I quickly realized that she did not want to see me again.
In the end, she explained to me by SMS that she did not know what to think of the evening spent the night before and she did not feel anything "d 'strong enough' on her side to start with me in a more or less long term relationship …
In short, I have trouble understanding this sudden change … even if I am aware of having committed some mistakes during our appointment: having tried to kiss her on the first day of blunders on cleaning to do, etc …
Maybe this young Dominatrix was just a very demanding domineering and needed a very obedient submissive to be at her feet.
I convinced myself that I had to be patient. So I decided to return to the site to view other profiles.
I found several interesting profiles. I sent several requests for contact.
However, to date, no domineering I tried to contact one and she answered me.
So I was very lucky, I submitted the beginner, getting the first appointment as quickly after registering on the site Slave Selection.
However, I remain convinced that this kind of relationship dominant female/male subject is the kind of relationship I want to have with a woman.
I will continue to look for my dominatrix on the Slave Selection website. There is no reason for an overbearing domineering woman who wouldn't want me as I have strong desires to serve.  I just have to be patient and persistent.