I am a jogger, not a runner
I never thought a race would show me the way to submission to a very dominant woman, but there I was, 1 mile and already exhausted. Last night I had too much to drink now it seemed I was running in slow motion. But then I saw her, she was running in front of me. Tall, athletic, and beautiful, wearing short running tights.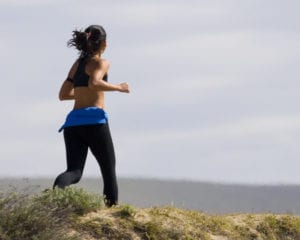 My God, she had a gorgeous ass and unbelievably shapely legs. I started following her and was able to keep a great pace until the last mile when I simply couldn't keep up. She just kept going, never slowed down and all of a sudden, she was gone. Oh well, at least I will enjoy a cold beer after the race is over, I thought.
I was standing near the bar enjoying my beer when I felt a tap on my shoulder. There she was, the Goddess from the race. I thought you were going to keep up with me she said smiling. I replied that I had the best time running behind her. "Immediately l felt ashamed of my stupid comment". She saw me blushing and changed the subject.
"Do you know we're wearing the same shoes, boy?" I looked down and yes, we were both wearing black Brooks Pure Cadence shoes.
Teasing me
She then said, "can you imagine if we were wearing the same underwear too, wouldn't that be embarrassing?" Not knowing what to say I blurted out, can I get you a beer? I am more of a wine drinker, she said, I live close by and have a nice bottle of wine chilling. Do you want to come over and have a drink? Before I could even reply, she grabbed my hand and led me to the parking lot.
As we got near her car, she turned around and said: "I want you to know I'm a Dominant Woman. I looked at her and asked; does that mean you will tell me what to do?" "Yes," she said, but that doesn't mean you have to do what I say if you are not comfortable.
Hearing this I started to get hard. Ok, I said I am cool with that. She smiled, pulled me close, and kissed me hard as she slid her hand into my pants grabbing my cock.
"I can see what you mean by Dominant Woman", I said in a way she wouldn't be able to hear.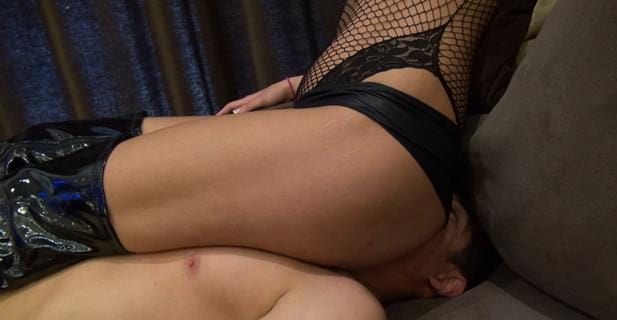 Sexual Dominant Woman
We drove to her place and after our first glass of wine, she pushed me flat onto the couch, locked my wrists, and silenced my mouth with her ass. I played with her pussy until she orgasmed twice and then licked her clean. We spent the whole night fucking everywhere, nearly every surface of her apartment was covered with our sweat and juices.
She laid across my chest and slid her fingers through my chest hair tugging it gently. I like you, boy, but if you want to be with me you have to submit totally. I looked directly into her eyes and said with no hesitation; " You have my unconditional submission, I want to be completely dominated by you."
I really meant it and we have been together since then. I am a true FLR submissive and I love it!
---