The Sissy Slut Gets Corrected By Mistress
Surprisingly, Mistress came home from work in a good mood. She had made plans to teach me a lesson. She hasn't been too happy with me lately. I have been slacking on my sissy maid duties along with my sissy slut duties. I met her at the door on my knees hoping that this would impress Mistress. She had a glimmer from her teeth that shined down in my eyes from the mirror on the ceiling. However, she didn't even acknowledge me except for that zap on my clitty. She only looked and smiled while looking up at the ceiling.
"Mistress," I said, "I decided to meet you at the door because….."
"You decided!" She exclaimed. "Since when is it okay for you to make a decision you little sissy slut?"
I know I was wrong. Mistress made it clear that I should not be making decisions of any kinda long time ago. My face started stinging and my cheeks turned red. Mistress' hand began to favor this color as well.
A Bull Visits Us
"Bend over you little sissy slut bitch. Face the door!" She said with a short giggle.
My butt cheeks began to feel the same sensations as my facial cheeks did. It took a little longer though. I could tell Mistress was having fun though with her short bursts of laughter. While she was still spanking me, she explained what a good mood she was in because she had found someone that she believes will make us both satisfied. Then, a man twice my size walked in.
"Take his pants down and begin my little cum slut," Mistress whispered.
Mistress told me to use my teeth. I grabbed the zipper with my teeth. The zipper seemed to be hard to undo at first and finally, when his cock slapped my face I found out why. It was also twice the size of me. He grabbed his cock and kept slapping my face with it calling me a cum dumpster and sissy slut.
Do Not Cum Until I Tell You To Cum!
I asked if I could suck his cock to please my Mistress. He would not let me at first. He wanted to keep slapping my face with it. Finally, Mistress came and grabbed his cock, my head, and smashed them together so his cock would enter my mouth as if it was pole crashing into a cave repeatedly. His balls began to creep up into himself showing Mistress he was about spill his load into my mouth.
"Stop!" She yelled. "You do not cum until I tell you to cum."
"Yes Mistress," he stated.
"You are to watch us now sissy slut, me and my bull slave," she explained.
Mistress had him go to her and take her clothes off as I had to watch.  He took one button at a time with his teeth, then moved his hand up her body to remove her shirt. Mistress' bra was removed and they laid down on the floor. He moved further down to use his mouth to take her panties off.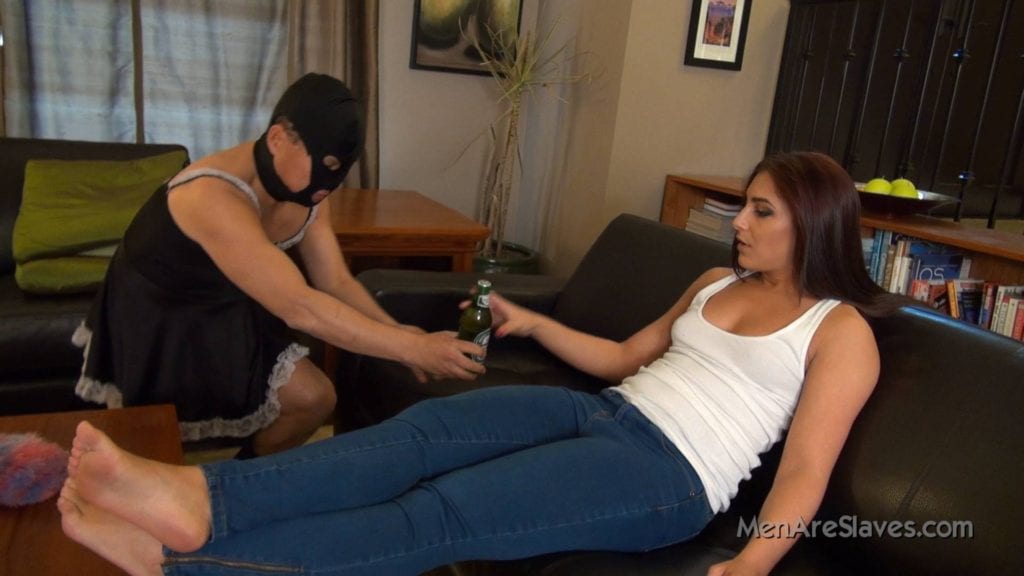 The Bull Gives Mistress Pleasure
While he was removing her panties, she told me I had to put them in my mouth as I watched and tasted her juices. She showed me her pussy illuminating me to the fact that this was a place I will never be in. My eyes dropped and my heart filled with sorrow. Mistress could tell the humiliation was swelling inside of me.
I could see his cock moving as he slapped her pussy with it repeatedly teasing her. He moved his hips back and she grabbed his cock and roared for him to slam her. He entered with a mighty shove. Over and over again, Mistress was moaning and my cock was trying to get hard but the chastity device Mistress put me in would not allow it. I started moaning from the agony. Mistress zapped my cock and they both laughed. After 10 minutes, they changed position and I had to put my face right next to his cock and her pussy to watch. Mistress kept zapping my cock telling me it was actually an extroverted clit. All I could do was thank Mistress for allowing me to keep serving her and her bull.
The Sissy Slut Is Always There To Serve His Mistress
Her bull began to ask if he could cum after forty-five minutes of pure fucking. Mistress asked why she should allow it.
"To serve you the best way I can Mistress," he explained.
"Yes my slave, cum on this sissy cum slut's face and her mouth," Mistress said.
We both thanked Mistress at the same time. I had to suck on him some more till he came into my mouth. She explained if I spit it out, I would be severely punished. I had to hold his cum in my mouth till Mistress would let me swallow. Her bull got dressed and left out the back door.
"Are you satisfied?" Mistress asked me.
"Yes Mistress, it is an honor to swallow cum for you my Dear Goddess," I stated.
"Good," she said as another bull entered the room. She then explained there are three more waiting. Mistress looked at me with a glare.
"You know the routine you little whore."