A Dominant Woman Contacts Me
I've served 2 Owners for 2 1/2 years and recently joined Slave Selection  (you might know it) 🙂 as a way for me to have a little bit of fun with a dominant woman on the site. However, I had a dominant woman contact me who only lived 3 miles away. My present Owner lives 52 miles away and I don't get to spend as much time under Her control as I'd like. Anyways, the Mistress ordered me to get back to Her and without thinking, I replied. My slave training usually kicks in when a dominant woman orders me to do something, I do it.
We messaged each other for around an hour and Mistress told me to give Her my phone number, which I did. I waited and waited for the dominant woman to call, which She did the next day. I was at work when She ordered me to get my cock out and wank in real-time while she watched on her phone. It was difficult doing without getting caught, but I managed it. The dominant woman told me I was a good dog and that She might have a place for me as Her bitch. What should I do? I knew my other Mistress had other slaves, as is Her right, but I felt unsure and excited about having another dominant woman in my life telling me what to do.
Meeting Her In Person
A few days passed and I was thinking that the new dominant woman wasn't interested when She called and told me to meet her NOW! I was at work and had to feign illness to get off. I scurried to the cafe where She told me to meet Her and again She made me wait. When She arrived I was not disappointed, She was lovely. Her profile photo was heavily blurred so I only had a vague idea of what She looked like. She recognized me instantly.
I stood up and took Her coat and helped Her sit down and waited for permission to sit. She told me to get Her a coffee. I did as I was told and returned. Anyone watching would have no trouble telling which one of us was in total control. She asked me questions about my experience and vanilla life and eventually said that I might be suitable. She told me to go home and shower and change from my work clothes and wait for Her call. Again, She made me wait a couple of days before She called. It came at lunchtime on Wednesday and She told me to come to Her house at 6 that evening.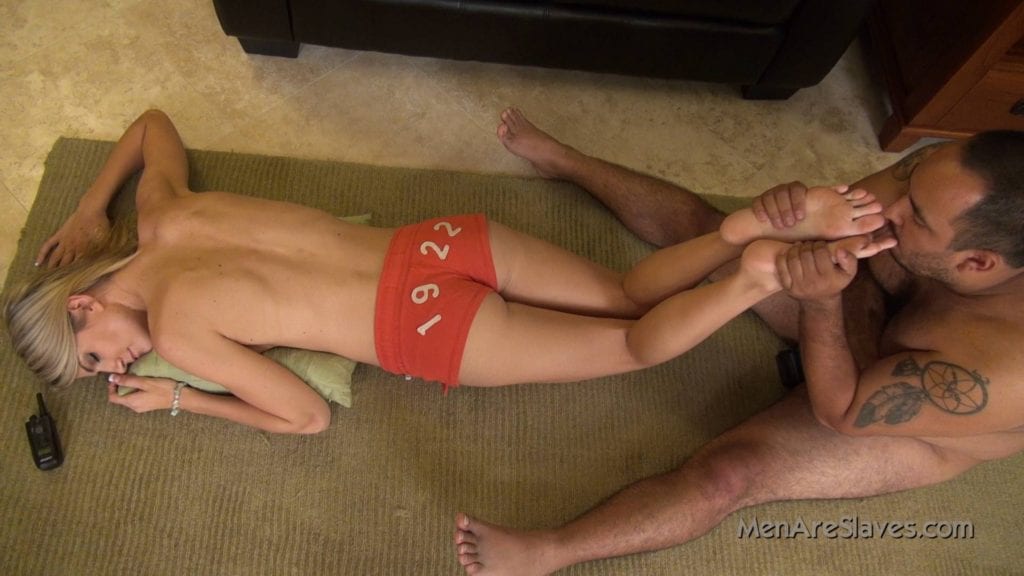 The New dominant woman Takes Control Of Me
I arrived at 6 pm and rang the bell, expecting to wait, Mistress answered the door straight away. I walked in and She told me to strip off and bend over!  She then fitted me with a butt plug that had a tail at the end, collar and leash and handcuffed my hands behind me, and then led me to the kitchen. My mind was in turmoil, what was happening? I was naked and completely vulnerable in front of a dominant woman I hardly knew! She bent me over the kitchen table, forced my legs apart, and fitted a spreader bar to my ankles.
To say I was a bit concerned would be an understatement. But I was also excited, as my throbbing cock testified. This was every sub's dream, to be taken by a strong, powerful dominant woman. She started to stroke me with something, on my back, between my legs, over my balls, I was excited and scared. Then, she started to hit me with what I discovered was a heavy flogger. She was very gentle, not like my other Mistress.
With Her In Subspace
After a while, she said it was time to break me in and went to a drawer from where She pulled out the biggest strapon I've ever seen outside a porn video! She slowly put it on and then stood between my legs. I felt my plug being removed and replaced by Her strapon. It must have been 10 inches and while this might not sound big to some subs, it was a good 3 inches bigger than anything I'd experienced before. She entered me slowly and gradually forced it into me until I had the full length inside me.
As She pushed into me I could feel it stretching me and it was very uncomfortable, but I loved it. She fucked me for almost an hour, slowly increasing speed until She was pulling hard on my arms and ramming Her cock into me. She wasn't manic, just deep, hard thrusts. I came as She fucked me, something that I've not experienced before. It was an incredible feeling, being fucked like a cheap whore and losing all control as I came, begging Her not to stop fucking me and saying I was Her bitch.
When She'd finished playing, She released me, wrapped me in a blanket, and cuddled with me! I've never felt so used and so safe before. She made me coffee and we had a good conversation. I told Her about my other Mistress and She said that I'll have to choose, her or my other Mistress. I loved the way She used me but I also have a need to be fucked roughly and treated like a dirty slut and abused. I'd love to serve them both, but that's not an option. I have a week to decide.