Softball Tournament On A Friday Night
I am 30 years old, single, and fairly good-looking. What am I doing on a Friday night driving 70 miles to spend the weekend umpiring in a women's softball tournament? Reminds me of the late-night baseball femdom porn I watch sometimes. Well, at least I get expenses for a motel and food. I had to umpire 3 games on Saturday. I was behind the plate calling balls and strikes for the last game and was dog-tired. It was a hot and humid August day and I could not wait to grab a nice cold beer. It was the last inning, bases loaded with the team batting down by a run. Older women maybe 40 or 45  came up to bat. Though she was much older than me she was fit and toned and looked downright sexy in her shorts and jersey.
She reminded me of a woman I saw on a baseball femdom porn video. The count went to 3 balls and 2 strikes. Another ball and the game would be tied. A strike and the game would be over. I don't know, maybe I was distracted by her shapely ass as she bent over to bat as the pitch came in. "Strike 3!" I said as the ball passed the outside of the plate. The batter turned around and if looks could kill I would be dead. Shit, I think I may have blown that call.
I was on my 3rd beer at the hotel bar when the bartender served me a shot of tequila from the attractive woman on the other side of the bar. When she came over and sat next to me it was the woman I struck out earlier that evening. We drank a few more shots and were feeling no pain. She looked me in the eye and put her hand on my leg and said,
The Baseball Femdom Dominates Me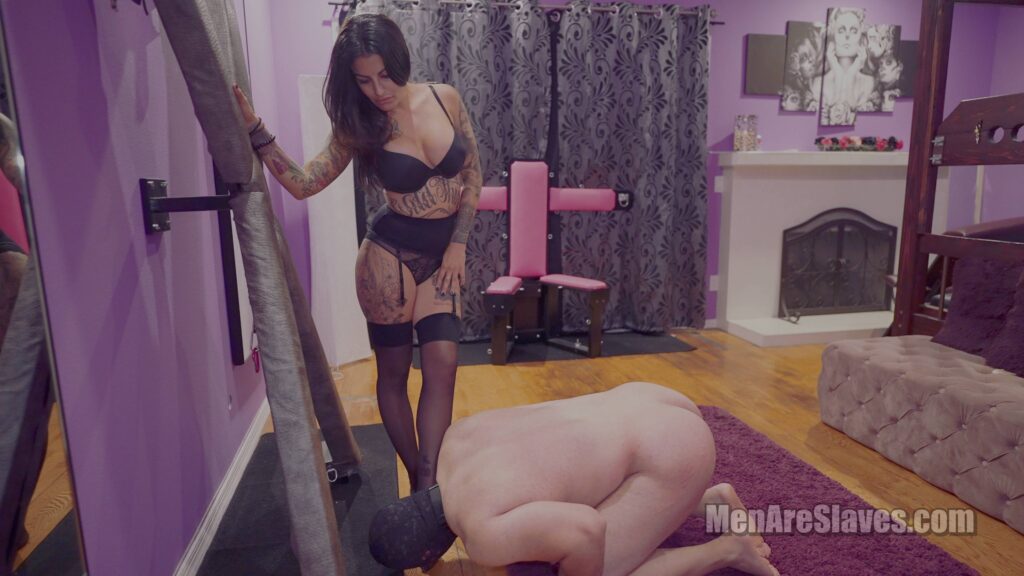 "That was a terrible call. I should put you over my knee and spank you."
Feeling confident I said,
"if only I was that lucky."
She smiled and said,
"What is your room number? Meet me there in 10 minutes," as she moved her hand from my leg and brushed my cock.
She whispered in my ear,
"Don't be late. Room 323."
I was barely able to hide my excitement.
The time moved slowly as I waited for her. Finally, she knocked and there she stood dressed in a black leather corset and carrying a tote bag. As drunk as I was, I had a big erection bulging out of my pants. She looked me over.
"Get undressed and let me see how hard I make you," she said.
I quickly undressed and she led me over to the bed.
I was so excited I thought I was going to CUM right there. She started slowly, spanking lightly then harder and harder until I whimpered with each stinging slap. Then, she started to rub and massage my ass.
Fucking Me With A Dildo
She slipped a finger in my asshole. Then a second finger. I was getting more and more excited.
"You fucked me with that terrible call so now I am going to fuck you."
She pulled a dildo and lotion out of her bag. She lubed my ass and started to fuck me long and hard. I started to grind each time she entered me until I shot a wad of cum on her leg. Now I was hers.
Then, she had me lie on my back while she bound me to the bed spreading my legs apart. She started to stretch and pull my cock and balls while putting my cock in her palm and slapped it harder and harder. I let out a muffled scream while gagging me using her long nails on my shaft. Then, she clamped my nipples and went back to my cock. She then pulled something out of her bag that I did not recognize until I felt an extreme jolt. I woke up in the morning sore from the night before. I went to the bathroom and as I washed my hands and face, there in the mirror written in lipstick was "STRIKE THREE YOUR OUT". Signed the baseball femdom.