My Relationship With My Dominant Female
I always fantasized about being dominated by a femdom warrior. I've been seeing a lady I met online (who later turned out to be that femdom warrior) through a vanilla dating site for 2 years now. Turns out, she is the strongest dominant female I've ever known and she's proud of that fact. She isn't buffed out or muscular so her strength is deceiving. She stands 5'6" and weighs 140 lbs. I'm 6'1" and weigh 175 lbs. You'd think I could handle her, I thought that and got my ass handed to me. We were rolling around the bed one night goin' at it and she all of a sudden was sitting on my chest pinning my arms above my head to the bed. My femdom warrior said,
I couldn't even move, it hurt just trying so I told her I couldn't. She called me a pussy and I kind of felt like one. My femdom warrior then got off of me and started getting dressed, stepping into her panties, looking for her bra and shoes. I was confused, I asked her,
"You kicking me out? What did I do?"
My femdom warrior looked at me in the eye and said,
"You aren't strong enough to be with me. I like to wrestle and I like to win, but I expect a little competition before I kick your ass. You just laid there like a little sissy boy and gave up."
Lick My Feet Bitch!
Man, that hurt my pride a bit and I felt embarrassed.
" I didn't even know we were wrestling, I just let you win anyway!" I lied.
"If you want to wrestle, let's go! I'll finish you off in 2 minutes."
And 2 minutes later it was over. I was caught between her thighs, face down on the bed, my left arm also immobilized in that scissor hold and my right hand trying to keep her from grabbing my balls, but she was persistent and took a grip on them and pulled on them.
I quit struggling and she took that opportunity to shift her weight on top of me and jam her foot right into my face. Then, somehow, a whip was in her hand and she was whipping me, hard and steady and I couldn't believe how much it hurt! Instinct set in and I bucked, shifted, and struggled to get loose and, if anything, wound up even tighter in the position I was in. Now, both her feet were working me over, foot slapping me, roughly shoving her toes past my lips and into my mouth. And she whipped me with more exuberance than before and still had my balls in her grip.
"What now, bitch?" she was laughing and enjoying this. "Lick my feet, bitch, lick them like a dog from heel to toe! And don't stop till I tell you to stop!"
The Femdom Warrior Finally Broke Me
I licked her feet with an urgency to comply and please her, sucked on her toes, tongued between them, concentrated on the task to take my mind off of the severe beating my ass was taking. I heard myself begging, begging! Her to stop hurting me, that I'd do anything,
"Ok ok! I'm your bitch! Please baby you're killing me! You win! I give up! Please stop beating me!"
Then I just stopped, went limp, exhausted, and just took it. It was like a knockout, I mused. I was still conscious and I'd catch a glimpse of her face, her cute little angelic face, and I just saw pure determination, steely resolve to break me in her eyes.
And finally, I just calmly said,
"You broke me."
And she stopped, like coming out of a trance, rolled off of me, and stood up, looking at the damage she had done to me. She let the whip drop to the floor and just said
"Good."
What did I feel? I didn't feel shame like I should have felt… humiliation? No, I was past that. Angry? Vengeful? No. I just felt owned, conquered, resigned to whatever fate she had in mind for me. My dick was as hard as it could be. I wanted to close my eyes and sleep forever. Before I did, I saw her standing In the doorway, looking at me, then at her hand.
"I broke a nail on you motherfucker."
that's all I can remember until I woke up several hours later.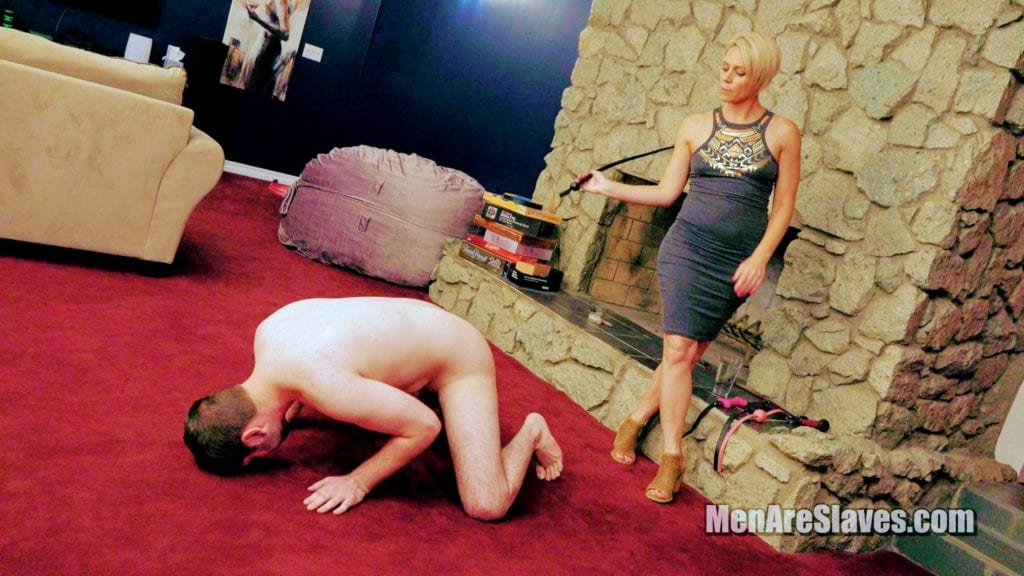 My Slave Training Begins
She walked in, saw I was awake, and sat down beside me on the bed.
"At least you put up a fight that time. Don't ever do that again. I just wanted you to know I can beat your ass no matter how hard you fight. Do you understand?"
I admitted I did while wondering what the fuck happened to my manhood. This was confusing me, the way she so easily dominated me physically. I had a quick impulse to lunge at her and show her I could beat her if I had to, but I chickened out. Actually, I was afraid of her, and I realized that it felt good, comfortable, to fear her.
"I want you to move in with me," she said. " I need you here full time to train you to serve me. You won't learn properly if you go home after every lesson. I need you to be a model slave in two weeks, no fuck ups, no excuses. You've got a lot to learn and not much time to learn it but you WILL learn or die trying."
"Uh, what happens in two weeks?"
I was afraid of the answer, wondering if there was some kind of slave event she was entering us into. There wasn't and I thanked God for that, not knowing an event like that would have been a blessing compared to what I was actually in for.
Breaking Submales For The Gynarchic Community
"My sister is coming to visit me for a couple of weeks. You won't like her and she won't like you. Don't take it personally, she despises sub males, especially if they aren't well trained to a certain standard. That's what she does, she breaks and trains males for a Gynarchic community in Montana."
"If you don't behave and show yourself to be inadequately trained, she's gonna laud it all over me and give me so much shit! I've told her my slave is well trained just to shut her up. Then, when she told me she was coming, I had to, first, find a slave, (pointing at me) and now I've got to get you up to speed."
Here is where I should rightly just refuse to be used in such a manner, get up, get dressed, and run for the door when I see a chance. This is the craziest thing I've ever heard. If I have to fight my way out of here, by God, I will! But I have to play along to make her think I am resigned to my fate. I ask her what happens if I mess up and embarrass her?
"Don't", she said. "My sister will rip your balls off and feed them to you."
She said this while doubling up her fists.
Resistance Is Futile
I thought "Well since you put it that way." A strange calm set in, my resistance seemed to melt away. I thought about all the things I needed to do to free up my schedule for the next few weeks. And I felt the excitement I hadn't felt before. I had fantasized all my life about being enslaved by a beautiful Femdom warrior but never imagined it was feasible, much less, inevitable. Sure, it would be hard, and sure, there would be a pain, but it felt like coming home. My dick was standing at attention, I realized. And she noticed too and smiled. She gripped my shaft lightly as if to show her appreciation, I thought. Then grabbed my balls and squeezed and laughed out loud as I involuntarily screamed out to Jesus to kill me now.
To Be Continued…