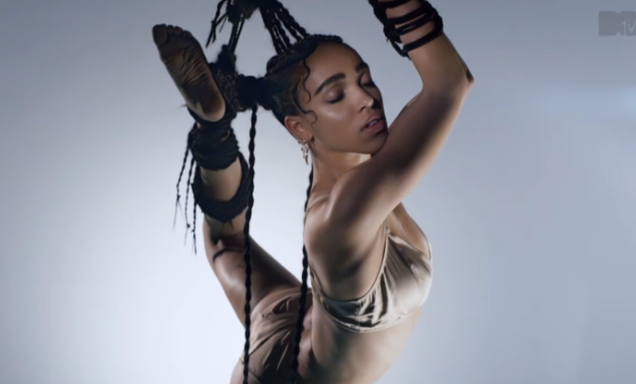 There are very many reasons for which I love FKA twigs, but one of them is that her flirtation with power dynamic and BDSM imagery clearly freaks a lot of music writers out, which I find moderately entertaining. (Seriously, Google the way music sites covered her "Papi Pacify" video to find an embarrassment of squirmy writing.) In her new clip for "Pendulum," from last year's LP1, she is bound in several classic bondage knots by her own braids—even her long, dragonlike fingernails are an element of traditional fetish—as ever giving us much to think about: the way we trap ourselves emotionally, the way we contort ourselves to fit into another person's vision of us (she sings: "so lonely trying to be yours/what a forsaken cause"), the way sometimes these things feel good because we're used to it. And of course it's not all metaphor—twigs, a dancer, is well aware of the relationship physicality and movement has with the psyche, and she's also well aware of how to use her body to subvert traditional modes of sexuality.
http://www.mtv.com/videos/fka-twigs/1158318/pendulum.jhtml#id=1736868
You might call this "time-based art," which is just a more specific and loftier name for performance art, but it is definitely several different types of art—she is a polymath who is extremely adept at challenging our notions of space and time through her quiet, heavy music, and the way she interprets emotion. There's a depth of simplicity to her work, which encompasses all genres she embraces—she directed this video (and has co-directed almost every single one of her other videos), and her brilliance is encompassed in one simple shot: the clip at around 1:50 where she has removed a braid-rope and shows the imprint it has made on her skin. She looks knowingly into the camera, which is spinning around. And then the silver liquid at her feet swallows her up, as she morphs into a warrior queen, unbraided, free on her own recognizance. Beautiful.
[fblike]
 http://themuse.jezebel.com/fka-twigs-explores-bondage-fetishism-in-new-video-1679505911