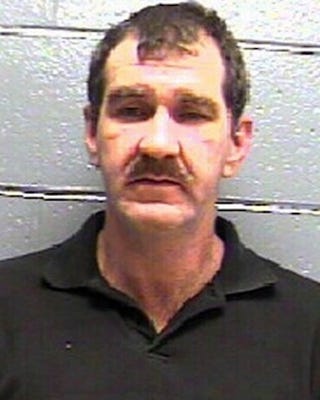 News that federal prosecutors were charging several Missouri men with the torture and slavery of a woman sparked a debate about whether BDSM was relevant to the case. Defendants' lawyers have been saying it is — claiming the woman consented.
It's a tough case to parse, particularly since we're relying on incomplete public reports that come from either federal prosecutors looking to convict, or defense lawyers, and (understandably) the woman at the center of the case has not spoken publicly. Prosecutors had said the woman was mentally disabled and enslaved by Edward Bagley and "sold" for other men's use, but others who interacted with her said they did not notice any impairment or coercion.
Some parts of the case are going to come down to disputed facts rather than interpretation of them. There's the allegation that these actions began when the woman was a minor and a runaway. An individual who was not mentioned in the initial reports,Ed Bagley's wife Marilyn, denies that the woman was kidnapped or that any statutory rape took place.
Bagley's wife, Marilyn, said she and her husband knew the girl because she had dated their son. That relationship had ended, Bagley's wife said, but the girl wanted to come live with the couple when relations with her adoptive parents soured. She said the girl moved in when she was 17, not 16, and never had sex with her husband until after she turned 18.
That contention aside, the fresh round of reporting by the AP regrettably blurs a lot of already-disputed lines and makes it sound like the woman cannot have been enslaved or coerced because she posed for pornographic pictures and worked as a stripper:
More questions have arisen about the accuser, including her involvement in violent sex practices, her posing for a pornographic magazine and her work as a strip-club dancer…Another dancer at the same Missouri strip club said the woman seemed to enjoy the attention she got when she danced, often showing off the issue of Taboo magazine that featured her on the cover.
That dancer is also quoted saying, "This girl was spoiled," but the only evidence offered is that she "bragged" about the fact that she was on the cover of the fetish magazine. Is it relevant that she "enjoyed" the attention of being a stripper, given that that that had little to nothing to do with the torture she is said to have experienced at home? It's all pretty reminiscent of the concept that sex workers can't be raped, or that if you've consented to certain activities, you've consented to all of them.
A lawyer for Ed Bagley has said that the woman was practicing consensual BDSM, which appears to be the argument they're going to make in court. And it's not just defenders of the Bagleys who are pushing this point: at the time we first wrote about this case, several readers wondered whether the feds were just criminalizing behavior they found too outrageous for any woman to consent to. On this point, the AP consulted an expert:
Dr. Keely Kolmes, a San Francisco-based psychologist who sees patients who practice BDSM, said that many of the acts listed in the indictment can be part of consensual activities. But others might indicate Bagley was an abuser, such as allegations that he shot animals the woman cared about to prove he could kill her and that he refused to stop immediately when the woman used a "safe word."

"Consensual BDSM does not involve holding minors hostage against their will or causing physical or mental harm," Kolmes said in an e-mail to the AP. "That is a criminal behavior."
In other words, based on what we know so far about the case, there are a few certainties: while consensual BDSM may involve practices that many people find hard to imagine consenting to, such as electric shocks and choking, safe BDSM involves safe words. And forced at-home abortions, which federal authorities say took place here, are not considered mere kink.
[fblike]
http://jezebel.com/5672891/sex-slavery-defendant-says-it-was-consensual-bdsm