Sadistic Femdom Mistress
Sitting in the last row at the movies, Maggie and I were making out like bandits.  She had my cock out and was stroking it lazily throughout
the flick.  Every once in awhile she'd give my balls a light squeeze. The pre-cum on the head of my cock was approaching reservoir
proportions.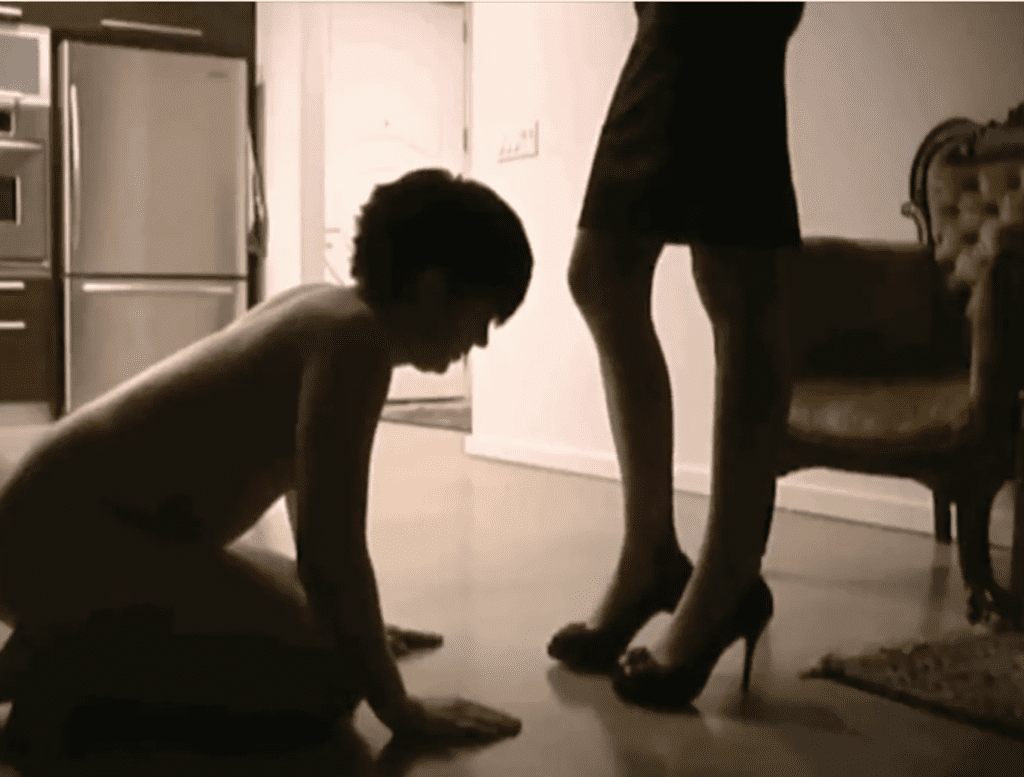 Maggie leaned close to my ear and whispered, "Let's go to your place.  I want to whip you."
We didn't incorporate FemDom as a complete lifestyle but Maggie wanted more and more.
"Can we at least see how this thing finishes?" I asked.
She squeezed my cock and said, "No problem, sweetie. It's just that for every extra minute we're here you'll be in bondage an extra hour."
I put my cock back in my pants and we walked up the aisle.
Thankfully, the darkness camouflaged my hard-on. Maggie knows how much black turns me on.  Tonight, she was wearing a black leather mini dress, black spiked shoes, and stockings. Inside the door back home, Maggie was quick to assert herself.
"Take everything off, slave.  Right here."
I obeyed, disrobing entirely, dropping my clothes on the floor, then just stood there.
"Get on your knees where you belong.  You're My slave and I insist on proper respect. Lower your eyes.  Look at my feet.  Kiss them.
Both of them.  Show me you know enough to worship me in the way you know I want."
Mistress Maggie's shoes and feet were my hot buttons, and she knew it.  I couldn't get enough of them.  My cock was right back up within
moments.
"You know I love whipping you, don't you, slave?  I love how it makes me feel deep inside.  Taking your power and making it my own gives
me a rush like nothing else can.  Come along, slave.  Let's go into the bedroom. Crawl on your hands and knees for me.  Crawl to your
whipping."
I followed her as she'd commanded, watching her gorgeous ass as it rotated in the tight leather dress.  Surprising me, she stopped in mid
stride.
"I know you were looking at it, slave.  Kiss it.  Kiss and lick the leather of my ass.  Adore it. Worship it."
On all fours behind her, I leaned close to that beautiful ass and licked the leather of both cheeks, kissing each, before she began walking
again toward the bedroom leaving me to hurry and scramble behind her. I caught up just inside the bedroom door. Mistress Maggie had already
picked up the whip from the dresser table.
"Put your forehead on the floor and raise your ass in the air, slave.  I've been looking forward to this all night."
And then she whipped me, in a sensual manner that wasn't anything like brutality.  This was all sex.  And the more she whipped, the more
I wanted to serve her.  Mistress Maggie owned me. Surprisingly, when she'd finished, she gently stroked my buttocks, told me to rise, brushed away a tear in my eye, kissed me, and then hurried to the front door.
"Check your e-mail in about an hour, slave," she said as she closed the door behind her.
An hour later, I went to my computer and found this message:
"You did very well.  You are a good boy.  Since you have been SO good, I'm going to let you touch yourself.  You may kneel on the floor and stroke
yourself, but do not reach fulfillment.  Not yet.   You must think of me as you do this.  Think of me standing over you and watching you see
your excitement.  Think of licking the black leather of my shoes over and over as you stroke yourself.  Ms. Maggie"
What could I do?
I dropped to my knees and stroked my cock in rapid movements, thinking about Mistress Maggie and her black leather and her high
heeled shoes.  I played with myself until I couldn't stand it, then stopped — for Her.