How I Met My Dominant Neighbor: A True Submissive Story
I got a job in a small Oregon town and settled in a duplex.  The woman next door, my new dominant neighbor, would stare at me and we started to talk and when we saw each other at the grocery store she would look at my cart and tell me I was buying the wrong stuff, like the wrong brand of toilet paper.  She was correct but I was a little taken aback.  
Neither of us was making a lot of money and after three months she suggested I move in with her and pool resources.  At the time I did not know she had already told the owner I was moving in.  So I did never realizing I was being cultivated to be her sub/slave for quite a while.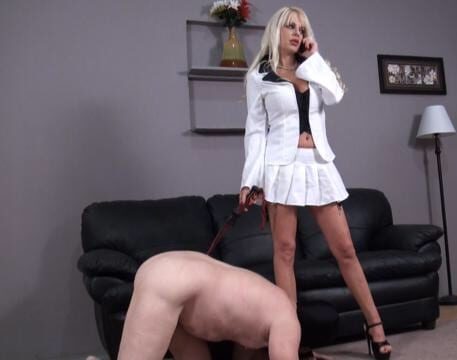 Cultivating a D/s Relationship
It started slow and I didn't mind if she wanted to make the final decisions.  The fool I was.. I thought living with her would mean I would be laid on a regular basis.  I soon found out the only sex I would see is my face planted between her thighs.  
As time went on my mistress told me there was no reason for me to wear clothing in the house so I was naked and she wasn't.  As time went on she asserted more authority.  The first time we had a disagreement my mistress ordered me to bend over and she used a frying pan on my bottom.  It hurt to sit for two days.
I soon learned to only speak when spoken to and that my nuts were fair game for punishment too.  Mistress always had this smile when she saw the concern in my eyes.
Foot Fetishes
I came to like the control and all it took was for me to kneel once and rub her feet for Mistress to inform me that if she was home first I was to kneel upon entering and assume the slave position until she said otherwise.  Should I arrive first, I was to kneel when she entered and only stand or crawl when given her approval.
Remarkable in some way that when she presented me with her collar and leash. I felt inner joy and kissed her feet.  It was all okay to sleep on the floor with my ankles bound.  You see.  As long as Mistress was happy, I was in heaven.  Naturally, the frying pan was used whenever she felt like it.
The Rules with my Dominant Neighbor
I would beg for sex when allowed to talk and that might happen once in a blue moon and then she brought home a cock cage and put it on me and I knew my journey into slavery was close to complete.  I didn't have to wear it unless I was out of sight as masturbation was severely punished.
Over time it was natural to be naked in our fenced back yard or in her car driving around town.  Mistress of course had the good sense not to leave me in a hot vehicle yet she enjoyed watching me walking bare ass, barefoot in the snow and cold.  
There was really only one instance of public humiliation.  We went camping at a secluded spot in the woods.  So we set up camp and the next day Mistress wants to take me on a walk like I am her dog slave.  
My Owner
This would happen late at night in town and I knew as my owner, she would protect me.  Well, this time in the forest I am trying to keep up in my bare feet and we stumble across a couple out hiking.  They look at me.. collar, leash, nude, and start laughing.  Mistress had that usual smile, knowing she owned me to the core.  
We were together for years until cancer hit and took her.  For the longest time, I was lost and cried for her.  
Although she found me, no one else has.  So I am lonely now.  That is my true story.