I am  Bondage Bitch and love it, but I will tell you how everything happened since the very beginning.
When I was by the age of 12 I used to play with my neighbor Liza all kinds of games. She was 2 years older than me and of course more mature in many ways. We used to spend so much time together and we saw each other almost every day.
One day she came with the brilliant idea of playing cowboys and Indians; all was going well until she tied me up and I had an instant erection.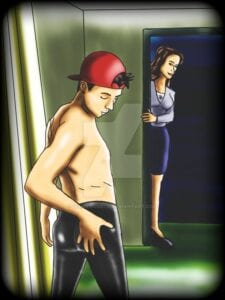 I hid it; I was so embarrassed, so I told her I needed to go home because I was not feeling well. Thank God she didn't notice or at least she didn't say anything about it.
For the next couple of days I didn't want to see her, but each time I thought about being tied up the same thing happened; my cock would get hard as a rock with this bondage.
After 2 weeks she came to my house to see how I was doing, she was worried and I ran out of excuses not to see her. Again, we started playing together and every time she would suggest to play cowboys and Indians I said I didn't like that game.
I completely forgot about it until 2 years later when she was about to turn 16. I was invited to her birthday party. It was so much fun, we were so many teenagers playing and dancing and Liza looked amazing in a beautiful blue dress that showed her long perfect legs.
I was so attracted to her, I was already 14 and would masturbate often with the thought of her.
When everyone left, she asked me to stay a little bit longer and so I did.
We went to her room, she closed the door and said she had a surprise for me. She went to her closet and brought a pair of fake handcuffs for us to play cops and robbers. I started getting really nervous, all of a sudden remembered what happened 2 years earlier when she tied me up in bondage.
I told her I needed to go home, but this time she wouldn't take a no for an answer. Before I could stand up, she already put those cuffs around my wrists and I got extremely hard.
This time she noticed, I couldn't hide it. She looked at me and smiled with approval, then she put her hand on my crotch and kissed my lips…
What is Bondage?
In the BDSM subculture, Bondage is the practice of consensually tying, binding, or restraining a partner for erotic, aesthetic, or somatosensory stimulation.
Who Can Enjoy Bondage?
Both men and women can be attracted to bondage, and people of all sexualities. You don't have to be in a relationship to practice bondage, you can enjoy it with a person you trust.