The Femdom Gloryhole Milking Table Arrived
Just as I was finishing up my chores Mistress assigned me, the doorbell rang. I opened the door and there was a large package on the landing. After a few attempts, I finally got the box inside. A few minutes later I received a text from my Mistress. "Open the box and have the gloryhole milking table ready when I get home. I hope you are well rested because I am going to milk every last drop from you."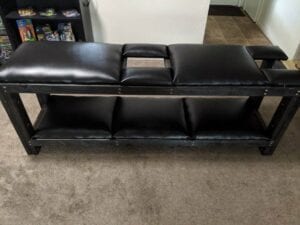 Confused, I open the end the delivery package and verified that indeed it was glory hole cock milking table. I felt a slight pinch as my hardon pressed against my chastity cage. I quickly opened the box and placed the table in the middle of the room where she could see it when she opened the door. When she entered the room I could see she was very pleased. "Hmmm," she moaned. Take your clothes off you little femdom slut and wait here until I change. I can't wait to get you on that glory hole milking table".
She came out of the bedroom in bra and panties. I still cannot believe how gorgeous she is. As I looked closely, I could see a little wet spot in her panties. She caught my gaze. "Yes, I am that excited that my pussy is wet. You will lick it after I am finished draining all the cum from your cock. Now come here so I can remove your cock cage and we can start."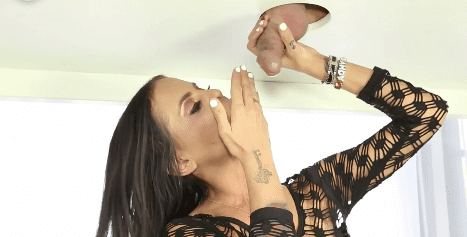 Prepping Me For My Milking
She slowly rubbed my thighs as she inserted the key into my chastity cage and removed it. My cock sprang out in a huge hardon. "Take it easy slut. If you cum before I want you to you will be severely punished," she said. She directed me to the table face down with my cock through the hole.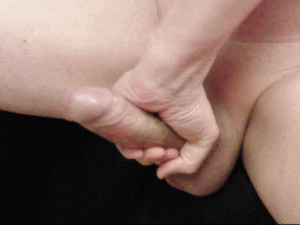 Moving around the table, she slowly started stroking my Femdom slave cock with one hand and rubbing my ass with the other. She put a glove on her left hand and rubbed lotion on my cock and in my asshole, inserting her two fingers in my ass moving around until she found my prostate. One hand was stroking my cock and the other hand slowly and firmly massaging my prostate.
I started moaning and she started to breathe heavy as she increased the intensity, massaging my prostate and cock little by little faster and faster. She knew I was close to exploding so she slipped under the table and kissed my cock gently. Then, she took me in her mouth and sucked until I filled her mouth with a bucket load of cum.
She stood in front of me and I could see the wet spot in her panties was much larger. She slipped her panties off. "Come here! Get on your knees and lick me until I tell you to stop." I flew off the table and buried my face into her beautiful wet pussy. What happened next is another story. Stay tuned.
What is Milking?
Internal prostate massage. It is one of the most sexually stimulating practices you can do for a man, and it's healthy.