What are Pantyhose Stockings, Tights & Leg Fetishes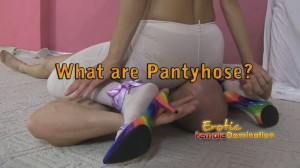 Pantyhose, also known as stockings and tights, are garments worn on the legs by women. As an extension of many men fetishizing the feet, legs and shoes, some also have a desire toward seeing pantyhose being worn. Legs are seen as a highly erotic body part for a number of people, with pantyhose providing a unique visual appearance of the legs that many consider to be very enjoyable. It's a multifaceted element that is seldom understood in depth, but once understood, it becomes clear why there are so many advantages to women in tights when one has a fetishization of legs.
Firstly, the fact that tights are almost always the same color creates a consistency among the legs. Instead of areas having potentially different colors owing to freckles, birthmarks or tanning, the usage of stockings gives a single, attractive color across the entirety of the legs. Additionally, pantyhose remove the potential of unsightly characteristics, such as cellulite or scars. This two-step alteration of the legs is incredibly powerful and attractive switch from the potential downfalls of legs. While some men may be attracted to legs regardless of whether they are worn or not, many prefer to see women in tights.
Secondly, the physical sensation of the tights is highly arousing. Touching them as an entity on the legs of the woman will give a solid, seamless feel and texture to the lady. Some men also enjoy receiving handjobs from women who use their tights as a tool: this can be a lot more pleasant that just using a hand, as the silky sensation of the tights creates a very light tickling sensation. There is also the added potential of someone being able to take the pantyhose off quickly or otherwise rip them in such a way to have penetrative sex incredibly easily.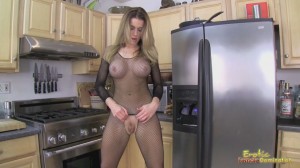 Pantyhose may also be utilized when trying to roleplay as certain characters. Women in professional positions who regularly wear outfits that include stockings will likely see their style mimicked for sexual reasons. Roleplay fantasies of teachers and secretaries are the most likely to have stockings form a part of the experience.
Some men may find that because of the feminine attributes that are attached to wearing pantyhose, they could potentially wear them themselves as part of a session of humiliation in a BDSM setting. Pantyhose in this instance would be used in an element of sissification, where a man wears the clothes of a woman in order to humiliate him. This can be done alone or through the assistance of a dominatrix.
[fblike]