What is Verbal Humiliation Verbal Abuse in BDSM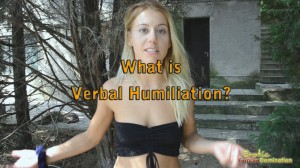 Verbal humiliation occurs when an individual uses negative language and hurtful words for the purposes of demonstrating their authority and power over another individual. While it is possible for both males and females to receive and administer the verbal humiliation, for the purposes of this article as it relates to this website, we will focus exclusively on the idea of the abuser being a woman and the abused being a man. Verbal humiliation is also an interchangeable phrase with verbal abuse, with little difference between the two and them being easily used as synonyms of each other.
Verbal humiliation is one of the simplest forms of administering domination in the context of a BDSM scene. Because the only things required for verbal humiliation are for two people to be able to communicate, it often makes for a simple but powerful way to explore the concept of dominance and submissiveness. Verbal abuse doesn't even necessarily have to occur between two people that are in the same location: with the advent of the phone and Internet, people can use a number of different programs, platforms and methods of dishing out verbal abuse. The implication of 'verbal' doesn't always have to be a direct process of speaking either – abuse of this nature could easily be experimented and experienced with via text.
Sessions of abuse can take place using a number of different ideas or themes. The most common way to administer verbal abuse is via the usage of curse words, or language that is considered to be particular hateful. Examples would be "look at you, you pathetic little worm" or "I would love to punch you in your stupid fucking face": note that these phrases don't actually have to pick on any direct element of the person, and can instead be used as vague concepts. Some mistresses may elect to engage in verbal abuse using characteristics about an individual that are true and might be considered unwanted, such as a person being overweight, poor, weak, smelly or feminine.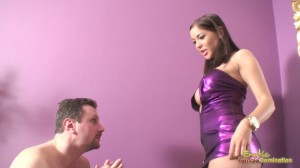 The submissive man in these scenarios might also be required to agree with his mistress when she asks him direct questions such as "you're an ugly idiot with no future, aren't you, virgin boy", to which he will have to reply in the affirmative with confirmations such as "yes, mistress" being demonstrative of their submission and agreement. In some situations, if a submissive fails to answer the question or does so to an insufficient degree, they may be physically punished. Verbal abuse is regularly combined with other forms of BDSM to help facilitate and expand the humiliation and submission felt by the slave.
[fblike]