My Fetish for a New Colleague's Pretty Feet in Heels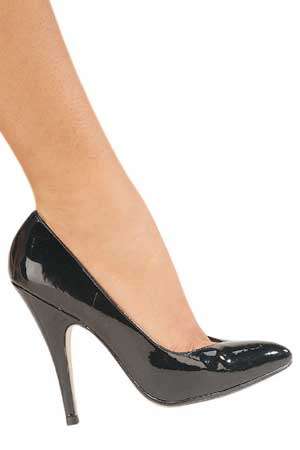 Working in a large travel agency, I am fortunate to have a large desk to myself, allowing me between my appointments with customers, to surf the net when I want. Enjoying all the pretty feet I can.
Forties, married with 2 children, I live a small very quiet routine life.
I always fantasized about beautiful female feet and female domination. I am what can be called a fetishist for pretty feet!
Unfortunately, my wife is not on the same wavelength. In addition, she hardly ever wears shoes.
So I enjoy being alone in my office, surfing and watching videos on foot fetish and domination.
The New Colleague:
Until the day my boss presented a new colleague to me. She tells me that as I have a very large office, this new colleague will settle in with me!
My first reaction is to think that I will lose my peace.
At the same time, I'm not disappointed because this new colleague appears to be a pretty redhead woman in her thirties, her name is Sylvie. She has a nice little plump, but with pretty shapely formed breast. She wears a skirt and very pretty feet wrapped nylon nude stockings in heels slightly open at the toes that reveal a pretty red lacquer.
Our desks were almost side by side so as to leave room to receive guests.
It became difficult for me to watch videos, except when she took her coffee break or left to the bathroom.
Appreciation;
In return, I spent my days admiring her pretty feet and beautiful collection of shoes that changed daily! A real treat, plus she really liked dangling her feet regularly, which allowed me to admire them even better! The fetishist pretty feet that I was finally glad for the change.
Except that after a month of working together, she was a little curious. And she finally ask the question:
– Do you have some shocking interest with my feet? I noticed that you were always watching them! 
I cut short my answer by saying that there was not anything shocking and I had just noticed that she always had beautiful shoes and I found them pretty.
Discretion:
I tried later to be more discreet.
But what would happen, happened !!!!!!!!!! I was surfing on a female domination site while she was in the bathroom. Then I went on my walk to the bathroom but I had not closed my web page.
On my return, Sylvie was sitting at my desk, trying to watch the latest video, that of a lady, whip in hand with a subject at her feet licking them !!!!!!!!!! !!
My blood ran cold.
She finger beckoned me to sit at her desk, asked me her feet on my knees and said:
You know what you have to do! Because I understand better now why you supported your eyes on my feet! I think you will not bore me in this office!
I removed her shoe's, which freed an abundant odor, for the sake of my nostrils, and while beginning a massage, I put her feet in my mouth to lick, suck.
Fantasy or Reality?
Within seconds I went from fantasy to reality! Without knowing I was about to enter an irreversible place and become the subject of … Sylvie.
TO BE CONTINUED