The Surprise Between Her Legs
The gorgeous brunette donning a pink corset approached the bed. Lightly rubbing herself, she gave me a seductive and sultry look that would make any man hard. I struggled against the bonds that held me spread-eagled to get a better look, but the rope pulled tight.
"You've seen enough slave," she says as she climbs onto the bed. However, there was a surprise between her legs that came into view. A slender, purple cock was secured to her pelvis by some straps. Grasping the strapon, she holds it near my face and commands, "Suck it!" Reluctantly, I slowly wrap my lips around her strapon. "Good," she smirked as she gyrated the strapon in my mouth, using my mouth to lube every inch of the cock before pulling it out which leaves a long wet strand of spit on the pseudo phallus. She chuckled and slipped a blindfold over my eyes.
"M-m-mistress?" I stuttered, but she quickly responded with, "Quiet slave!" and a sharp slap to the face. She reaches for the ball gag but suddenly stops. She has an idea. Silently, she slides the ball part of the gag as far as she can into her pussy, coating it in her juices which almost makes her lose herself in pleasure. She pulls the gag out of her pussy, leaving drips on the bed. She holds it under my nose where I am overcome by her smell making my cock harder than ever.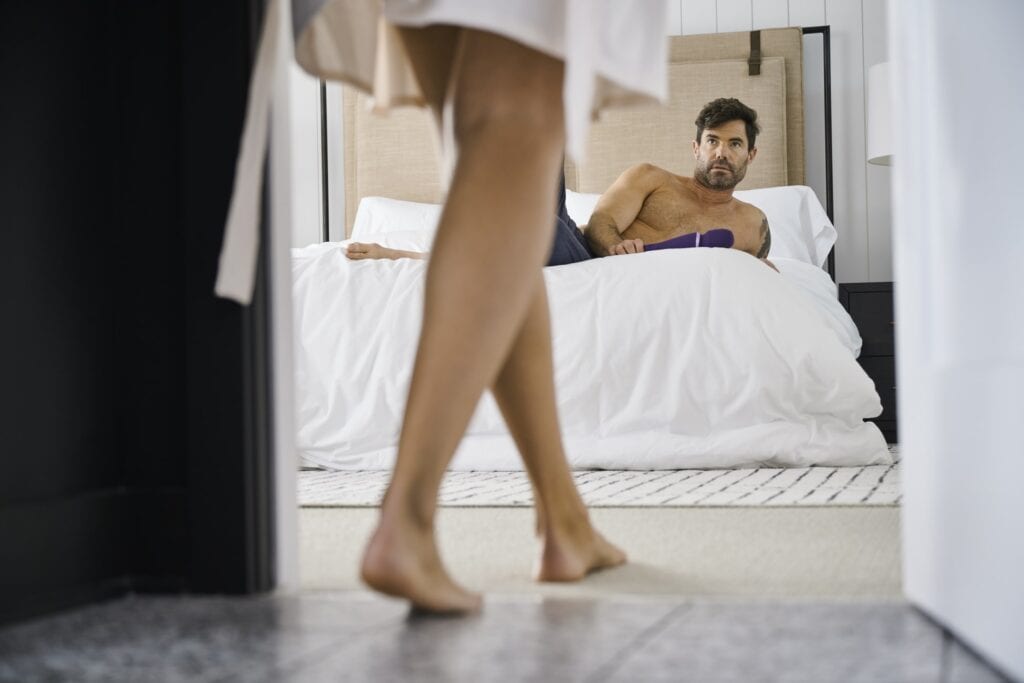 Love Being Her Strapon Slave
Leaning in, she positioned herself next to my ear and whispered, "Relax your jaw slave. This isn't coming out tonight." I open my jaw as she slowly slips the ballgag covered in pussy juice into my mouth. I moan orgasmically as I taste her sweet nectar flow onto my tongue. She decides to savor the moment and strap the gag on slowly and watch me moan. Pulling the gag tightly, she snickers in satisfaction.
I noticed a wet spot on her panties as she looked at my slave asshole. The prospect of an anal orgasm makes me squirm in my restraints. Slowly, she slides the strapon into my ass. She giggles maniacally as I struggle, moan and squirm at the sensation. The ribbed and slender length brings me pleasure as it slides in. I can't keep myself from moaning in the gag as she slowly starts to speed up her penetration. A surprising pleasure overcomes me while being penetrated. Unknown to me, she is getting off dominating me with her cock. Before long we are both moaning in pleasure from her fucking me and I begin to thrust a bit against her.
No Where Near Done
"Cum slave, cum!" She yells as she thrust harder and harder. She could feel pleasure in her nethers purely from fucking me. Suddenly I stop and my cock begins to throb as my cums drips from the tip of my cock. Breathless, I ejaculate globs of cum made of all sizes, dripping down my cock as she watches.
She leans over me again and collars my neck and unties my bonds. Laying down on my back she commands me to sit on her dildo. I do as I am told and she grasps the leash on my collar. "Place my vibrator on my pussy slave. We are no where near done."