The Femdom Party
The preamble of my life as a Slave and Maid
I am not yet at my Mistress's house. I'm a good maid, I'm going home at her request to meet her demands. This morning my Mistress called me around 7:00 and told me to come to her home in one hour because tonight she will be having two friends over for dinner. She told me I had to go shopping and then prepare the food, set the table, clean the house, and then dressed in my maid uniform to serve them. I quickly got up, took a shower, shaved everywhere shoved a plug in my butt, and placed the clamps on my nipples as my Mistress always wants me to do before I get dressed to leave the house.
Arrived at my Mistress's house
I showed up at my Mistress's house right on time with a bag of pastries that I bought on the road. The door opens, I enter and drop to my knees at the feet of my mistress to kiss her feet. I then got naked of course keeping the nipple clamps and the plug in place. I left for the kitchen and started to prepare breakfast. Once it was ready, I put a cup, sugar, pastries, and fruit juice on a tray with short feet allowing my Mistress to be served in her bedroom. I put the tray in front of her on the bed and knelt down, waiting for her to express her desires. Mistress told me to take a paper and a pen and she tells me all of the errands that she needs to be to do.
Once we completed the list I removed the tray and went back to the kitchen to take care of the dishes. Then I get dressed and went shopping. On my return, I stripped myself naked. I put down the shopping bags and started to attack the household duties she had left me. My Mistress went out for lunch in town with a friend and she told me that on returning her hope was that I had made good progress on the household chores. I set to work on EVERYTHING, it all had to be clean for her return and especially to receive her friends.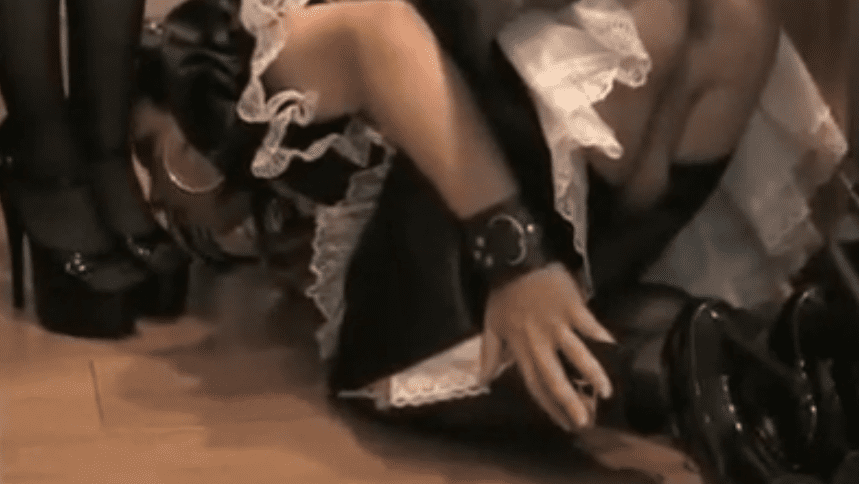 Preparations for the evening reception
When my mistress came back, I positioned myself at her feet and waited for her to do the inspection of the house. Satisfied she said,
"Well my little dog, now begin to set the table and make the room nice".
I complied immediately and began setting the table. Then from the kitchen, I attacked the meal. When it was ready, at least what could be before sitting down at the table. The rest will be done at the last moment. My mistress had spent all this time in her bedroom getting ready, now she was in the bathroom calling me. She told me to take a shower and to wash all over me. I removed the plug and clamps then I showered, rubbing all parts of my body and washing the inside of my anus.
Once dried, my Mistress showed me the outfit I was to wear that night, black stockings, black g-string thong, suspenders, a short skirt all black too, and a white apron over a tight white shirt without sleeves or buttons. She told me to sit down and she began to put makeup on me, then she fit me with a brown wig, and the hair fell on my shoulders, finally, she placed a plug a little bigger than I was carrying when I arrived and drove it into my anus, and then she pulled out pliers which were for my nipples that were connected by a chain.
She pulled back, told me to put the heels on and stand up, take a few steps. Then she told me with a smile,
"You are beautiful my puppy, tonight I want you very obedient, very slutty, you owe me to make me proud to have you. They do not really know what to expect and I want to surprise them by presenting them with you so you better satisfy them".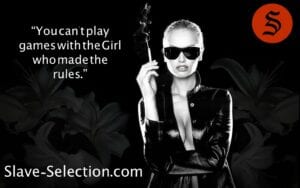 Early Evening
The doorbell rang, and my heart began to beat faster. My eyes met my Mistress who smiled saying,
"Everything will be alright but I want you to do me the honor".
Then she accompanied me to the door and said,
I opened the door wide, and her two friends appeared and were a bit surprised to see me dressed. Mistress invited them in and introduced me:
"You know I am a Mistress in the soul but also in life, I present to you my handyman or rather my thing to do everything, my slave, my subject, and tonight the little maid is available and you can dispose of it as you please, so do not be shy".
The two friends smiled at her. I took their jackets, their bags and went to put them in the closet. On my return they were sitting on the couch, when I approached my Mistress she took me by the hand, put me in front of them, and introduced me in detail, showing the clamps to my nipples. I then turned to show the plug pressed into my anus. Her friends at the beginning were a little surprised but soon began to relax.
One of the Women, then, approached me and made me show my butt to them. I took support on the coffee table by placing my hands,
"spread your legs and your cheeks, "said the woman.
I took the position requested, my skirt was raised and Mistress invited her friends to fondle my buttocks, and my penis through the string and then spank me. The first slaps were shy and hesitant. My Mistress then gave me several strong ones as well. They then began to gain confidence and slaps this time were stronger. I felt my buttocks blush. When they had enough, Mistress put my skirt down and told me to bring them an appetizer.
I came back with a tray and set it on the table. I served them a drink and offered some appetizers. Mistress then told me to kneel beside her and now I had to call her friends mistress Sophie and mistress Rose.
They ended up drinking and talking as mere girlfriends, and as they did I had to kiss their feet. I was performing immediately, on all fours I approached and I kiss the feet of each of these 2 new Mistresses.
Then Mistress reminded me of her and opened her thighs, showing me her vagina without panties, I understood and plunged my head between her legs, licking her lips, and her clitoris, and drinking the juices that were coming out already.
Mistress began to moan, she raised my head and pushed me making me lay my head on the floor with my ass in the air. She pulled my skirt revealing my ass, a few slaps in and then she pulled the plug, put it down and then she took an ice cube and pushed it into my anus, inviting Mistresses Rose and Sophie to do the same. Each ice cube slipped in to completely fill the inside of my ass. Mistress told me to keep everything inside until she tells me to drain the juice into a glass, it would be my "appetizer" and I should drink it then.
One of the friends took off her shoes and sat next to Mistress and told me to lick her feet. My tongue ran each toe, sucking, licking. After a moment, the liquid began to flow from my anus, the ice melted, Mistress told me to sit up, squat down, and serve myself my "appetizer". I let the liquid flow into the glass and then with a straw I sucked and drank every last drop. Then Mistress told me to remove the appetizers, then serve the meal, she handed me the plug and invited her friends to move to the table to eat.
Evening result
I served entrances, served wine, and waited for Mistress Sides who ordered me to put under the table and to honor her guests with my tongue. I slid on all fours under the table and straightening my knees I approach Mistress Rose first, and I found that all of them had removed their pants. Mistress Rose spread her legs and I started to lick, and suck her clit. She enjoyed it so much that she started to inch herself toward my mouth, I felt her vagina tighten and her thighs tightened imprisoning my head. I drank and sucked her liquid. After a while, I did the same with Mistress Sophie who was already all wet, too cum in my mouth. Mistress reminded me that I take the rest of the meal. I emerged, stripped, and brought the dish. I took my place under the table on the orders of my mistress and began to honor her in turn with my tongue. Occasionally one of the Mistress showed me a piece of meat that I was to take only with my mouth. When the dish was finished, I emerged and cleared the table.
After the first round in the kitchen when I came back Mistress told me to get down on all fours and raise my skirt. Once in position, Mistress holding a whip in one hand began by giving me 10 strokes on my ass. Then she offered to each mistress to do the same. With each stroke, I had to say to each of them "thank you, Mistress." After all the blows were received, I finished clearing the table and prepare the dessert. I returned bringing dessert, they were all 3 bare, not wearing clothes or their shoes and wore a dildo all in different sizes.
Strapon Party
Mistress tells me to serve dessert in the lounge. I put the dessert on the coffee table. They approached the room, my Mistress sat on the chair, her friends on the couch. I gave the dessert cups to each of them and then I was told to undress, remove the blouse and skirt but keep the rest on as the little bitch I was. When it was done, Mistress told me to come to lick her dildo before she fucks me in my pussy. I knelt before her and started licking the dildo, taking her in my mouth. My ass was facing the other mistresses, one put her dessert down she had just finished, and went on to play. She crouched behind me, removed the plug from my anus, and then ran her hand between my legs, grabbed my cock, and shook and then she introduced her dildo in front of my hole and made it slip in awkwardly, snatching a few groans. Meanwhile, my Mistress put some dessert on the dildo and I represented it, I swallowed and I licked this gift. Mistress behind me put her hands on my hips and began long back-and-forth strokes. My Mistress lifted my head with a hand removing the dildo from my mouth and told me, looking me in the eye: "You are my dog bitch, I hope you take pleasure in me making you her pussy little bitch and whore that you are " …. "Say you like it" … .. "Yes Mistress I like it, go deep like the slut and whore that I am"…
The end of The Femdom Party
I felt the Mistress enjoy behind me, it took a lot to fuck me, it was the first time and she loved it. She retired from my loins. My mistress told me to lie down on the coffee table, on with my back legs raised. She then fixed my ankles to a spreader bar, she even hung them from the ceiling and then it was time for my hands which she tied to the feet of the coffee table. The second Mistress came, it was her turn between my legs and she slid me the dildo in all of a sudden in my pussy. She brought it out again and I was on this ride several times. Meanwhile, my Mistress crouched over my mouth and having her pussy in front of me that I immediately licked from my tongue over her lips, her clitoris, anus, drinking the liquid coming out. Mistress who was raming my ass had seized my thighs in her hands and took me like crazy, she enjoyed while it made me enjoy taking it in the ass. The evening continued until well into the night, I was fucked several times by each mistress, I've licked in turn I do not know how many times I had hurt my anus so much that I enjoyed it, my balls were empty. I had to clean my semen that came out every time by licking or swallowing it all. When Mistresses friends had had enough and they were gone, my mistress kissed me thanking me for the evening  I had provided her and promising to do it again.