I help my wife with her femdom fantasy
To see me suck a guy off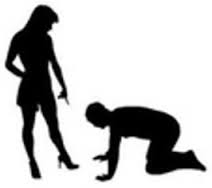 My wife Sara had expressed her interest in watching me suck another man for the last couple of years. I was never really sure about it, so it was just something she fantasized about when masturbating. Sometimes when eating her, she would tell me to lick her cunt clean from the mess the boys had made in there. Of course, there wasn't any cum in there but it got her off thinking about it. To be honest, the thought kind of turned me on. I've never sucked a dick but forced bisexual porn always interested me. I had tried watching gay porn before but it just didn't do it for me. It seemed to only be arousing when the man was being forced by a sexy woman, be it a mistress or his wife.
A few months ago, I let her start using a strap on. Sara had always been the more dominant one so it fed my need for female domination fantasies. It took a while to actually enjoy the strap on, but once my hole was stretched and accustomed to the fucking, it felt great. She was getting soaking wet from pounding my ass and I was throbbing knowing that I was taking her big 8-inch cock in me. Our sex life was better than it had ever been.

Last weekend was our anniversary and I decided to finally give in and give her what she truly wanted. Sara was ecstatic when I told her a week prior, and it didn't take her long to jump online to find a suitable guy.
"Hey Hunny, I think I found one. He actually doesn't live that far from here."
"Well, that's good. I guess you'll finally live out your fantasy."
"Who are you kidding? You want to suck a cock for me and you know it!"
Several days passed and she didn't say a word about it but that Thursday she came running in the room, with a smile on her face.
"Good news babe, He agreed to do it. I sent him a picture and he said he'd love to be sucked by either one of us. I gave him the address and he'll be over on Saturday around 5. His name is Jamal and he has a big black cock for you!"
"Couldn't you started with something smaller since it's my first time?"
"Nope! Baby, I told you, I want to see your lips around a big fat dick. Why waste it on a tiny pecker?"
It'd be a first for both of us. I knew it'd be a fantasy come true for her and I had a feeling I'd enjoy it as well. Saturday came pretty quickly. I was nervous about the whole thing and who wouldn't be?
"Sara? What are you doing?"
"Huh? Oh, I'm looking for a video camera. Jamal said it'd be okay if I taped it. I'd like to be able to relive it. Watch it again."
"Oh."
"Is that okay?"
"Yeah, of course, hun."
"Good! Might just watch it while you eat me out," she grinned as she skipped off into the other room.
The doorbell rang and my wife was nowhere to be found. I answered the door and there stood a 6'6" black man, well built.
"Um, hi, you must be Jamal."
"Yeah, how's it going?"
"Not too bad. Come in. My wife is around here somewhere. I guess have a seat on the couch."
"Hunny?! Jamal is here."
"I'm coming down baby," she yelled from the top of the stairs.
Neither of us expected it but Sara walked down the stairs slowly wearing knee-high boots, a tight rubber skirt, and a black corset. Black latex gloves stretched over her hands, going up just above her elbow. I've seen my wife dressed like this a few times, since I have a latex fetish, but I didn't expect her to dress like this for him.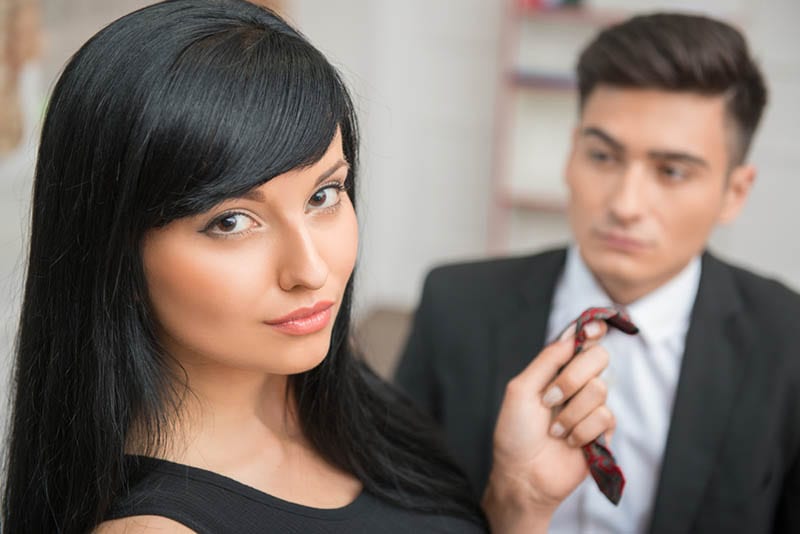 "Damn, your wife looking hot man. I'd love to tear that pussy up"
She smiled, "Maybe next time. Tonight, I'm going to turn my hubby into a black cock sucker. Come, upstairs boys."
We followed her up the stairs, watching her ass sway back and forth, squeezed by rubber.
"Okay, Jamal, let me see that cock of yours baby."
Jamal unzipped his jeans and pulled out a 6 inch partially erect dick. Sara held it in her latex-clad hands, rubbing the smooth material over his sensitive head. Her fingers gripped his large shaft as she stroked him slowly, causing the cock to harden.
"Mm, look at that big dick Hunny. Hell his black cock is bigger than yours already. He isn't even fully erect. This is a real man's dick and tonight you are going to suck it good. You are going to suck until your mouth is filled with sperm. Got it, slut?"
I nodded. Sara's strokes became faster and Jamal's dick was hard as a rock at almost 9 inches.
"Okay baby, get on your knees. Time to show him what you got."
One hand gripped onto my hair pulling me closer while her other hand squeezed the base of his cock. I opened my mouth as wide as I could and moved forward, feeling the plump head enter my mouth.
"Yeah, now move your way down that shaft. Try and take it all."
There was no way it'd all fit but she wanted it, so I tried. I maybe made it halfway before I gagged and nearly threw up.
"What is that cock too big for me faggot? Get sucking bitch!"
Sara's hand pressed my head forward, forcing me to take a lot of dick into my mouth. Jamal started fucking my face while my lips wrapped tightly around his shaft. He moaned a bit each time his head hit the back of my throat.
"Fuck, keep sucking it, baby. God, you are getting my pussy wet right now. Make him cum and I may let you fuck me later. You like that cock?"
I nodded as I bobbed up and down on the dick, pushing myself to take more. I felt like I was performing and I didn't want to let my wife down so I tried my hardest to re-enact porn movies. I'd remember how porn stars would give blow jobs and try to do that. Occasionally, she would pull him away from my mouth and smack it on my lips. Saliva was dripping off his shaft.
"You are doing good, but let me show you how to do it."
Sara smiled as she gripped the lower part of Jamal's cock with her latex hands. Her soft lips wrapped around him and she dove down all the way to his balls. I couldn't believe it. My wife was sucking this guy like he was nothing. She'd deep throat him a few times and only once gagged.
"That is how you suck it, you sissy bitch. Now get him off!"
Sara got on the bed right behind me and spread her legs. I glanced over to see what was going on. She pulled the rubber skirt up a bit and showed her shaved pussy. The gloves glistened as they got wet from her snatch. My cock got even harder at the sight of her finger fucking herself. I started sucking him as I had never wanted anything more.
"Yes, make him cum baby, make him fucking cum. Mmm."
Jamal watched her pushing 3 fingers deep inside and I guess those images and my blowjob were too much. Without any warning, I felt hot semen filling my mouth. It was unexpected and salty but I knew Sara would want me to swallow. Some escaped my mouth and dripped down my chin.
"Mm, baby. Swallow all his cum. Swallow like a good cock sucker."
His head fell from my mouth and I held out my tongue, showing that I swallowed the whole load. Sara smiled and ran her gloved finger over the cum on my chin. She held it over my mouth and it glistened as it dangled then fell onto my tongue. I sucked her finger clean.
"Good job baby, you sucked very well for your first time."
She kissed me deeply, tasting his cum in my mouth.
"Next time, Maybe you can eat his cum from me after he fucks me hard."
"Whatever you want hun. I'll eat every drop."
"Is that okay with you Jamal?"
"Yeah, as I said, I'd love to tear that shit up."
"Good. Well, we will keep in touch then. I believe my hubby has some oral sex he owes me. Take care."