My Femdomz Way by Mistress Kelly
And at that moment I knew I'd take it, that chance I never thought I'd get. I'd take him. I'd take him now while I could, the way I wanted, and damn the consequences. Damn them all I would. He knew what I had in mind, what was in that bag and didn't seem to care…didn't back off in the least. He had choices; to not show, to leave, to take control or to go back to his vanilla life. Instead, he stands there and asks what I had on my mind, what I wanted, what he could do for me…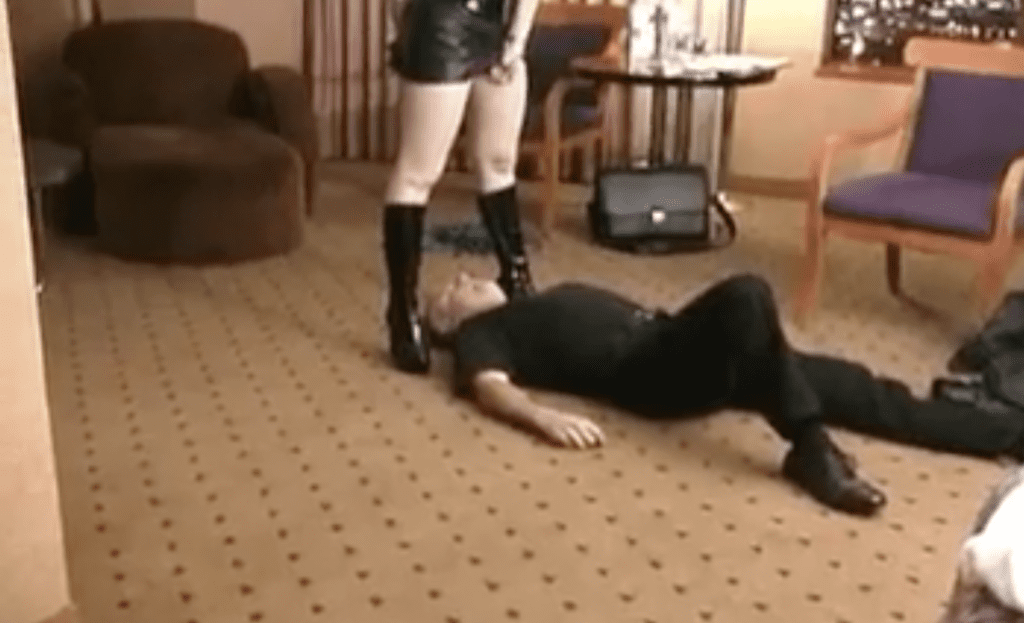 I asked him to lock the door. He raised his eyebrows at me but did, wordlessly, and turned back to me. I told him straight out, no lies or evasions — I want you. Now. Mine. Til you walk out the door, all mine. Before he began to kiss the hell out of me, he tells me that works for him just fine. Slow torturous hell sweet wet lips, hot breath on my skin, hands molding against my body pulling me in. My hands in his hair, lips running across his skin, slowly working his sweater off him. Still standing just inside the door, electricity building, bits and pieces, thoughts, plans and memories running through my brain. We surface for a moment as the sweater goes over his head and hits the floor. His hands are reaching for my nipples, rubbing through my blouse when I tell him his shirt needs to go next. I don't wait but pull it out of the waistband of his jeans and up his chest. My mouth on his nipples and the shirt isn't even off yet. God wants him now, don't want to wait, have him here on the floor, it's not the plan, not what I had in mind but it would feel so good… My brain is so confused, too many sensations so fast, accelerating the blood flow, heat, every time more than the last, one day soon we will simply burst into flame and combust. Him in just the jeans, no shirt, no shoes, and yeah I could look at that for quite some time. He never seems to understand that, but then he never notices my stretch marks either so I guess that works both ways.
Use me… he whispers to me, never taking his eyes off mine. Take me, use me, make me yours. This is the chance I wanted, needed, thought about for ages… I just had to have the nerve to take it. This moment was usually so simple, so basic. Only with him did I have this overwhelming urge to just give in, give up, let him take over. And then he was on his knees in front of me, pulling me to him, his face against my abdomen, licking along my waistline, telling me how he wanted to bury his face inside me, lick me, eat me, suck on me for hours. There's a moment in every endeavor folks call the tipping point. This was ours. I stepped back, pulled a black leather collar from the bag and said if that's what he wanted, maybe I'd be willing to accommodate that request once he was properly attired for femdomz evening. Many times I'd assisted with his coat, his collar, his dressing, but never like this. The electricity was amazing as I collared him. Pulled a lockout, unlocked it with a little key and locked the collar around his neck, the femdomz key on a tiny chain around mine.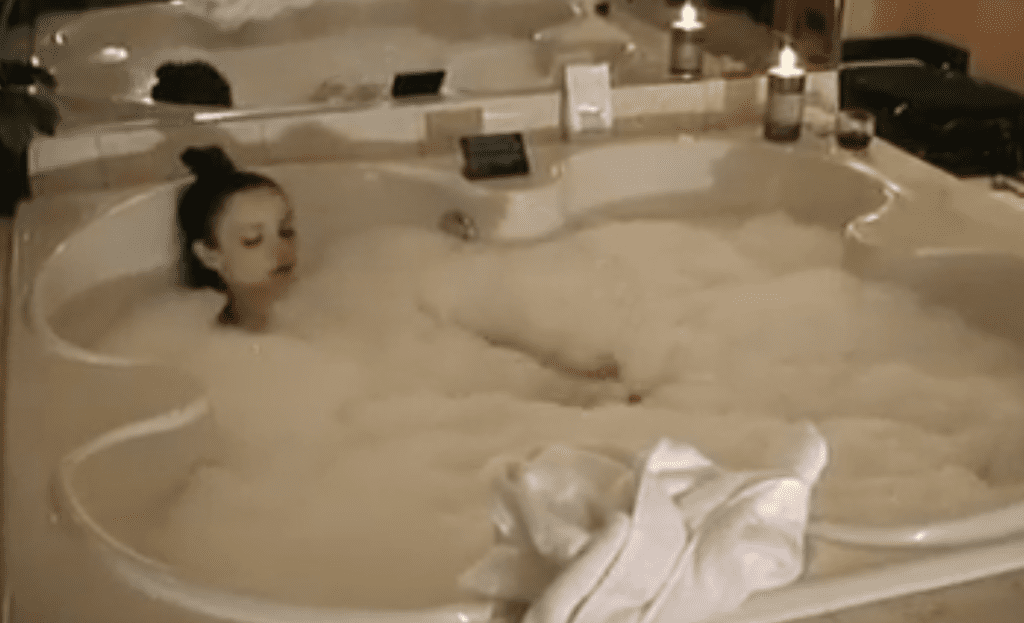 All he said was "what else do you want" and yeah, I could feel myself getting wet. Left him on his knees but kissed him hard, feel his hands on my ass, for once I'm looking down at him while he's looking up, slightly awkward, off-balance, the feel of his tongue in my mouth, the look of the black leather snug against his skin. As my internal temperature rises, I'm a little off-balance, but suddenly break off the kiss and announce I'd like him to run me a bath. I head for the back bedroom with the mysterious bag and he starts my bath, with the flowery bubbles I like, a cold glass of wine, and even the Kenny G music in the background. I lay out my evening femdomz outfit — black corset, ultra-sheer black stockings, garter belt, high heel slides and for later… the thigh cuffs, the chains, the clasps, all the restraints I might need from the bag. In the tub he washes me to head to toe and back again, shave my legs oh so smooth, maneuvers me on the edge of the tub to shave me oh so personally, my pussy hair trimmed on top, in between my legs bare and smooth. I love the feeling of being catered to, all the effort coming from him while I just let the feelings flow, so erotic being treated like a princess.
He dries me, and then dresses me, lacing up the corset so I can I "fluff" my breasts into the perfect perky spot. He starts rolling the stockings up my legs, attaching to the garters with just a small fumble as he connects the two. I slide into my heels, on my feet and leaning into him, his mouth nibbling on mine and my hands on his ass, backing ever so slowly towards the bed. I reluctantly pull away and hand him the thigh cuffs…to put on me. He looks a tad confused but does it just the same, indulging me in my whims while I put on the brass belly chains around my waist…and then I attach the cuffs on his wrists to the d ring on the outside of my thighs and he's on his knees again. I want his mouth on me, and chaining his collar to the belly chains leaves him little choice in the matter. The chains shorten when I spread my thighs giving him little room to move, and slack is a generous description of the few inches of play he gets when they close about his face. Just a small space to breathe in, and of course if I move he has no choice but to do the same. Wet, warm, so hot his mouth trapped on me, licking me, tasting me, tugging, sucking on my clit. I overflow all over his face, his chin soaked with my juices, he pushes me ever closer to climax, pulls back the half-inch he can, then deeper inside me, fucking me with his tongue, sucking ever harder, and muscle spasms overtake me.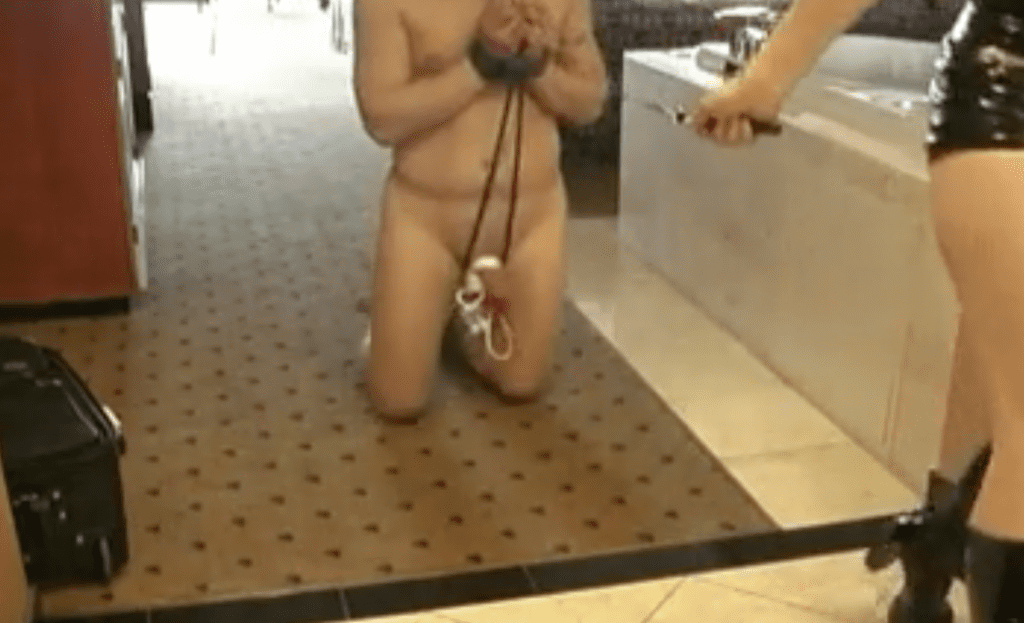 Let him go from my thighs and hook his wrist cuffs by short chains to the d rings on the sides of his collar. His jeans off, his cock hard, I take a leather cock strap from the magic bag and snap it around him, slightly tighter than it needs be, around his shaved balls and what I thought was hard gets harder, hot in my hands, twitching as I brush against him. I can taste myself when we kiss, nibble on the edge of his mouth, his neck, ever so slightly brush my mouth over his nipples and his hands start to move but are held captive by the chains. Slowly I move lower, watch his face as I lick along his hips, yes, little hot bites, nipping the sensitive spots. Running my mouth along with his cock, hot breath on him, small licks, then all of it suddenly inside my mouth and down deep to my throat. Low moans fill the room; I grab his ass, bringing him ever deeper, closer. Slowly one finger pushes up his ass, and his moans get louder. He's getting closer and as I suck he gets even bigger in my mouth… I love to hear him, feel him start to shake, as he tells me he's getting close, so close, oh god he wants to come, He going to come…… And as I back off he realizes its not going to happen, the leather snapped around him is too tight, I can see the frustration in his face. I push him back onto the bed; tell him he needs to cool off. I grab a drink… pulling ice from my glass into my mouth. Still chewing crushed bits of ice, his eyes get wide as he realizes yes, my mouth is about to be the method of cooling I have in mind. The leather that moments ago wouldn't let him explode now won't let him shrink, so cold inside my mouth. I lay back beside him, give his arms a change of pace by tying them to the bed, together with but directly over his head.
God, the man is hot. Kissing him, me cold, his mouth hot, tongues twisting and I roll over him. Coldcock…sliding into my hot pussy. Suddenly can't get enough of him, can't bang him fast enough, riding his cock hard, over and over. He can't hold my hips, can't slow me down nor speed me up, can't come although I can see he's close by looking at his face. I shudder against him and fall against his chest. Tug the edge of the corset down exposing my nipples and feed them to him. He sucks on them as I clench him inside me in waves, squeezing his hard cock with my drenched pussy, barely moving other than the clenching. The look of desire on his face, riding him to the edge, so erotic. When I ask him what he wants, I get multiple answers.. to eat me, to lick me, to suck my tits, to fuck me, to come all over me, god so hot, so fucking close to coming… and yeah, the dirty talk excites me and the slow squeeze becomes a hard slam as I get my feet under me and sit on his cock, fuck myself, and I come on him again. He's fighting the restraints on his hands, restless, wants them free so badly…..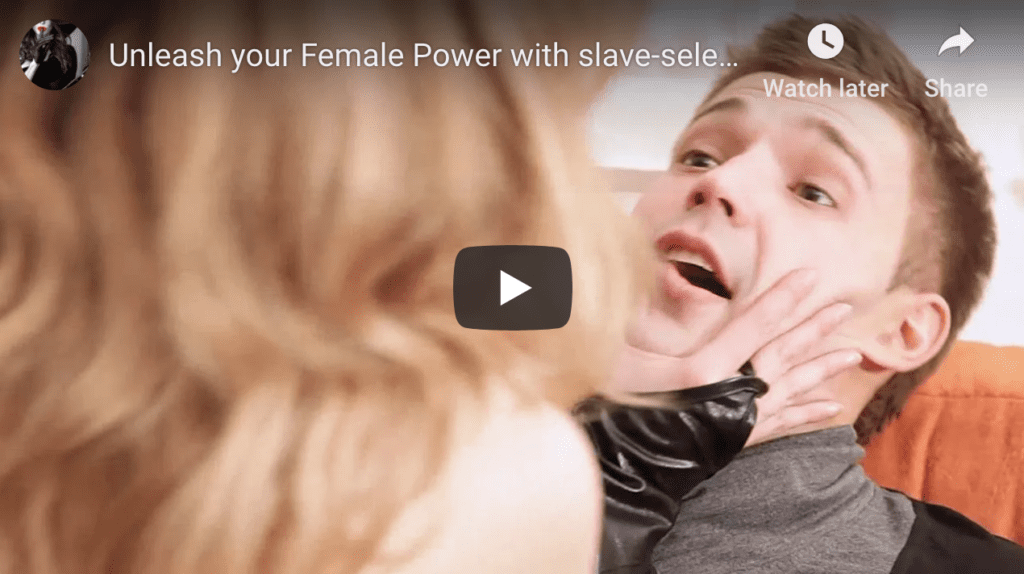 I slide up his body drenching him, my pussy just inches away from his face, and ask him if he wants it, to lick me, suck me, taste me …a sudden reply of 'fuck yes', and I slide that extra couple of inches up and once again connect my belly chains to his collar, his arms crowding his space, I take them down from the headboard and connect one, then the other to my thighs… and then he's got a moment where he breathes freely… til I take the last chain connected behind me, wrap it through my ass cheeks into that D ring right under his chin. He begins to tease and taste.. and I decide to get comfy…letting my weight go, pushing down on him, surrounding his face with my body. His tongue fucks me and I start rocking, rising up every now and then to give him a gasp of cooler air. He sucks on my clit and I lean forward, changing the pressure point, gaining serious friction, riding his face. His hands try to maneuver around, but it's a fruitless effort, pulling on the connection only encourages me to widen my thighs and gives him even less room beneath me. The friction, the sucking on my clit, the pull of his arms, feel of his tongue all lead those little waves to a big explosion and I push hard onto his face, suddenly overcome by the strength of the climax. I collapse, start to roll and gather enough energy to unclip his collar from my chains. On our sides, I slide back down, stopping when his mouth is along with my nipples, letting him nuzzle them, telling how good I feel, asking him if he wants to come, explode, make me all wet and sticky, wants a little titty fucking now? His hips are pushing against my stocking covered legs, I can squeeze his hard cock between them while I tell him, yeah, we can make that happen…
He's a little surprised when I reach down and unbuckle the thigh cuff from my left leg and lift it, attached to his wrist still… until I sit partway up and buckle it around his thigh instead…and then I hear a whispered 'oh god you have no mercy' as I do the same with the other side. Suddenly we're no longer attached, his face still drenched in my juices, his cock still hard as his hips buck, hands helpless beside him. I Lean him against some pillows so he can really see what he can't control – his cock. I settle between his legs, my breasts exposed over the top of the corset, nipples all hard from his nuzzling. I start sucking on his cock again, sliding it from my mouth to down between my tits and his eyes widen as he watches. I squeeze them both around his cock and slip my mouth over the head and he's no longer quiet…a steady litany of 'oh god yes, I wanna come all over your tits, you are so fucking hot, god I wanna come on you" over and over as his muscles tense up. His hips have a steady rhythm sliding back and forth between my breasts and he's getting ever closer, I can see it on his face…a whimper, he's close, "so close, oh god wanna cum so bad, oh please wanna come …" I reach below him and swiftly unsnap the strap and squeeze him once again, he starts to moan and shake, and pulling my mouth away one more time, he's cuming, so hard, cuming…he sprays all over my breasts, my nipples with drops of sticky white cum, hot on my body. Unsnapping his cuffs from his thighs, I give him back his freedom to move and he's kissing me hard, hands caressing me, then his tongue is nipping at my tits, slurping up one sticky spot than another. Hot mouth, and then wet and sticky or not he's pulling me against him, holding me so tight, feels good to have his arms around me, have his mouth on mine, taste him, taste me on his tongue, so hot, so good.
Just what I wanted, needed, craved from him. Had him, all mine, my way. Worth every moment, no matter what happened next.
-Mistress Kelly