Despite my love for Emma I had, over the last six months, become hooked on porn. Not just any porn. I'd stumbled onto Femdom porn and the many facets of that fetish. I looked at and fantasized about women feminizing their partners, fucking them with strap-ons, making them endure ruined orgasms and other humiliations.
Half an hour later and I was feeling really horny. I'd been stroking my growing hard-on as I reviewed the posts on my Tumblr feed, re-blogging those pictures or captions that stirred my imagination, and most days that was enough to lead to masturbation there and then at the computer. Today, knowing I was alone all day and with no real work needing to be done, my work from home was quite seasonal, I decided to take things further.
I went upstairs to our spare room where I kept a small suitcase under the guest bed. Most of the flotsam stored under the bed was memorabilia from our mutual past and I knew Emma would be unlikely to explore there. Removing the suitcase, I opened it and examined the few items of lingerie I had furtively collected. Most of the items in the case had come from local superstores however several others had been ordered from the internet.
The Start of my Femdom Experience
I removed my robe and then pulled on a pair of thin black stockings, shivering at the feeling as they slid up my legs. I would have loved to have shaved my legs but couldn't think of any excuse to explain that away to Emma. I hooked a suspender belt around my waist and slowly connected the clasps. Next, I pulled on a pair of black satin panties which wouldn't quite cover my erect penis, although I managed to tuck it down and to the side after a second or two. Lastly, I took a black bra I'd ordered from eBay, guessing at my size, and slipped it on.
Feeling really sexually charged now I went into the bedroom that Emma and I shared and lay on the bed. I loved the feeling that wearing lingerie gave me but had discovered the feelings that Emma's vibrating wand gave me were even better, better even than manual masturbation as the stimulation was much slower and more intense. I took it from her bedside cupboard and plugged it in. I set the motor vibrating quite slowly initially running it along the length of my now erect penis while it was still enclosed in the silk knickers.
Eyes closed I was imagining sexual scenarios where I was forced to wear lingerie against my wishes, forced to masturbate or otherwise engage in sexual activity, all the time slowly increasing the vibrator's speed. My breath was getting fast now and I knew from shameful experience that I would soon cum into the panties. My spare hand was now stroking my perineum adding a little pressure and urgency to my approaching orgasm.
So Close… So…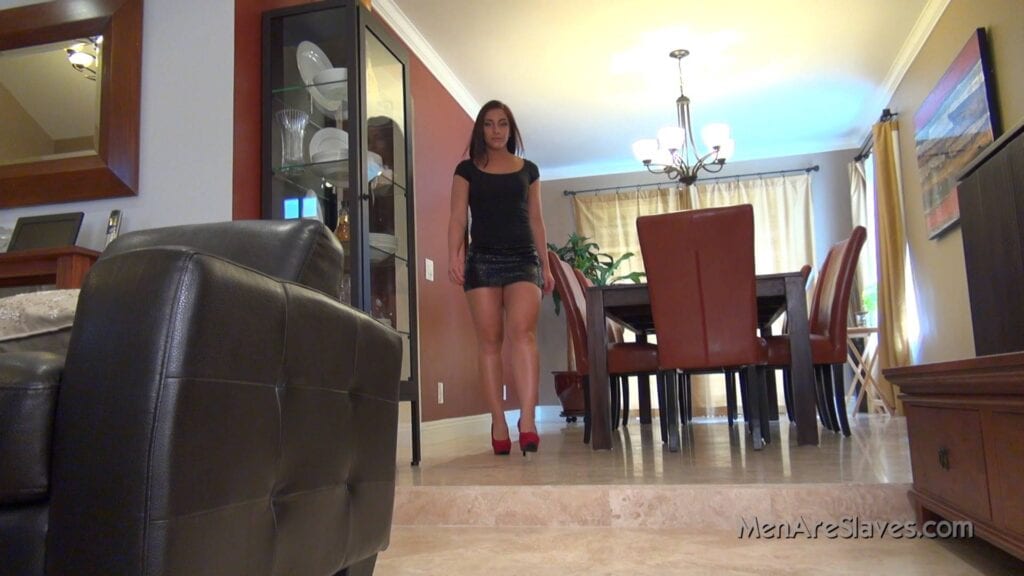 The flash from Emma's camera phone brought me abruptly back to reality and I sat up instantly, dropping the wand, eyes flying open. She was standing just inside the bedroom door, her eyes wide and her mouth open. She still held the phone that had snapped the incriminating photo.
"Oh!.. My!.. Fucking!.. God!.."
Every syllable of every word said with an expression of contempt.
"Emma… I…" I what? I had nothing to say.
"Don't bother Rob, There's nothing that you can say. I just can't believe my eyes. If I hadn't taken a picture of you wanking in underwear… With my fucking wand… I'd probably doubt my eyes."
She looked both furious and unbelievably shocked.
"Look, give me a sec and I'll come down and talk to you."
I wanted to take off this ridiculous outfit now, knowing it was going to continually antagonize her, but she was having none of it.
"Bullshit, leave that on. Don't take anything off."
She said angrily.
"You leave it on and you follow me downstairs."
Her tone not leaving any room for disagreement. She turned and walked into the hall and then downstairs with me following meekly behind her.
"I got as far as the station, parked up, and then found out they'd canceled all the fucking trains."
Her continual swearing showed just how upset she was.
"So, I phoned in to the office and explained the situation. They let me take a day's holiday so I thought I'd come home and surprise you, see if you wanted to go out for lunch? Well, I certainly surprised you, I guess."
Surprised by my wife!
"Don't bother, I know exactly what happened. That was the first thing I saw when I came back."
'That' was my computer screen with my open Tumblr account, the image on the screen was of an erect penis cumming over a pair of feet.
"You'd been looking at Femdom porn and you got so excited, you ran upstairs to get your jolly's off with my vibrating wand!"
She'd make a great detective. I was standing just behind her now, obviously still dressed in stockings and suspenders, feeling ridiculous and embarrassed. Emma sat down in the computer chair and began idly flicking through the feed pages. She seemed much calmer now but still had an edge to her voice when she said.
"Go and make me a cup of tea, I want to see exactly what gets you off, obviously it's not me."
"Baby, that's not true… This… This is just different, I like it occasionally, it's no big deal."
My first real attempt at defending myself and the longest sentence I'd managed since Emma returned. She looked me up and down slowly and said.
"It looks like a big deal at the moment." I blushed.
"Well, we'll see. Go and make that tea. Don't you dare change though…"
I thought it best to follow her instructions and maybe let her calm down so that we could start talking. It felt surreal to be standing in our kitchen making tea dressed in stocking and suspenders but I dared not change lest it anger her more. I returned about five minutes later and she was still at the computer, still on Tumblr.
An investigation by my wife of my Tumblr Account
"Rob, there's tons of stuff on here about Femdom. Tons of men dressed as women, of women humiliating and teasing men, of men in chastity cages, ruined orgasms, there's just an unbelievable amount of this Femdom fetish here…"
She was not angry now so much as curious, looking for answers.
"Emma, I know it's hard to understand but that stuff turns me on. I know it's perverted but, well I don't know what I can say."
"Is this what's in your head when we're together? When we're having sex?"
I admitted, thinking that honesty really was the best policy now.
"You couldn't fucking shave before putting your stockings on?"
Almost a smile now, and her tone was much lighter.
"Of course, You couldn't without me noticing."
She looked thoughtful for a moment.
"I'm still coming to terms with this Rob, so it's very important that you just do what I say, no arguments. While I'm looking through your Tumblr page, I want you to go upstairs and shave all your body hair off below the waist."
My mouth dropped open as if it were on a hinge.
"We have no plans for today apparently so take your time and make sure you do a good job, in fact, take one of my razors from the cupboard."
"Emma, are you sure you wanna…" I began.
"I'm very sure Rob, and very serious. Go and do it now."
No equivocation there.
I left my wife trawling through my Tumblr blogs, the place I'd been the most sexually honest, in part because I thought it was totally private and anonymous. Emma was no longer the only one of us in shock. I moved slowly and carefully although my mind was racing. What did this mean? What would she do?
Time to clean up
I took the razor into the shower and lathered up my legs. It felt crazy and wrong as I started to remove the hair from my calves, luckily I'm not a hairy guy, and soon I was too engrossed in the act to think about it anymore. Tongue out, I continued shaving. It seemed to take forever but then I was finished on my legs and contemplating shaving my groin. I'd always shaved a little around my dick anyway, it just seemed cleaner that way but now I remembered Emma's words to 'remove all the body hair below my waist.
Taking the razor I carefully shaved around my balls and penis, I even took the razor and thinned out those hairs running down from my stomach. I thought it better to feather the effect as I didn't want a hard-defined line there. Stepping out of the shower I couldn't help but touch myself, running my hands over the newly nude skin, loving the feeling. I put on a bathrobe and descended the stairs tentatively, wary of Emma's mood. She was still at the computer screen when I returned.
She instructed.
I opened my robe, a little embarrassed to be following her orders so meekly. Looking down, my embarrassment was compounded by my shriveled penis. It looked tiny and exposed without its usual nest. Emma actually laughed.
"Oh dear, not very manly. Maybe it does belong in panties" She teased.

"Ok Rob, show me your stash."
The Stash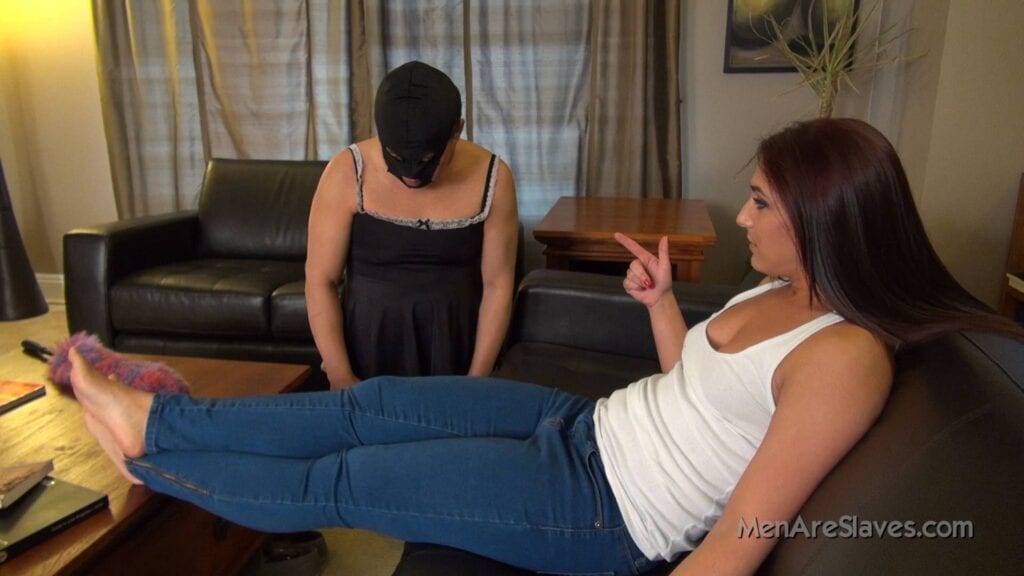 I honestly didn't know what she meant.
"Don't try and tell me that's your only underwear, I won't believe you. Show me where you keep your clothes."
She smiled evilly now.
"You know, for when you dress as a Sissy."
I cringed as she said that but decided that the only way out of this was total disclosure.
I returned upstairs but now Emma was following closely behind. I showed her my collection of underwear with my cheeks burning.
"Bullshit! Where's the rest?"
She demanded.
"That's it, honey, I promise…"
I said hastily.
"Really? Where are the dresses? the skirts? The blouses? Where are the shoes? Every girl needs shoes."
She was asking these questions incredulously but with humor in her tone.
"That's all I have. Honest."
"Oh honey, you're missing the best part of being a girl, the shopping."
She was grinning now.
"Don't worry, I'll help.."
"I'm your wife baby, if this is what turns you on, then I wanna be part of it too."
I'd actually had a fantasy where Emma said that almost word for word, but right now my danger radar was warning me to stay alert.
"Baby, that's great but…,"
I faltered not knowing what to say.
"Go and get into that outfit you had on earlier."
She nodded encouragingly.
"Oh, I don't know, maybe another time…"
"No. Now. Do it now Rob."
She suddenly looked stern.
"See? I'm learning, I know you like your women dominant."
She was smiling again but there was a potential storm brooding over the horizon I sensed.