Trained As A Sissy Cocksucker
Being a sissy cocksucker for Mistress is what I live for. My Mistress had to leave this morning to go out of town on a business trip so she left me in the hands of Mistress Kate from the sissy school where she had me trained as a sissy cocksucker. She gave Mistress Kate the freedom to do whatever she wished with me during our weekend stay together. She explained all that transpired in my training and the money she was making using me as her sissy cocksucker. Just last Monday I was sucking the cock of a co-worker I have known and worked alongside for 5 years and there I was under a table sucking his cock like a sissy cocksucker while Mistress watched.
I get so hard and wet when Mistress puts a cock in front of me to suck on. I whimper seductively when I get turned on and it drives me crazy when I have a cock down my throat and someone fucking me relentlessly. Mistress Kate from school taught me how to be a frilly girl while my Mistress turned me on to being the sissy cocksucker that I am today. I was not expecting what happened with Mistress Kate during our weekend together.
Going For A Walk In The Park
Mistress Kate woke me up early and dressed me as a slutty puppy-like Mistress does when she takes me out for a walk. She was like,
"Boy, your mistress told me all the things she has done with you. Hehe… I bet you didn't think you would see me again did you boy?"
I nodded in reply to her. She continued.
"Now boy… I am taking you out for a walk as my little slut puppy."
She dressed me in a similar poodle outfit Mistress that consisted of a  white bra with panties that had furry sides with the crotch area open.
Mistress had a furry bra/top and hat on with a poodle fur top and ears. She hooked the leash and led me down to the garage where she parked her car and we drove for a while to a park in the country which was part of a golf course. When we arrived, she took me out of the car and ordered me to get on my hands and knees and walk with her to the picnic area where she sat us down at a table. She had me get on all fours keeping my hands on the ground. She took out two doggy bowls, placed them on the ground, and put food in one and water in the other telling me to eat because it was going to be a long day and night and that I needed the energy.
Mistress Fucks Me While I Eat
I leaned down eating my food. It was taco flavored meat with tomatoes and it looked a lot like dog food but it was very tasty. While I was eating, unbeknownst to me, Mistress Kate took out a large dildo, lubed it up, and started fucking my ass with it while milking my prostate. It was difficult to keep eating while she was fucking me with the dildo. I whimpered and panted as my sissy cock started getting hard and fast. My cock was throbbing and dripping wet.
She said to me,
"Boy I want you to cum for me now."
She pulled the doggy bowl over to catch my cum as I exploded. Cum flowed from my cock into what was left of my food. She kept teasing my prostate, milking the cum from me as I poured and dripped into the doggy bowl. I heard people walking toward us as she kept milking me. A gentleman walked up sitting close by engaged in a conversation with Mistress Kate. Mistress kept fucking my ass with the dildo as the gentleman inquired about perhaps having his cock sucked.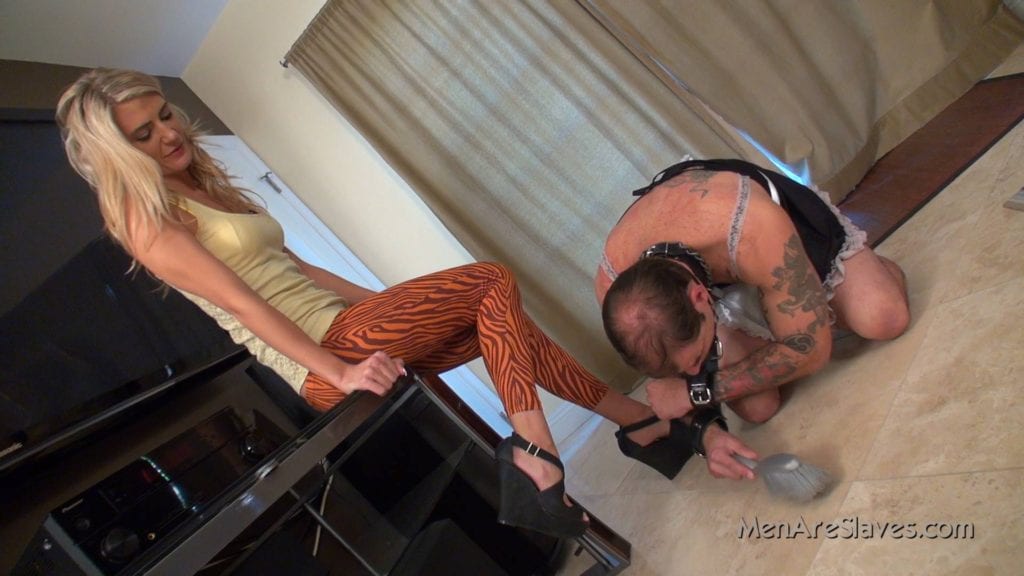 Sucking Cock To Make Money For My Mistress
"That will be $1000 sir for this slut to suck your cock."
Mistress Kate told him. The man paid her and she moved me to his crotch where he pulled out his hard fat cock. Mistress kept up with the dildo pushing it in and out of my ass as I whimpered and panted. I wrapped my lips around the tip of his cock swirling my tongue around it, licking it. I gently pushed my face down onto his cock then slowly started working his cock with my mouth. As I sucked his cock, I felt it swell in my mouth as Mistress Kate continued to fuck my ass with the dildo. Even though my cock was fully drained of cum, it was still hard and throbbing.
The gentleman's cock swells as it pulsates in my mouth and erupts filling my mouth with cum as I eagerly suck and fuck my face with his cock, draining every drop from his throbbing cock. The gentleman pats my head as Mistress pulls the dildo from me pushing my bowl in front of me again,
"Look at the mess you made slut, now finish your food and clean that bowl up."
My ass is open and my cock is still hard as I kneel down to eat and clean my bowl. I hear steps approaching as I feel an extremely large cock enter my ass pushing deep into me as Mistress speaks,
" It is about time Kent, you didn't waste any time with that hard huge black cock. You must have the largest BBC I've ever seen."
Kent replies.
"You have the slut open and ready for it?"
Double Penetration for the sissy!
Panting, whimpering, and moaning I feel that huge cock enter me as he begins fucking me. I can barely hold my ground as he fucks me. While Kent was fucking me another gentleman came up paying Mistress for a blow job. As he sat in front of me, I took his cock in my mouth as Kent fucked me hard. My ass stretched wide. Moaning uncontrollably, I am barely able to concentrate on the cock I am sucking as Kent just hammers my ass. The man's cock erupts into my mouth filling me with cum again as my own cock begins to drip wet again. The man leaves as Kent's cock explodes into my ass as he pulls out moving it to my mouth to allow me to drain his cock. Whimpering louder and panting my ass gaped wide open.
I could barely get his cock into my mouth as I took it as deep as I could but it was so big. I sucked his cock draining the remaining cum from him. He pulled out, kissed Mistress Kate,
"Thank You Kate it was delightful to stretch that pussy out."
Kate replied,
"Thank You for preparing this slut for me. I enjoyed seeing his ass pussy stretched out like that. Look how open it still is. Take it easy Kent, bye."
He walked off as Mistress took the bowls and put them away in her bag, then led me back to the car by my leash.
Resting Now So I Could Be Ready For Tonight
I could feel the air in my ass as it was still open after that huge cock inside of me. Mistress Kate put me in the car and drove me to her house. When we arrived, she took me into the bath and bathed me telling me how good I was and she will be telling my Mistress how good I was. During the bath, I could feel my ass relax and start closing. I whimpered as Kate bathed me. She took me to bed so I could nap. As she was putting me to bed she said,
"Take a nap as the day is over but the night has yet to start. I will wake you about 6:00 pm."
I fell asleep as the lights went out.