She was easy to spot in the supermarket, as she walked around filling groceries in the cart. She lost a small paper on the floor, and I dove to grab it at once. Giving it to her with a cordial smile, I said it was important not to forget what to bring home from the shop. Her smile was warm, the blue eyes smiling as she thanked me. My heart was beating hard! The sight of her was not my first but she had never yet talked to me. I had seen her on several occasions. In the fantasy, I imagined her to be a strict Dominant woman and my thoughts were constantly on Her.
She was very beautiful 5"4, age, about 45 I would guess, slim with light hair down over her back, and a smooth way of moving around. She wore a yellow dress not too short and not too long, clinging to her body, and on her feet red sandals. I left the shop and went to the car park. Then, I put my bags in the boot and returned the trolley. As I did so, She passed by and ohh luck, she lost her keys on the ground. I dove rapidly to grab the keys. As I did, her red sandal gently but with no mistake pressed my hand. I looked up at her, just to see her looking down at me with a stern challenging look in her beautiful eyes, her mouth closed. I bowed my neck and lowered my head to kiss her foot and inner ankle. The pressure on my hand loosened, and I rose to give her the keys, my eyes focused on the ground. She opened the boot of her car, and I helped her with her groceries.
"Follow me," she said as she walked to the far end of the parking lot and started to walk into a small forest.
Summoned to her Home!
Soon the traffic noise was gone, we could hear the sound of birds in the summer. She walked to a table and bench, sitting on the table she pointed at the bench. She looked down at me.
"I have noticed you for some time – seems to Me you are single?"
I nodded.
She continued. I nodded again. We sat there for some time in the warm nice weather and I felt something growing between us. As we went back to the cars she demanded my phone number and said we'd be in touch. As I came home there was a text: "Drop other business and prepare to stay here over the weekend" it said. Wow!! I canceled all other things and sent her a note: "await Your orders". At 10 pm she sent an address and told me to come at once. I grabbed a quick shower, took on a new polo, and raced to Her home. As I rang the bell I had this feeling of entering a new life, and how right I was about that!
Put on probation, for one month to be her slave on an FLR!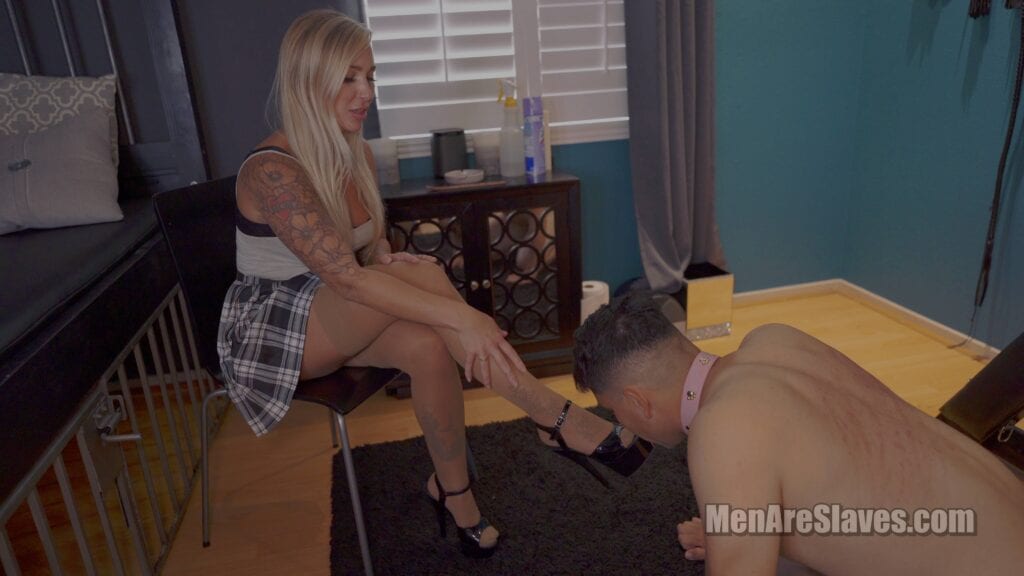 She opened the door and stood there beautiful in her black dress and high heel pumps. I knelt at her feet kissing her shoe and staying down.
"get up," she said leading me into her living room.
She pointed at the large sofa and as I sat down she looked down at me with satisfaction showing on her face. We went on to her balcony which had a view of the sea and the beach close by and sat there for hours just talking, telling our stories of life, getting to know each other, and I felt no reason not to be open and completely honest.
As daylight broke we went to take a swim just the two of us naked in the water. My fantasies about her were not even close to how beautiful she really was! After that, we went back. She showed me to a guest room and as she said goodnight, she tossed her used pants at me and told me to get some sleep. I sniffed her pants…loving already the scent of her and fell asleep. She was looking down at me as I woke up and she told me to come with her. Then, she took me to her bathroom and we took a shower together, She had meds soaping her nice body, we were so close and intimate. She told me to rub her with a towel, and after that, I hurried to do finish and follow her into the living room.
"I want to give you a chance," she said in a plain voice, as she looked directly at me. If you can meet My demands for a slave in an FLR during one month, and if you think it is what you need, "then I will take you as my slave and property forever".
My heart was beating, my mouth was dry. This was what I had wanted to happen for as long as I could remember. I looked at her, then I looked down at the floor and mumbled my thanks.
"Speak up slave, "she said.
I looked at her and gave Her a smile…
"ohh thank You I will love to be Your property".
New rules to follow
She took my wallet, my keys to my apartment, and my car. Then, she told me I could go to work as usual, but under no circumstances make appointments without her specific permission. She would give me money for lunch every day, and She expected me to return to Her ASAP after work. Having said that, She made a small gesture and told me to show Her my submission. I fell flat to the floor face down at her feet, just waiting for Her reaction. She set her right foot on my head pressing gently.
"good boy you can kiss my feet."
I kissed her feet with dedication sensing her with my whole body and shaking because I felt this was the beginning of a long and beautiful journey that hopefully would never end.
"on your back" she commanded," and let Me see if you know how to give service to your Mistress".
She lowered herself over me and ordered me to use my tongue to give Her satisfaction. I used my tongue and lips to lick her, to gently press her clitoris with my lips, to press the tongue deep up into Her, smelling Her and feeling arousal by Her divine scent, and the juices coming into my mouth. She moved then She pressed me down and, she made noises all of it seeming to last forever. At last, she rose and spread her legs so I could see her pussy still with small drops coming.
"Now for your reward slave," she said.
She went down on me sitting over my head then, she ordered me to open the mouth, and finally, She precisely urinated in my mouth. I swallowed eagerly, as I wanted to miss none of it. A divine taste of Her really made me happy and proud that She wanted me to be her slave.
Whipping session after diner!
After a while, she told me to go into the kitchen to prepare some dinner. I tried hard to make some delicious food from what I found in the fridge. I was glad that She seemed to enjoy it. After dinner and when my kitchen duty was done, I returned to the living room. She pointed at her feet, and I knelt at her feet looking down at the floor. She put a collar around my neck and locked it with a key.
"You will wear this collar for the next month except when you go to work," she said, as she took a whip from behind a pillow.
I was realizing what pain could do to me. She whipped me with a short horsewhip gently at the beginning but increasing force and pace. I screamed as She hit my balls. The answer was another series of whipping. She stopped at last and gently stroke my sore back telling me what pleasure She had in whipping a slave like me. She commanded me to put my face between her legs and pressed my head into her wet pussy so I could lick her and taste her. I licked her intensely and in the end, thanked her humbly for letting me be her slave. She took her phone and shot some nice pictures of my red and glowing back.
"I will send one to you which you will use as your cover picture, " she said with a laugh in her voice.
I bowed my neck – this was reality – this day was the first of one long journey towards being Her slave in a FLR.