Britain's Got Submale Talent
The audience gave an enthusiastic round of applause as he tentatively walked onto the stage, while the three judges sat watching his every move. He was acutely aware that this was his chance to win the latest TV talent show: Britain's Got Subs.
Judge Miss Lacey spoke first:
"Well oh my, that is a beautiful tutu dress you're wearing. Approach the microphone and tell us your number and where you're from".
He looked to her feet and replied:
"And what are you going to do for US lovely audience this evening?" inquired Miss Strict, another of the judges.
Then, he looked to Miss Strict and began to answer:
"SPEAK UP SLAVE", bellowed Miss Strict, "We want to hear from you! Try again!"
He spoke louder:
"Tonight Miss I'm going to perform to the music of Swan Lake for You".
There was a ripple of laughter from the audience, who were clearly trying not to laugh overtly: being tall and spindly, he didn't look much of a dancer. The judges looked at each over for a few moments intrigued as to what this act was going to bring, before Judge Miss Lacey, a wide grin on her face, spoke:
"Well let's get on with it!"
The room fell to silence, as he looked to the ground to compose himself. The six seconds that elapsed before the music gently started felt more like six minutes to him at least. As it started, he slowly began to move: raising his arms and dancing backward, making a slow turn, before attempting a pirouette and tripping over his own legs. The audience erupted into laughter.
He continued on, determined that he would complete the song without running as that would prove him inadequate for the final prize in this contest – to become a personal slave to one of the Judges. He moved from one side of the stage to the other, and back again, in less of a dance and more of a floundering run.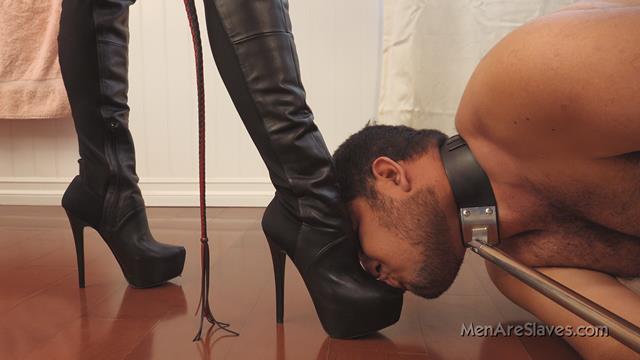 His heart pounded as he approached the big one: he was going to attempt a grand jeté, one of ballet's most difficult jumps. Something a professional dancer would do with relative ease. He moved to the left of the stage, began to run right, and started the jump… and fell. Legs wide apart, full weight on his crotch. He winced in pain while the laughter from the audience was so deafening that he couldn't hear the music, and he dared not even glance toward the judges.  
As the music faded, he gingerly stood and approached the microphone, a beetroot red in color. He had no option but to stand there, the entire room laughing at him until the noise subsided.
Judge Miss Carolyn was the first to speak.
"Well, slave. I'd never accepted a slave who causes me pain. And I've just laughed so much that I'm in pain. You're out. Goodbye."
Judge Miss Strict followed:
"That was the most PATHETIC thing I've ever seen. You earned points for amusement but the floor is dirty, your act should have included sweeping it. Thumbs down."
The whole room looked at Miss Lacey, who paused before speaking.
"You're not worthy of my consideration. I want the researchers who put you in front of me fired. Goodbye!"
He looked to the floor, before saying
And slowly walking away, the audience still laughing. This had been the most humiliating event of his life. And he'd loved every minute.