While working all day at the office I couldn't get myself comfortable in my pants. Little did I know that humiliation from my wife was all I really needed. Anytime I looked at any of my female colleagues especially Rosalinda I would get an upright boner, damm that hot ass in those tight black skirt looked so tempting.
I realized with every passing day my sexual urges were getting stronger, yet my wife wouldn't even touch me, it must have been 6 months since she made me cum, I thought to myself.
Grown so impatient I sexted my wife without any hope of her replying  "I can't stop thinking about you", with a photo of my boner in my underwear, then l rested the phone on my desk.
Sexting with My Wife
After 5 minutes or so my phone buzzed, to my amazement my wife had replied: "come quickly, today your patience will be rewarded but you may only cum on my feet baby."
She also attached a pic of her hot sexy legs. I was bewildered as to see her reply as she was asking me to cum on her feet , she never discussed any foot fetish with me , we only had regular sex. Maybe she was bored of it, I thought to myself and wants to explore new stuff. I returned home as quickly as possible, I entered my home and I see her lying on the couch lazily wearing a towel.
She looks at me and giggles.
" I knew you would come home early, you dirty slut".
'SLUT'? Am I hearing correctly?!
A State of Confusion
I thought to myself as my wife is a very soft-spoken and gentle lady. She has never talked like this to me before, she was always submissive.
I just thought maybe she too was in the mood and ignored her changed behavior. I started to walk to her in order to grab her and get that towel off but when I got midway there she commanded me to STOP.
She was very harsh in her voice so I followed her command. She said,
" if you want any bit of me you must follow every order I command.

I am quite bored with all of our mundane sex where you fuck me like a rabbit for 5 mins and cum in exhaustion like you did some good job, that sex is over for me.

Now I am in charge and we will do it my way. Do you understand ?"
My New Wife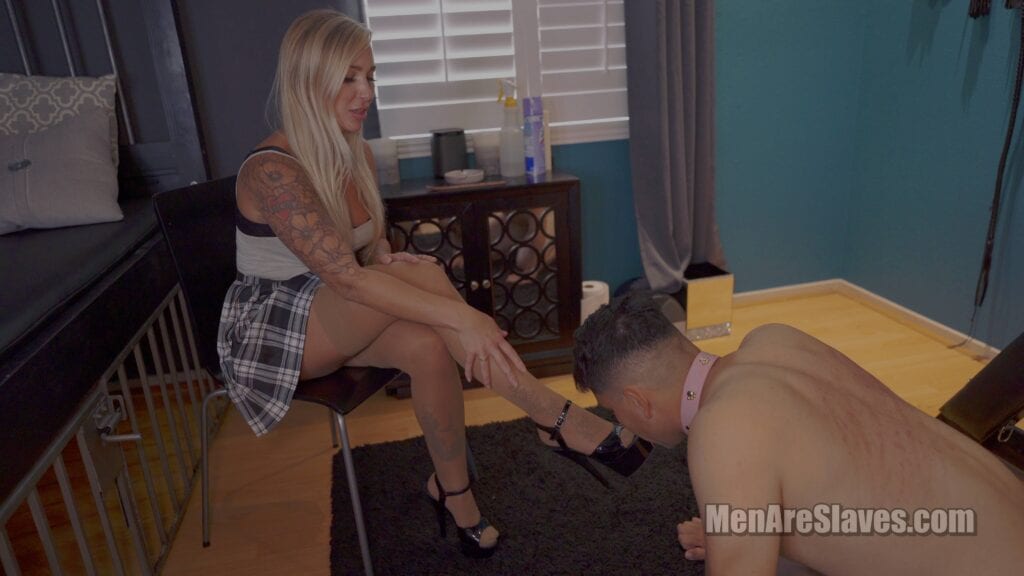 I was exasperated as she never talked to me like that, I was confused and was thinking is she the same woman I have been married to for 2 years but whatever it was I was too horny to care.
" What is the matter babe, you're acting strange ?" I was quite soft and dull in my voice.
"Ken,  I am fed up pretending to be a good housewife and I am no longer gonna be an object or maid to your life. It's time you learn how to give importance to my pleasures as well. Or else learn to jerk off for the rest of your life and forget having sex with me".
She was harsh in her tone.
I was speechless and intimidated by her as well. I could sense the dominance in her aura and tone.
"

Whatever you say babe " I mumbled.
Let the Humiliation Begin
She giggled, I understood that it was an amusing sight for her to see her husband all scared.
"Get on your knees, NOW!"
Her command was not easy to disobey , I did as she told me and then she walked towards me and asked me
" aren't these feet beautiful?".
"

Then what are you waiting for? Kiss them like a good boy!"
I started kissing them, I don't know why but all of this was kinda turning me on. I was kissing even licking her feet, then she took her right foot and kept the bottom surface on my face like I was a slave of hers.
But I was still licking her feet and had accepted the position of a slave. Then I saw her pussy, I could notice that it was wet and she did this to tease me.
My wife's Slave
She then commanded me to stop and told me I am a good slave and commanded me to follow her on all fours.
As I was walking like a pet dog behind her, looking at her half-exposed butt. I was now so horny that I forgot how I was being treated and was willing to do anything for my queen. I knew that from this point on I was to be her fuck toy and I liked that idea.
When we got into the bedroom she sat at the edge of the bed with one leg over the other. She asked me which pair of panties she looked the hottest in. I did not understand why she asked me that but I answered her that my favorite was the pink lacy ones. She ordered me to get them from our wardrobe which I happily brought.
Show Time?
I thought she would treat me to a good show. But it didn't happen quite like I was expecting. She ordered me to wear them for her, I was dumbfounded.
She yelled at me and I started stripping off in haste. I was completely naked and I still had my boner fully erect, she saw it and laughed.
She said,
" You love being treated like this, I love you my slutty husband".
Those words were enough encouragement to get in those pink lacy panties. She looked at me and was laughing, I kept my head down in embarrassment.
My cock was barely inside, my ass cheeks were hanging out. Then she stood up and walked towards me, she teased me with her fingers crawling up my thigh to belly and whispered in my ear.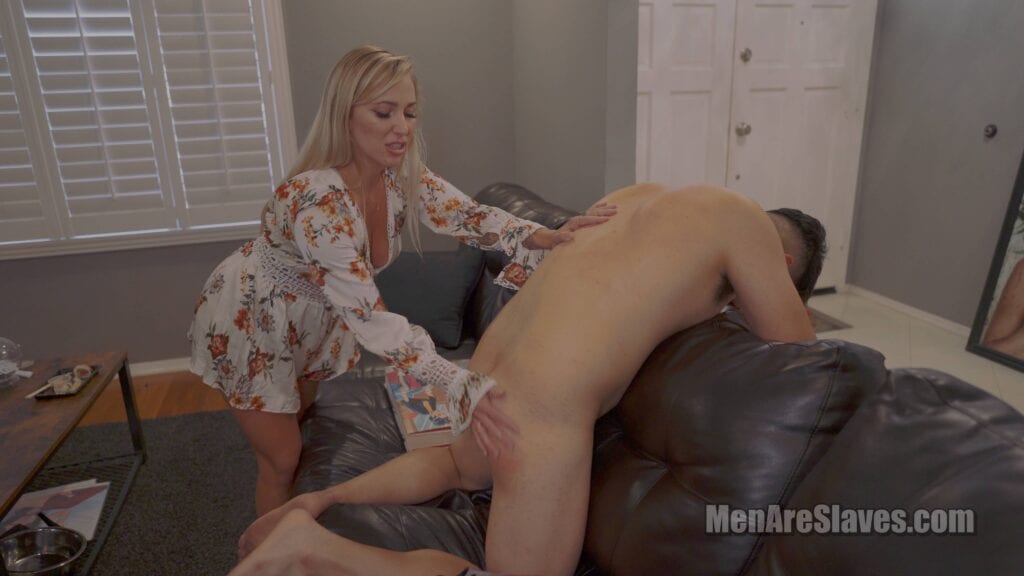 "Turn around and face the wall! "
I did as she was rubbing her hands on my butt cheeks and then a big smack thundered my butt.
I gave a slight moan before I knew she was going to spank me hard, repeatedly. She stopped after it pleased her enough and rubbed her nails on my red ass cheeks. I can't tell you how much my ass was burning and she noticed the resentment on my face and told me that this was how I was to be treated at home from now, to which I agreed.
Then she grabbed me by my hair and forced me to kneel beside the bed. She told me to put my head upwards on the edge of the bed , she stood before me and slowly parted the towel to give me a look of her pussy and asked
" do you want this baby ?".
Time for A Ride
I was overwhelmed to see her beautiful shining pussy and said in desperation
"yes baby please, please let me have it".
Then with force, she grabbed my hair in no time she sat on the edge of the bed and kept her pussy on my face and started to smother me.
Like a good boy, I let out my tongue and started to lick it and suck it. She would let my head go once in a while to let me breathe but not for more than 2 seconds. She was literally fucking my face and would slap my head for not doing properly.
In just 10 minutes the room was echoing with her moans. My whole face was wet and shining with her royal cum. Then she was at the edge and was so wild that she held me tight in between her thighs and came all over my face.
Her First Femdom Orgasm
My wife's whole body was jerking but she didn't let me go. I was breathless but was happy that I had pleased my wife.
Finally, she let me go and I see her smiling with complete satisfaction on her face. She sees me and tells me it's my turn to cum now, she commands me to bend over at the edge of the bed. I got confused and then she tells me that she would like to play with my ass and give me a prostate milking. Then, I got scared and a little curious while I resisted it, but my wife then gave me two options either to cum through the prostate or to not cum at all.
I hesitantly bent over, she slides my panties down and spits on my ass hole. She circled around my asshole. I am already nervous and twitching.
Anything For my wife
My asshole, realizing this she spanked my ass and told me to loosen up my asshole or it will hurt. I obeyed quickly.
She slides one finger and it goes in and out till I got comfortable. I started to enjoy and feel so much sensation around my balls. She increases the pace and then slides another finger there. Till this point, I am in complete awe of the amazing feeling. I start to hump backward to catch the rhythm.
This new feeling pushed me to such a deep trance that I forgot that I was being fucked anally. I closed my eyes and felt the pressure building in and around my balls.
As I started to moan my wife literally started to fuck me with her highest pace. Then, I reached a point where I could no longer take it and I came like a bitch.
I am my Wife's Slut
I had never cum so much in my entire life!  The orgasm continued a minute and I get so exhausted that I had collapsed on the bed. I didn't notice that my wife had collected all that cum from the panties.
She asked me to open my mouth. Before I could resist she stuffed the panties in my mouth and started to laugh.
"This is just the beginning my boy, you will be trained into a perfectly nice slut ".