I have been serving several domineering Mistress. Over the years, I have gained experience as a maid or valet.
A mistress wonder's if my skills would suit her needs. We take appointments. I simply told her that being in the service of a domineering mistress or vanilla boss makes little difference in the work. Except you have to add all the protocol side. As a subject, I know this protocol. I shall therefore make this work in keeping maid quite feminine or holding chamber valet style of man.
Amused, she noted my absence of conditions and fantasies.
"Would you be a different subject for others," she said.
I replied that it was necessary to pass a job interview, then they would see.
The Interview
I listened to a lot of discussions from domineering women. I always heard the same speech. They are mostly searching for a subject of housemaids who are full of fantasies. But with a rather superficial work when they need a true housekeeper as found in vanilla life. Except that, you gotta add the work in the dungeon, cleaning accessories, and outfits. A domineering woman, therefore, needs to find her house used properly by the BDSM community.
At the time of the appointment, I stood before the building of the domineering mistress. I rang her on the telephone informing her of my presence. She responds by giving me the entry code for the building and the floor number.
For me it is a job interview, I appear simple. Black outfit to remind all the same subject my condition, black jeans, black shirt, black leather jacket.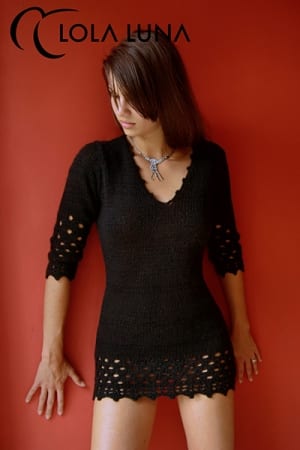 So it begins
This domineering woman opens the door dressed in a simple black dress, not dress leather, latex, no waders. Okay, I am not here to just sit, but to discuss her needs. The interview will be relaxed but keeping to a minimum of the protocol.
After the traditional "Hello Mistress" I behave as a true professional. I know that we must first know if the work is limited to keep. If it extends to the units, i.e the private part of the domineering mistress's apartment. And here we enter the intimate conversation. She said that as the maid I should take care of everything. So I ask to visit, starting with the kitchen. I ask to see the cupboards to see where the dishes were stored. Where the cleaning products are stored, what products she uses.
The Tour
The tour continues on to health and the dungeon care. We return to the living room, she invited me to sit in a chair. I ask some personal questions, but necessary, on its output, which receives it, and when.
"Okay she said, you seem to know the work of soubrette. You have to take care of everything, and discreetly.  Take off your clothes and I'll tie you to the cross to test your resistance to the whip. Then I'll search your anus to see if you'll be supporting a dildo. " Small test session that ends with the traditional kiss on the shoes.
I propose to serve her coffee, I noticed the coffee maker on the work tour. I also noted during the visit that the cups and tray are stored. She said to prepare a coffee for me too.
Expectations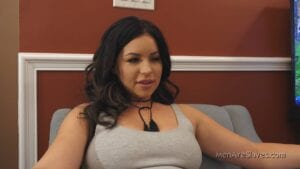 She's behind me, watching my movements, continuing to discuss expectations. We return to the room, she sits in a chair crossing her legs. I serve us, she said that my service is not started, I can sit in a chair to keep talking.
She asks me about my availability, when I am free, and when I can start. I say frankly that ultimately I'm not as young as I look, and I have to end my career. I now have time to share between my home province and service to overbearing.
"Hey !! She exclaims, a retired subject, certainly older than I could imagine, but basically, your age may explain your years of experience. You may be more available than I expected. "
We agreed to a trial period.
The Trial
There are small rooms available and are good to rent from the building, ultimately it's perfect. A simple home base to store my wardrobe and take a few hours of rest. I will pass most of my time in the Lady's apartment to serve Madam. As if I am her butler, but here we are not in the upper-class spirit but BDSM.
But a woman is a dominatrix lady and should be served as a lady. The idea of being served by a subject dressed as a maid. While housed in a maid's room in the building's attic seduces and amuses.
It's time to leave, opening the door, she said. "Do not forget me and organize yourself to enter my service as soon as possible."
The interview is over, it suffices to show its know-how and dedication to enter the service of a domineering mistress.
Service to my Domineering Mistress
A few days later everything is organized. I settled in this small room in the attic. I warned my domineering Mistress of my installation, mounting my accessories and outfits. She took the duplicate key to enter my house when she chooses. In return, she gave me a copy of her key. With instructions that I now apply today.
The alarm clock rang at 7:00. I ate my breakfast, proceeded to shower, the perfect shave, make-up with the best possible perfection. A wig, black dress, black boots with heels of 10 inches, with a white apron and all. The feminization must be perfect. It is likely that I will meet the world on the stairs, everyone must believe in a real maid.
Breakfast for my Mistress
At 8:00, I enter my Mistress's apartment, it leads me into the kitchen where I prepared her breakfast. When it's ready, I put it on the tray which I carry her to her room.
"Hello Mistress, your breakfast is ready" I said.
I put the tray on the nightstand to open the shutters of the room.
Mistress ordered me to approach me, lift my dress, ensures the maintenance of my bottom. With a black lace suspender belt, see if the chastity cage she asked for yesterday is still in place. She raises the dress a little higher. Ran her hand up my chest to check if I wore the Japanese pliers as ordered, I served her with pinched breasts. She ordered me to turn so she could check if I put the dildo in as ordered.
The Perfect Maid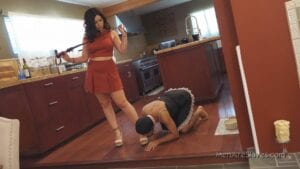 "Perfect, she said, a maid as I like them."
Then she ordered me to remove the dress and apron. As I lie naked or almost across the bed in a thong, suspenders, and bra to entertain her sight. She grabbed the tray on the nightstand to put it on my back.
"The perfect table, she said. I would love you to serve me as furniture. What's more pleasant than having breakfast in bed with a subject that supports the ideal height. This will happen every morning. "
I understand why she asked me to heat the coffee at a very high temperature. She grabbed the hot cup and laid it on my back. I felt the warmth of the cup on my skin, but control myself to avoid jumping and spilling everything. I have to cool the coffee's temperature back down to a drinkable temperature. When she finished, she gave me a big smack on my butt. It will now be a signal to indicate she has finished her breakfast. I get up, get dressed, take the tray back to the kitchen.
Bath Time
I made up a bath for her that I set to the temperature she had chosen. I had to wait on my knees in the bathtub with my head down. She ordered me to rub her back with the brush. Then she ordered me to run to the kitchen to do the dishes while she finished getting ready. She needed help to put on her boots, licking at her feet as I helped. I then had to clean the bathroom while she consulted her computer. She came up to check that everything was clean and shiny in the bathroom. Cleanliness suits her but found that I took too long, I will in the future be faster.
Punishment
A half an hour of punishment, naked on the cross, whip, whip, English cane. In the morning, she said,
"we work on your stamina and also that your skin is well marked with red, blue, yellow. You shall henceforth be in my service with white skin on the entire body, even if you're dressed. I have to know that your body is well marked.
She makes marks, on both cheeks with the whip and cane. Then she lights a cigarette, takes two puffs, and applies the lit cigarette on my right buttock. Took 2 puffs, and applied them to my left buttock. She laughed and said,
"Good slut labeled by the fire".
She ran her fingertips over the burns and said
The day is just now beginning.