Intimacy….Femdom Mistress and Sissy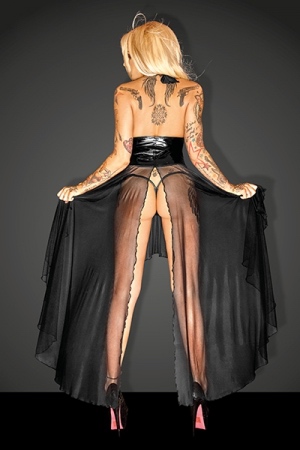 It's a winter evening and the long working day is finally finished. I am cuddled up to the feet of my Femdom and Domina. Domina is laying on an ample couch comfortably reading the 'Wall Street Journal', while she is smoking a thin Cuban cigar with low nicotine. The living room is warm. A fireplace burns quietly next to us. My femdom is wearing a black corset with black lacy panties and heels. She has a black shawl around her body to keep her warm. Her long blonde hair is loose around her shoulders.
Sitting next to her is her black whip and leash. I am wearing a bra and underwear with a common pair of stockings under which the V-string that encircles my groin shines through making me feel like a real woman. My sissy feet are naked and bound by a spreader bar that unites the ankles.
She is my femdom instructor in the sublime art of Feminization. My Femdom realizes that I am forever a devoted sissy maid to her.  She will teach me to serve by obeying every order she gives me regardless of the consequences. It is all about serving her and making her happy.
I Will Do Anything My Femdom Tells Me To Do
My Femdom Mistress is dictating the following instructions to me for the next day.
"After you purchase books on art, antiquity, and eroticism from the bookstore, stop by the gallery by North Street to purchase two boxes of these good cigars!"
My Femdom Mistress nods gracefully and decides to relax and orders me to look for a romantic film on the tv. While the titles flow on the flat screen, I take my place on my knees next to her and start kissing her hand.
My Femdom is pleased with this display of devotion. She asked,
"Sissy, when was the last time you got fucked in your pussy?"
"Three weeks, Mistress," I said.
"I will shave you clean and then I will fuck you with my strap-on. Would you like that sissy? For me to fuck you?"
"I would like that very much my Diving Femdom Goddess." "You know that your sissy is faithful only to you. "There are no limits to what I will do for you." I only aspire to worship and please you."
She takes my head and gently places it between her legs. I service her with my mouth. She orgasms many times.
Her juices are rich in her female hormones. I drink many times like a man starving for a drink of water. My jaw hurts from servicing her but I don't care. I realize pain is a tool used as part of my training. Then Domina orders me to go to the room and take the 'topkapi'. It is an ancient dildo protected in a leather casing. My femdom puts on the strap-on dildo and bends me over. It's going to be a long night.