Sara was actually very straightforward as a woman. Her attitude was very simple, she used different men for different things. For my part, I was her friend, her social partner, her confidant but…behind closed doors her pussy slave. If you saw us out together we appeared a normal couple – her well-rounded, bubbly and funny, masculine, well-mannered attentive but in no way sub- servant. Once the door of her flat closed that all changed. I knew my position and she expected me to adopt it. House rules were simple. I would strip to my underwear (as would she usually), I would not speak unless spoken to, I would not touch unless spoken to and my mouth would remain at pussy height or lower.
My Mistress has me as a slave and different bulls!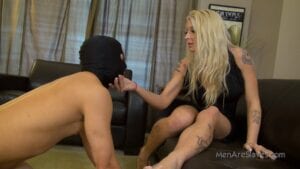 My Mistress used different men for different things. Tonight Tony was coming round and his only use from her point of view was the fact that his cock was 10 inches long and his balls were genuinely huge. He was one of her bulls. My role was, as usual, to prepare, assist, and clean. My first job as her slave was, the least pleasant, to douche and prep her arse for his cock. I didn't mind doing this. She had a useful dildo/douche shower attachment which left her clean and fresh. I was then to wash her body and moisturize her. Lube was injected into her arse so it was dripping and she then dressed for him. I was then told to shower and was then hooded, collared, and told to sit in front of the sofa like a good slave. Tony arrived.
My hood had a mouth and eye holes so I would see everything and by now I knew what was expected of me. Tony would kiss her when he arrived then immediately strip to his underwear. The wine was poured and they would sit on the sofa in front of me. As they chatted I would be beckoned forward by Sara as she told me to prepare tony's cock for her pussy. His briefs were tight as I started stroking his bulging cock, my other hand massaging his huge balls. They both looked down at me as they sipped wine, Sara sat legs astride as she stroked her pussy through her panties. An ever-increasing darkened wet patch appearing against the whiteness of them.
The Release
She told me to release tony's cock so she could look at it. As I slid his briefs down his legs his balls dropped against the sofa with a thud and his huge cock sprang upright. '
'Suck Tony's cock, get it nice and wet for my pussy, slave'' she said as they each placed a hand on my hooded head and pushed my mouth onto his cock.
They kissed and she moved to sit astride him. She pushed my head away and told me to remove her panties which were now soaked in her juices. I pulled them down her legs and she lowered herself onto tony's cock. He started fucking her slowly sliding his full length inside as she groaned.
''lick my arse whilst he fucks me'' she said curtly so I obliged.
Tony never spoke to me during these encounters. He knew I took my orders from her.
As tony thrust his cock deep inside her she looked back at me. My hands spreading her cheeks and my tongue working her arse.
''Let him taste me on your cock'' she said to Tony.
He pulled his cock out and I licked her white creamy juices from its length as he thrust it into my mouth. She smiled and said:
''enough! Put it back in now! Watch for a while''.
After riding his cock for some time she told me to lay on the floor. She got on all fours her dripping pussy held a few inches above my face. Then told me to spread her cheeks as tony prepared to take her arse from behind.
Preparing for the main event
''Look at my pussy, think about how you are going to lick it for me''.
She said as I watched Tony's length disappear into her arse. His huge balls now banging against my forehead as he fucked her.
''Now lick my clit whilst he takes my arse'' she said.
He seemed to fuck her for ages before he said he was close to coming. '
'Cup tony's balls and lick them whilst he seeds me'' she said.
It took both hands but I clasped in massive balls and I felt them start tightening as he prepared to fill Sara.
Cum Shot
He knew what she liked so as I felt the power of his first spurt of cum shoot in her arse. He pulled out and shot again deep in her pussy. Twice more as his cock twitched and I frantically licked and sucked on his balls. Encouraging them to empty completely into her. As he pulled out and back cum dripped from his cock onto my face and Sara groaned with pleasure.
''Tony is leaving now, Lick tony clean before he goes''.
She said as he pushed his still twitching cock into my mouth. The combination of their juices was so tasty and I licked him clean before he stood up. Without a word dressed and started to leave.
''Thank you Tony! be in touch!'' Sara said as he left.
The Cleaning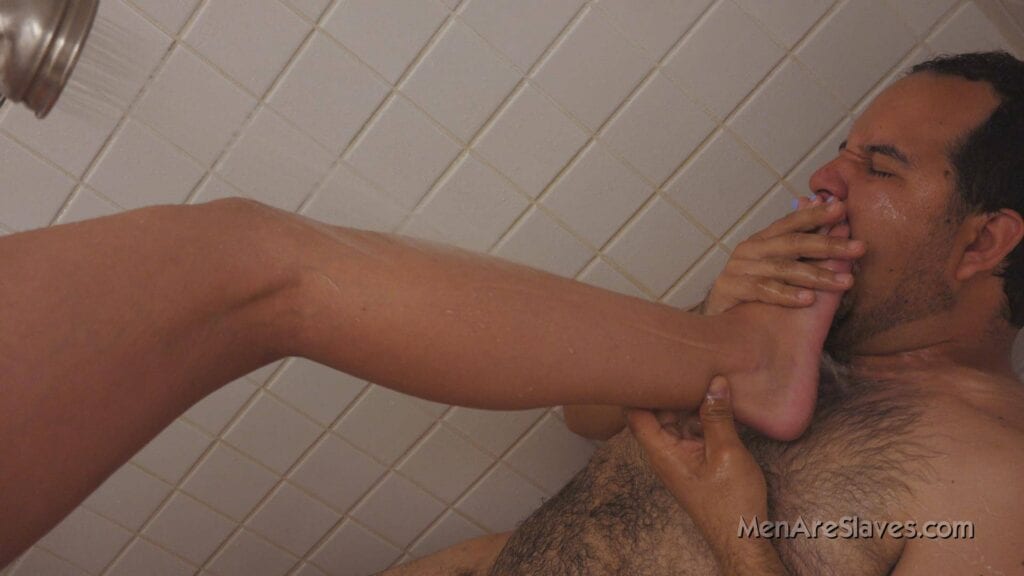 Sara moved into an upright position. Hovering above my face her pussy and arse both dripping frothy cum into my mouth. She drank wine as she pushed the cum from her holes and said
''now clean me darling''.  
Giggling with satisfaction as she did so……
'then we'll cuddle up on the sofa and watch a movie'' she said.
Just a normal night for Sara and me…her slave.